Monster Mini-Golf is All-Weather Indoor Spooky Fun for All Ages (4 stars)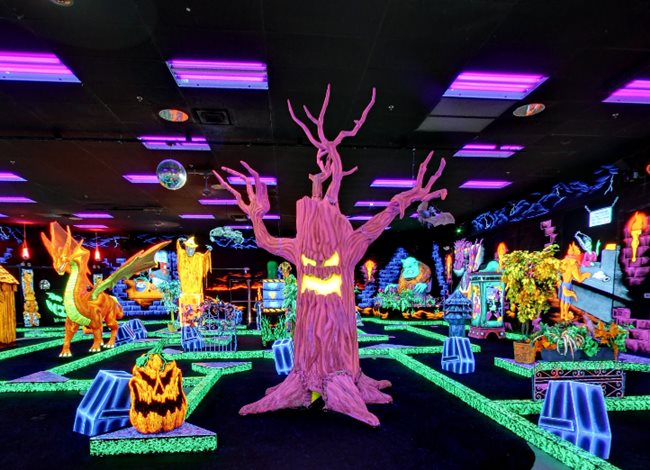 Monster Mini-Golf is an indoor, and thus all-weather mini-golf and arcade, which you can find at in Seekonk, Norwood, and at 28 other locations down the East Coast, and across North America. It is a great time for families with kids, or for adults who are still kids at heart.
The front third of the place is an arcade hall. Notably they have air hockey, which has more movement than most videogames, but also pinball games, racing games, Skee-Ball, and a surprising number of claw games. (One trick to claw games people don't realize is that there's a switch in the back and you can set them to claw only 10% of 25% of the time, so it's more luck than you realize.) There's a counter with prizes you can get, if you win tickets in the arcade. Of course they have two private function rooms for birthday parties, and a bathroom with baby-changing station.
The remainder is a medium-sized warehouse space with 18 holes of mini-golf. The interior is kept dark, lit with blacklight, so that the painted monsters and murals glow.

Monster Mini-Golf has a cartoony, kid-friendly theme that's not-so-spooky. You'll see dozens of fiberglass and Styrofoam beasts, with a few that are 8 or even 10 feet tall. Some of them are freestanding, such as a demon with big wings, a dragon, a scary witch, and big scary tree with a hole to hit a ball through. Some are set up as fancy dioramas, such as a guy playing spooky organ with skulls, a fake hearth that's 10-feet-tall with a spooky mirror, and a giant evil clown head. My favorite was death riding a skeleton horse.
There's even a DJ station where they play classic rock for the adults. Every few minutes they call out a monster riddle and then a staffer walks around bringing prizes to the golfers who know the answer. Giving a sense of place are fake plants throughout the course, and they have giant murals on the walls. We were told that every Monster Mini-Golf location has its own custom artwork, that is often relevant to the neighborhood, but in the Norwood location is was too subtle to notice.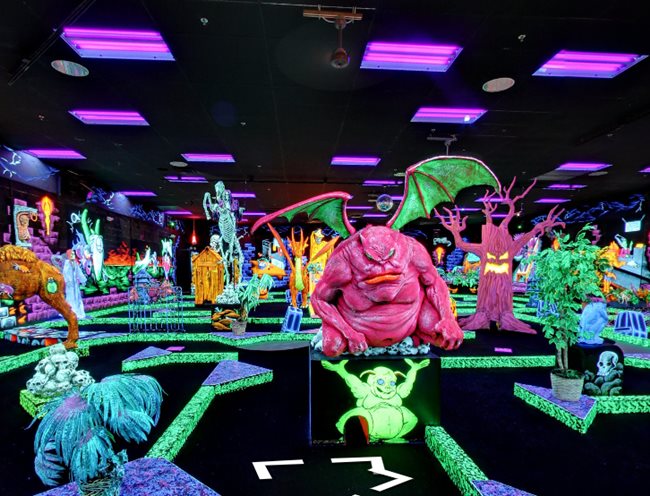 The golf course is just plain fun. You'll hoot and root for yourself and your friends. Almost everyone can get a hole-in-one just by luck somewhere in the course. That being said, there are tradeoffs to being all indoors. It's a year-round destination that doesn't care about the weather, but doesn't have the views and beauty of nature such as grass and man-made streams you'll find elsewhere. You will feel a bit packed in, as you will in any indoor arcade.
Much of the paint is splattered, rather than designed, which is speckled and unattractive. The course is mainly flat without ramps. There are no special effects, and none of the monsters move. There is one grandfather clock whose pendulum I think is supposed to swing, giving a moving obstacle to your putting, but it's broken. One ogre in the corner speaks to you but we could not hear what he was saying. Still, many of the dioramas and displays showed heart and creativity.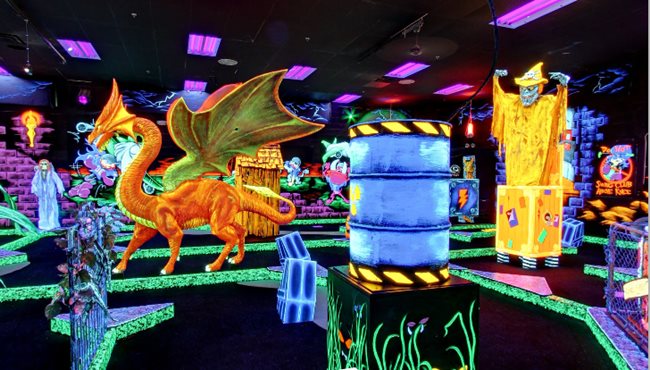 Winter is long in New England, and it's great to have a fun destination that's open in any kind of weather. While Monster Mini-Golf does not have sky high production values and doesn't reach theatrical heights of creativity, we don't expect arcades to be erudite. Monster Mini-Golf is just plain fun for all ages, and college students, military personnel, and seniors are just $6. That's a great value! 4 stars.
See monsterminigolf.com.