Monstah Expo : The Little Con that Can be a Monstah! 4.5 Stars

For the lovers of the spring season, April is the time that the weather warms, flowers bloom and the bunnies come out of their burrows. However, there are many who long for the darker nights and fallen leaves of Autumn to return as soon as possible. For them, The Monstah Con is a perfect time to experience a tiny taste of Halloween even before the beach days of summer have come upon us. Dubbed as being "Halfway to Halloween," this small but impactful horror convention offers a nice dose of the spooky and Macabre at a time of the year most people are thinking of swimming and not scaring.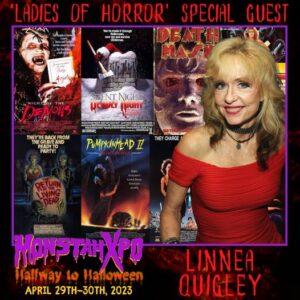 Despite having a strong Boston accent, The Monstah Expo is about an hour South of the city while also being very close to Providence. Located in Fairhaven Massachusetts, the convention operates out of the Seaport Inn and Marina. Although small, ever inch of the hotels Ballroom is packed with horror of all shapes and sizes.
The vast bulk of the show is the vendor floor. All sorts of horror goods are up for sale. These include custom artwork, T-shirts, and posters. You can find horror coloring books and a series of intoxicating children's books. There is jewelry, toys, collectibles, and antiques. There is certainly something for everyone. So long as everyone loves horror. 
For those looking to scope out the Haunted Houses wat head of Halloween, you can find a few already promoting their next season. Factory of Terror and Fear Town are well established haunted attractions in the Fall River area. Both had costume clad characters roaming about ready to throw a few scares at random patrons. These shows were once separate but have now merged into one entity run by the same creative scream team.
One interesting aspect of the vendors is the variety. You typically expect art and collectibles, yet you might be surprised to find food for sale! Deadly Grounds sells flavored horror themed coffee to keep you up at night. If you want to prevent nightmares, then dose yourself with as much caffeine so you stay up late with the many brews they offer. These include Graveyard Grog, Death by Chocolate, Wicked Amaretto plus many, many more. For those days you are dead tired in the morning give Deadly Grounds a try!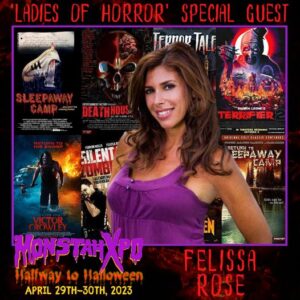 Among the features of a good con is the ability to attract special guests that bring in the fans. Monstah Con decided to showcase the Ladies of Horror. Among them were Felissa Rose who is most known for the cult classic Sleepaway Camp and more recently Victor Crowley directed by Massachusetts local Adam Green. Best known for her roles in Hollywood Chainsaw Hookers and Return of the Living dead, Linnea Quigley also hosted a special screening of one of her most well-loved films Knight of the Demon. Rounding out the guests were actress Patty Mullen from Frakenhooker and horror host Penny Dreadful.
Monstah Con is a small but potent horror experience ready to give you a dose of the spooky in the spring. However, Monstah Xpo returns for the Halloween season. This October 14th and 15th the Xpo is resurrected closer to Boston, in Taunton Massachusetts.
For more information, visit
https://monstahxpos.com/
Our Video Review
https://youtu.be/4HTpVyY_Wyo