Miss Holmes Brings Intensity and Suspense, a Female Sherlock Holmes (4 stars)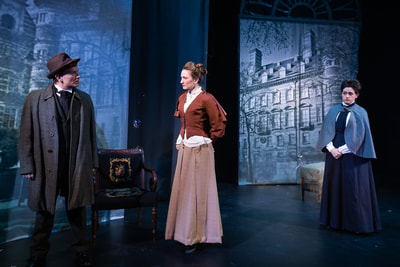 Miss Holmes, by Christopher M. Walsh, based on characters created by Arthur Conan Doyle, with Scenic Design by Katheryn Monthei, Costume Design by Deirdre McCabe Gerrard, Lighting Design by Chris Fournier, Sound Design by Nathan Leigh, Props Master Emme Shaw, Production Stage Manager Rachel Sturm, Directed by Weylin Symes, runs April 5-22, 2018 at the Greater Boston Stage Company.
You don't expect deep themes in a murder mystery play, but in Miss Holmes, the main characters of Sherlock Holmes and Doctor Watson are written as women, not just played by women. The show dramatizes prejudice against women in a powerful but tactful way that never preaches or stops the action.
Scenic design by Katheryn Monthei is exceptional. Slivers of curtain only a few feet wide are dropped from the ceiling. Then old photographs from the 19th century are projected onto those curtains. It works surprisingly well and makes for instant and elegant scene changes with very few props. Fog effects heightened the suspense.
Marge Dunn plays Sherlock Holmes with intensity, drawing us into believing her hyperintellectual lines, and with emotions hidden under the surface, outwardly calm. Sherlock quite rightly speaks in a dry, reserved monotone at times. Unfortunately, Doctor Watson, played by Brittany Rolfs, seems to try to match the tone, instead of adding vocal variation. To me, the role of Doctor Watson is as a "straight man", a foil, a substitute for the audience. Doctor Watson should react to Sherlock as we do, with full emotion and frustration, as our path to understand the detective. With the dryer approach, too many opportunities for comic or dramatic reactions to Sherlock were lost.
Physical flourishes were also lacking in the production, which had many lines that could have been played up for laughs or for expositional clarity. You'll notice, for example, that casts producing Shakespeare find ways of using physical mannerisms and flourishes to help explain the Old English language. Staging was static, with actors often simply standing in place for an entire scene. This lack of variation made it harder to follow the plot, especially as actors played multiple roles and characters were called different names (Lizzie/Elizabeth). I admit I felt lost at times.
Kudos to Patrick Varner (Dr. Michael Stamford / Reginald), who stole every scene he was in. He defined each of his multiple roles differently, with a complete transformation of character, and added so much physical comedy that the crowd laughed throughout and spontaneously applauded at one point. His shocked responses to Sherlock added much needed counterpoint to the dry detective. Further kudos to Daniel Berger-Jones (Thomas Chapman) who gave the audience chills with his menacing demeanor.
As I began, you don't expect deep drama from a murder mystery. So the strength of such a play must lay in its entertainment factor. The first act was overly dry, but, after intermission, the sensational second act had uproarious stunts. The mystery itself, plot twists, and the emotional interplay between characters were deep and fulfilling. An easy 4 stars, almost more.