Mendon Twin Drive-In Theater is a Night Under the Stars (5 stars PLUS)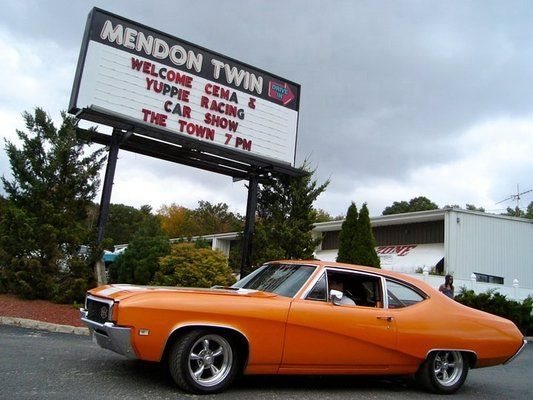 I have long loved the Mendon Drive-In Theater, so I knew before I came to review it this week that it would fetch high marks. It is a genuine old-timey drive-in movie theater, some 65 years old, but modernized with amenities for the new age by the new management, the same team that owns The Phantom Gourmet. It's the best movie drive-in in New England.
A drive-in movie theatre is a unique experience. You pay just $27 per car, the same that you'd pay for two people at a regular theater, or a lot less if you are a group. You can recline the seats, or roll the windows up for intimacy so that during the movie you can talk, use your phone, or kiss your date without bothering anyone. Or bring lawn chairs and sit outside taking in the stunning night sky of stars. It's an outdoor park atmosphere.
Spending a warm night outdoors is my favorite summer activity, and Events INSIDER tracks 117 outdoor summer movie series, but they mostly show films from last year, and the Mendon Drive-In shows first run films. The theatre is also open in Spring and Fall, but with the windows closed, you won't mind if it's colder. They have two separate theaters, in adjacent outdoor fields.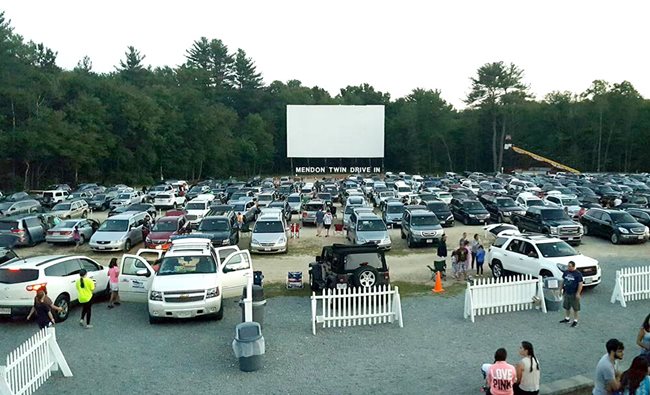 Then, the Mendon Drive-In Theater is more than just seeing a movie — actually two, since your admission gets you a double feature. Arrive before the show begins and it's like spending sunset in a park with your friends. They attract a variety of people, so you'll find families with kids, people on dates, or just groups of friends. Some treat it like a tailgate party before a sports event.
You can throw around a football or frisbee, or go for a ride on the 140-foot Super Slide for just $3, or take unlimited rides for $10. In warm weather they're open 7 days a week, Memorial Day to Labor Day, and I've often come to them on a Monday when nothing else is open and I wanted something more interactive than an indoor movie and more creative than just going to a restaurant.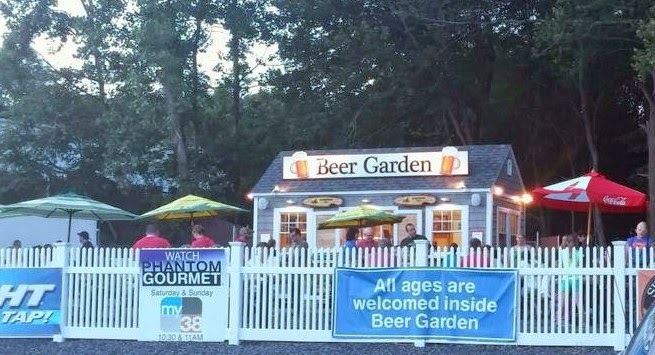 You'll also find a beer garden with picnic benches, where wine is also sold. And a kids' play area with wooden superhero stands to take photos with. Often they'll have a kids' performer such as a clown come and throw a hula hoop and bubbles party. Inside Judi's Snack Shack, they have the usual popcorn and fried foods that you'd expect at a carnival (no restaurant samplers or healthy food from the Phantom Gourmet owners?), including cheeseburgers, corn dogs, friend dough, and nachos with cheese. They claim to be the best; the cheeseburger was too greasy as one would expect at a carnival. But the pretzels from Wicked Twisted Pretzels were delicious and not too dry, with either honey mustard or cheese sauce. (We preferred the mustard, but use the cheese for your popcorn, which is fresh popped.) There's an ice cream shack as well.
The Mendon Drive-In also runs special events, such as upcoming tribute bands playing The Grateful Dead and Prince, a wine festival, and whenever a blockbuster Star Wars film comes out. Or they'll simulcast live events. When they showed Jaws, they brought a giant shark head to take photos with. It's more popular than arthouses — you won't find a film festival — but it's far more engaging than a traditional movie theater. They of course host birthday parties and other groups, setting up a reserved parking section, with tables for food and drink.
Dave Andelman, co-owner and also co-owner of the Phantom Gourmet, kindly agreed to an interview, saying, "One of the big developments of the industry is that it's digital, so the video and audio are perfect. A lot of people who tried drive-ins twenty years ago, they have this idea — experience wasn't that great. But now you're seeing [ perfect quality ] under the stars. We'll play Halloween movies in October, and you're in the woods — it's perfect."
"Most people have a vision of a drive-in theatre as sketchy and not that fun. But here it's immaculate, it's safe… I think it's a great place to see a movie, but we also want to make it a place you'll want to come to at least once a year… The mix of people, and all just having fun, is really very cool. You'd be hard pressed to find a more diverse environment in Massachusetts… We've put a lot of time and money into it, because we want it to be something spectacular."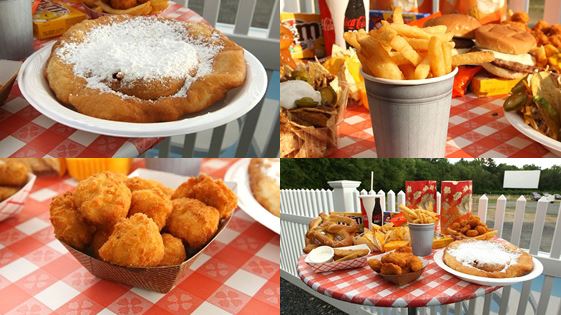 When I'm not running Events INSIDER, I work in business, and I always appreciate a venue like the Mendon Twin that is well-managed. They really have thought through just about everything to make the experience streamlined. For example, when you drive in through the box office, they'll give you a fresh trash bag for your garbage, and you can leave it right next to your car when you drive off. I'm glad to give the Mendon Drive-In my rare 5 stars PLUS, making it a must see for any true Yankee.
It is the closest drive-in theatre to Boston, midway between Boston, Worcester, and Providence. See mendondrivein.com.