Meet Ghosts of the Past in Outdoor Theatre at 'We The People' (5 stars)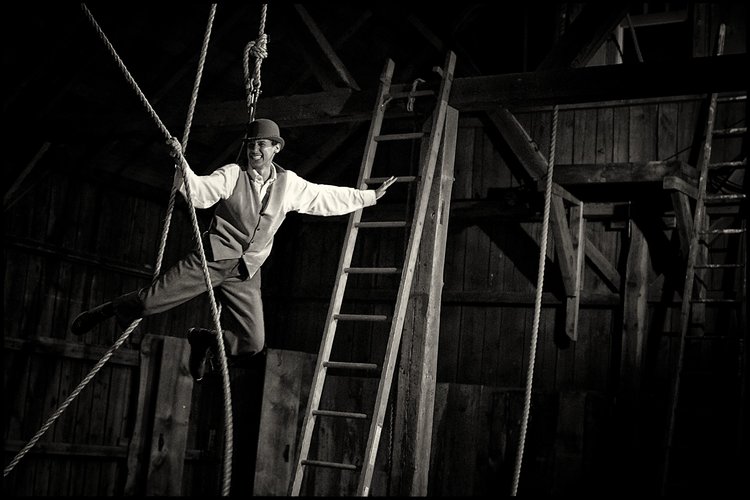 We The People, which I also reviewed last year (5 stars), is an indoor/outdoor spectacle, a play that takes place all across a farm in Western Massachusetts, the home of Double Edge Theatre, my favorite outdoor theatre troupe from more than 40 that I track every summer.
You arrive in a garden to music and storytelling from the past, and then are separated into groups of 25 people, each going to listen to a different actor. At other times, the entire audience is brought together. This takes place in an outdoor setting under the nighttime stars, including a pond, open campfires, a stream, and hillsides. The production is occasionally interrupted by a passing car on the street or airplane overhead.
The play is a visual spectacle with its outdoor setting and attention to detail. One scene takes place in a glen of spheres and mirrors, with the cast flying from wires and ziplining back and forth. Another scene takes place in a pond with a fire, where actors swim and paddle a boat. If you pay careful attention you'll find "forest creatures" among the trees, including women dancing with drums far up on a hillside.
The production is also immersive and interactive, breaking down barriers between audience and cast. The characters directly greet and speak with the audience both as a whole and individually. You'll meet 19th century characters from Western Massachusetts, where the venue is located, including a suffragette, an abolitionist farmer, a civil rights activist, and a demented poet.
They say that genius cannot be understood; it can only be witnessed. But the same is true for lunacy, and I have an internal struggle this year, as I did last year, about whether the play's message is poignant and effective, or more of an Emperor's New Clothes thing where I'm too embarrassed to write in my review that I often found the play too surreal to be accessible, and sometimes so earnest in its observations about the human soul that is became trite or monotone. Honestly, it's hard to say if the performances were good, because it was just so strange. Okay, they were good. Double Edge knows exactly what it is doing; it just didn't work for me at times. Because the ghosts from the past all came from different timelines and stories, they were not able to interact to form a story, and the play gave us background and character study instead of plot and conclusion. I wasn't sure what to think of the black night and swamp witch, which left questions hanging, although visually having fantasy characters on stilts fight in the nighttime was thrilling. The comedy of the demented poet (I could not find Samuel Nightingale on the Web) was lost on the audience because the rest of the play is so serious and almost stridently earnest that we needed more cues to let us mentally switch over to laughing. Mostly, he ranted. He tells us, "Confused? I don't care." 
Yet, the play is filled with magnificent moments such as when Samuel climbs atop a mound of fire! The mesmerizing songs, with voice, flute, drums, and trumpet, and the ghost like figures who come and go, put you into a dreamlike state that — while confusing as I complained — are undeniably powerful. You get a sense of the past. You "meet" the characters and inhabit their world far better than a traditional indoor staged performance to a large audience. The smells of the smoke, grass, and water are a great night out, and you may find portions of the play transformative, such as their upbeat version of Amazing Grace, or when the actors walk away on a hillside as though ghosts disappearing into the night, rather like a scene in the classic movie, The Seventh Seal.
It makes me think of a man out about town wearing a daring top hat. You can either pull it off or not, but either way it is reaching. Great art is supposed to reach for the stars, and ultimately Double Edge Theater pulls it off, so — I cannot avoid another 5 stars for this show. Another way to say it is this. Not every show is for everyone. We the People is 5 stars for theater type people who want a great night out to learn some history, and also 5 stars for occasional theatre-goers who will enjoy the great visuals in an unparalleled setting. For those seeking a plot and conclusion, you may feel a bit lost, (my guest said, "I like it, but it was some weird shit, and none of the storylines ended.") and you would give fewer stars. So know who you are before going, and it would help to read a bit on W.E.B. Dubois, Lucy Stone, and Shay's Rebellion, as you might prepare to see Shakespeare or an opera by reading a synopsis. The show ends with a celebration with drinks and water, where you can meet and mingle with the cast and crew. I was glad to see new construction, signs that the theatre is growing.
See my review from last year for more, and see doubleedgetheatre.org.