Medawisla Lodge and Cabins in Maine is AMC Outdoors at its Finest (5 stars)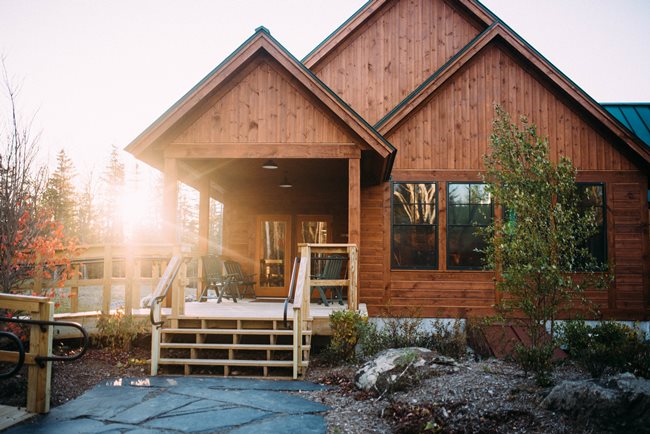 As a travel writer, I thrill to find undiscovered gems. You'll find one on the way to whitewater rafting the Penobscot River, in the Mount Katahdin area of Maine, the AMC's Medawisla Lodge and Cabins.
The Appalachian Mountain Club, or AMC, isn't just for big time enthusiasts who heft a tent onto their back and wander out miles from McDonald's and hospitals, what they call the 'back country'. It's also for 'front country' types who like a little comfort with their outdoor adventure. Medawisla, whose name means 'loon' to the Abenaki people, the local Native Americans, is the result of AMC's 150 years of experience running hundreds of locations, from huts to resorts. They have set up the place perfectly, taking camping and lodges to a high art form.
The site, which is on a lake, has a large community center at its core. Like the cabins, it is brand new construction, with light wood and a high, A-frame roof overhead. That spacious feeling is especially important for winter visitors. Their common area, one large open plan room, has a fireplace, a sauna, compost toilets, books and games, and plenty of windows and lighting. There's a camp store, and downstairs they have a conference room. It's open 24 hours a day, and is totally off the grid. You can only get there through miles of dirt roads, built by loggers to access Maine's timber. They have solar power for electricity and their own well water. There's no Wi-Fi, and don't expect cell service. This is a place to disconnect and wind down.
At Medawisla, you can go hiking, biking, paddleboarding, canoeing, kayaking, and take tours including a history tour. They do have a small beach and swimming, but it's not their strong suit. Meals are included, and you can also buy alcohol. To build community, you are asked to come for breakfast and dinner at a set time, and sit at long tables where food is served family style. Servers bring food to your table instead of hosting a buffet where you'd have to be getting up frequently, interrupting conversation. It really worked. We had very pleasant conversations with the people we met. Outside of mealtimes, you can find a water station, coffee station, and trail mix dispenser.
The meals were surprisingly elegant. I've never been to a site this remote with such good food! For dinner, our appetizer was chips and homemade guacamole and tomato salsa with red onions. The main course was pulled pork and Spanish rice, which had a spicy kick, and maple bacon string beans that had guests at our table talking about making them at home. The salad was basic but solid, and dessert was a baked pear with cinnamon and sweet and cream sauces. The next morning, breakfast was eggs with feta cheese, fruit, a smoothie with mint leaf, and a side of bacon. Delicious.
At dinnertime, they hand out paper bags where you can mark what kind of lunch you'd like prepared. Then you can take that lunch on the go as you explore the outdoors. On our night, they had an art contest, drawing on the back of the bags with crayons, that kids and adults took part in enthusiastically.
At night, gather by the campfire with others, or take in a stargazing event. Pro tip: ask them to bring out the telescope, or they may not. In October they're hosting a mountain bike race called the Gravel Grind event in October, in conjunction with BCM Motor Bikes, and hope to host more events and festivals in the future. By day, you'll find 100,000 acres of conservation land for canoeing, kayaking, hiking, fly fishing, and mountain biking — all of which is included with your stay. AMC is a non-profit organization, whose fixed costs were funded by donors, so prices are the lowest around.
The cabins are also wonderfully nice. While this is not "glamping", the glamour camping that gives you air conditioning, the cabins are comfortable, upscale, brand new construction. Ours had a master bedroom with a queen bed, a kids' room with full and twin beds, and a large common area with a futon sofa that folds out into a bed. The high ceilings I'm sure fight off claustrophobia in the winter. The cabins have self-contained fireplaces and lake views.
While outdoorsy looking — the dinner table made from natural wood, for example, and they have old-timey black and white photos on the walls — the construction is solid, to limit the bugs that get in. You even get a screened-in porch area from which to admire the sunset. This also creates a double entryway that further reduces mosquitoes. (We saw none despite a bad day for mosquitoes outdoors. Make sure to use sunblock and insect repellent, and skip the woods at sundown, which is the height of bug time.)
The cabin had only a small shower, and only a couple of electrical outlets, but with their being off the grid, I suppose they need to limit power usage. Cars aren't allowed to drive up to the cabins, which makes it absolutely quiet. You won't get woken by the early morning families or late-night arrivals. The beds were comfortable. Some locations have a kitchen and a grill outside.
We had just enough time to explore and confirm that the outdoor, lakeside location is stunningly beautiful. Trails will connect you to other AMC lodges, whether you are hiking in the summer or skiing through 80-miles of groomed trails in the winter.
The site manager, Jonathan Zimmerman, kindly allowed an interview.
Events INSIDER: It seems like your meals are designed to build community.
Jonathan Zimmerman: One of the big things that our guests love about our lodges is the community that they build with other guests. A lot of that community is built over mealtimes.
Events INSIDER: What are your winter activities?
Jonathan Zimmerman: In the wintertime, skiing and snow shoeing. Most of our guests come prepared with snow shoes, but we do have them here are well. We have mountain bikes, too. It's one of those activities that we're trying to get more into.
Events INSIDER: I used to think that AMC was just for the most athletic people, hiking days into the wild with a tent on their back.
Jonathan Zimmerman: Originally the Appalachian Mountain Club was founded on hiking, but over the years it has evolved into an organization for people to have access to the outdoors and stay at these wonderful lodges, but not have to sacrifice the wonderful amenities that we have. It has evolved from hiking, canoeing and traditional outdoor activities to something much more than that, an environment that fosters on bringing people together in the outdoors.
Events INSIDER: So AMC is also for people like me, who need a shower and real bed every night?
Jonathan Zimmerman: Absolutely. It's so diverse. We have front country activities that cater to people who don't want to be so far into the back country, but also back country facilities.
Events INSIDER: You have a remarkable kitchen! I was expecting camp food like macaroni and cheese.
Jonathan Zimmerman: We want to have a summer camp feel, but to step it up a bit, with food especially.
Events INSIDER: I'm told that you're very proud of your composting?
Jonathan Zimmerman: We compost all of our food scraps, using them in our gardens, and we have composting toilets here in the lodge. We add wood chips for that organic process, and worms help to aerate it.
Events INSIDER: You've perfected this process. There isn't a single thing that isn't flawless here at Medawisla.
Jonathan Zimmerman: If anyone's considering an opportunity to be in the great outdoors, with their families or with themselves, this is a wonderful spot to be at, to get out into the woods, but also not have to worry about food, not have to worry about anything, because we let you have the experience.
Jonathan Zimmerman: People often think of our lodges for the summer and fall, but the main lodge brings quite a different experience in the wintertime, and we have some of the best back country skiing or cross-country Nordic skiing that New England has to offer. There are 90 miles of trails between all the big lodges, so it's a wonderful place to just come and be in the back country in the wintertime, and enjoy the Maine woods, because this place is really magical in the wintertime.
Events INSIDER: Thank you.
If you love Events INSIDER and our recommendations, trust me: Medawisla is a must-see location, at such a low price and with amenities and food all-inclusive. We've been to nicer cabin locations, but only in manicured destinations, not this far into the real wilderness. AMC's Medawisla Lodge and Cabins is the real deal. I'm glad to give it our rare full five stars PLUS.