Maverick Helicopter Tours Provide Spectacular Views Over the Bright Lights of Las Vegas (5 stars PLUS)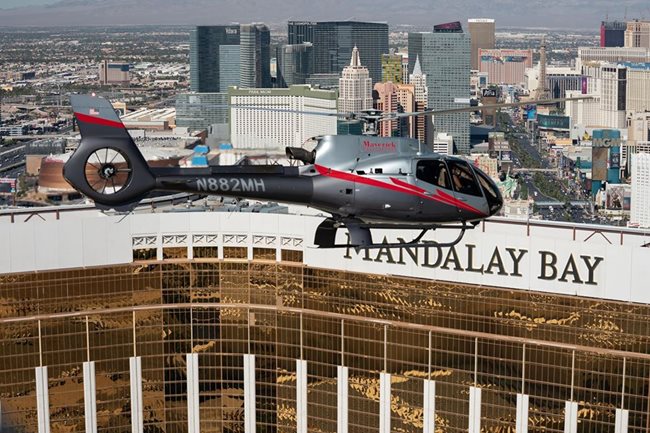 There are many grand views of Las Vegas. You can head to the High Roller, an automated Ferris wheel type ride that takes you up over 700 feet above the Strip for a view of Vegas and its surrounding area. Similar you can head up the Eiffel Tower of The Paris Casino and catch the Fountains of the Bellagio below. And there is The Strat – once called the Stratosphere since it towers above all other buildings – where you can get a drink and eat amid a rotating restaurant.
However, none of them compare to the majesty offered by Maverick Helicopter tours as you soar above the buildings for what is an amazing ride. Located just past the famous Welcome to Fabulous Las Vegas Sign, Maverick is located at the far end of the Strip just next to the airport, so it is super convenient. It's a short ride from Mandalay Bay and they provide free shuttles to pick up guests at numerous locations around Las Vegas.

Maverick has a modest waiting area complete with a gift shop, coffee bar and a private area. They host corporate events, bachelor and bachelorette parties and more. They even utilize their adjacent office space when they need to accommodate larger parties. Like Las Vegas itself, they are ready to make your party happen complete with a helicopter ride.
Once you check in, be prepared to be weighed since they need to know your weight for flight purposes. Shortly you will be rewarded with a champagne toast before you take off. Once your party is called, you meet your pilot who gives you some brief instructions and you are ready to get into your seat and buckle up.

And then you fly. You quickly pick up speed and head out over the numerous hotels of Las Vegas. You see such icons as the Pyramid of the Luxor as it shines its massive beam of light upwards in the night sky. The MGM gleams green like jade. You travel all the up the strip and even tip towards The Strat where you get close enough to see diners eating away as they watch you fly by. You even go so far as to see the historic Fremont Street which is the oldest part of Las Vegas. The lights of the Golden Nugget come into view as well as The Dome of Glitter Gulch.
Then you return back down the strip for a second spectacular look at the many architectural wonders of Las Vegas. The Excalibur looks like a medieval castle. The Eiffel Tower of Paris looms in the distance. A night tour allows everything to be lit up with all the brilliance of Las Vegas. You get up over 1000 feet and yet you never feel really far away.

Perhaps some high roller up in a penthouse available only to millionaires gets a better view of Vegas. Most people will never get that opportunity. Maverick Helicopter Tours of Las Vegas gives almost anyone a chance to experience the best view you can get of the spectacle that is The Entertainment Capital of the World.
They say what happens in Vegas stays in Vegas. If you take a helicopter ride with Maverick Tours, it is surely an exception since the breathtaking views and exhilarating experience is one you will take home with you. For those that always had a helicopter ride on their bucket list, this is a must-see activity. I'll give Maverick Helicopter our rate 5 stars PLUS!
For more, see Maverick Helicopters.
And here's our video review!