The Mashantucket Pequot Museum is the World's Largest Native American Museum (5 stars PLUS)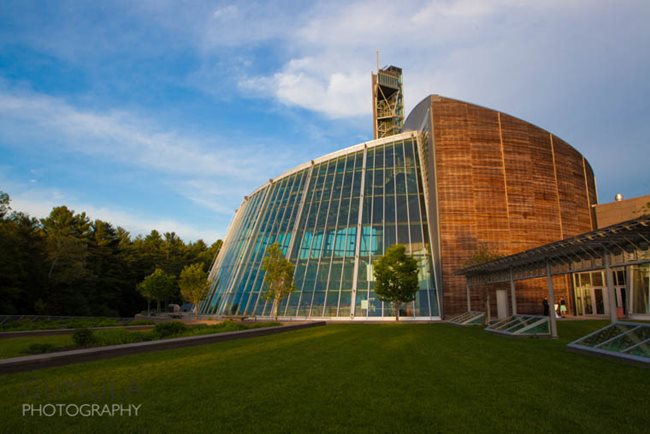 We're lucky to live in New England, which has our country's highest number of artists per capita, and because of our high population density, our arts aren't just confined to the cities. You can find world class, stunning museums and attractions all across our region. The Mashantucket Pequot Museum and Research Center (mash-an-TUCK-et PEE-kwat) is one of these. It is the largest Native American Museum in the world, even larger than the National Museum of the American Indian in Washington DC, with 85,000 sqft of permanent exhibitions, 3,800 sqft for temporary exhibits, plus a children's library, a research library, classrooms, a cafeteria, conference space, and their archaeological discoveries include a campsite that is 9,500 old. It is part of the Mashantucket Pequot Reservation, tribal lands that also contain Foxwoods Casino, now the second largest casino in America, and fourth in the world, where more than 12,000 people are employed.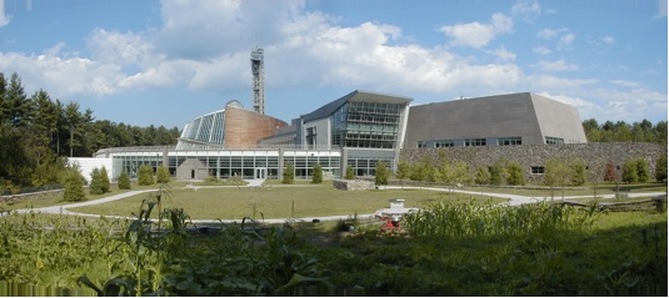 I had heard of the Mashantucket Pequot Museum, even driven past it, and I was wrong about it in three ways.
First, taking a cue from their basic website, and having been to the tiny Mt. Kearsage Museum in New Hampshire, I assumed it was small and underfunded. It is not. It is fully modern, huge, and amazing. Also, I was put off by the gambling next door, but the museum really is a separate entity. (It's good that casinos provide jobs to historically oppressed peoples. It's bad that casinos increase problem gambling, crime, and inequality. See page 64 of The Social and Economic Impacts of Gambling, 2011.) Foxwoods takes some steps towards preventing addiction, but is presumably is conflicted, and the level of psychological manipulation in modern casinos does not set a tone of helping prevention.)
Finally, I hesitated to come face-to-face with the grinding history of how Native peoples have been treated in America. I was wrong there, too. No aspect of the Mashantucket Pequot Museum is preachy or strident. The history of the Mashantucket Pequot Nation, and other Native peoples, is told straightforwardly, with supporting evidence, warmth, and courage. As a counterexample, I'm thinking of the John F. Kennedy Museum, which is a world-class destination, but doesn't have the courage to speak truth about Kennedy's promiscuity and political mistakes with Cuba and Vietnam. (To some, Kennedy dragged his feet on civil rights, too.) Instead, the Mashantucket Pequot Museum delivers powerful nuance to topple the outdated and racist views of Native people as uncivilized, but also the more recent and well-meaning-but-probably-also-racist noble savage / martyr stereotype. It's fascinating. It's self-improving. And with its numerous dioramas focused on the day-to-day lives of people from history, I personally found it more compelling than the rows of crafted art (however beautiful) that are the hallmark of the National Museum of the American Indian in Washington DC.
Parking is free, and as you enter, you'll see the 13-story-tall observation deck, and gardens including sunflowers and black-eyed Susans, with stone benches and a trellis. The museum is large and modern, with three levels. Its ground floor dominated by a "Gathering Space", a giant lobby set with floor-to-ceiling windows and tables for events. The space features dioramas of long dugout canoes with mannequins. They play serene, ambient pipe music.
It's strange to be directed down two floors before seeing everything at ground level, but don't worry. You are meant to walk down the ramp to the basement level, for an exhibit on the Mashantucket Pequot Nation, go down an escalator to the subbasement level for an Ice Age exhibit (18,000 years ago) and enormous Pequot Village installation (400 years ago, just before colonists arrived), then back up an escalator to the basement level for Life on the Reservation (from 400 years ago to today), and then back to the ground floor for the museum's temporary exhibits, the gift shop, and exit. It's a self-guided series of exhibits, but of course they offer group tours and expert speaker programs.
The "Exhibit Entrance" tells the modern history of the Mashantucket Pequot Nation. It's the least interesting part of the museum, mainly wall text, but is meant to educate you on two vital things. First, the Mashantucket Pequot Nation is ordinary enough government with a fire station and other usual services. Second, their old-timey deerskin clothing is only used for ceremonial purposes these days. We already knew that, right? (As a white guy, I let go of my Pilgrim hat with the belt buckle a long time ago, and I'm still embarrassed by what I used to wear in the 1980s.)
The ride an escalator through a faux glacier, to find a slowly spinning globe of Planet Earth where you can see how the glaciers retreated over thousands of years, leaving behind water and boulders. There's a small movie theatre telling four different creation stories in different Native languages with captions. "A Journey Back to the Ice Age" tells the story of 18,000 years ago when a mile-high glacier covered Mashantucket. You'll see dioramas of mastodons, sabre-toothed cats, giant beavers, and a phenomenal diorama of Native peoples hunting caribou. It's enormous, active, and exciting, and you're only getting started.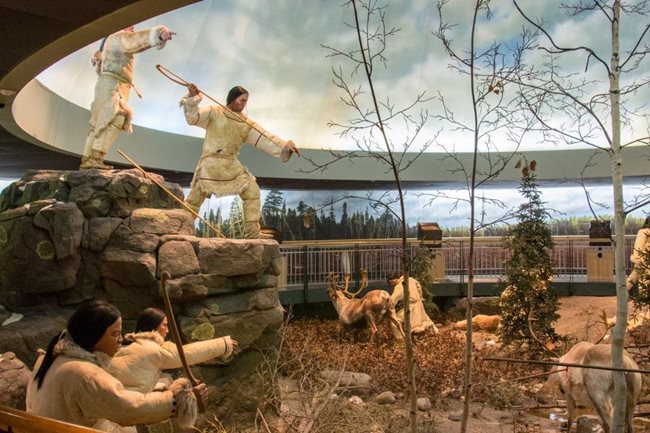 The enter the "Pequot Village", a 22,000-square-foot representation of what Native life it might have looked like 400 years ago. Astounding! It's a life-sized series of dioramas representing an entire small village. Pro tip: Get the audio tour because there isn't much wall text here. Dozens of mannequins show fishing, making arrows, building wigwams, weaving mats, and sleeping on beds of wood and animal fur. They're hunting, taking care of children, and growing corn. It's extensive, and you can even go inside a wigwam. There's a separate exhibit on the European colonists coming in, and how trading and their religion became powerful forces. There's another small movie theater about the Pequot War of 1637, when the English colonists killed 600 Pequots, who of course retaliated.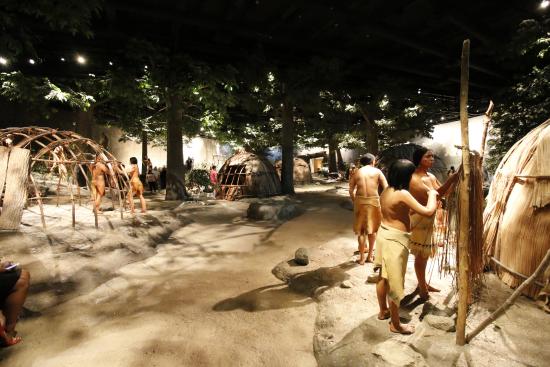 Then ride the escalator up to "Life on the Reservation", which is less directional, a place that you can wander around. I headed outside first, where they re-enact a small outdoor farmstead. It's a yard and short forest trail where you can walk around, seeing a campfire, a mound of household waste, and the wild berries and other plants that they grow. Sometimes the Pequots adopted the ways of the colonists, such as metal fencing, and sometimes they did not. Wonderfully, you can see how they make a dugout canoe out of a wide tree trunk by lighting a fire that eats away at its middle, leaving the sides intact, until you have a big charred depression in the middle of the log so big that you can sit in it — in other words, a canoe! I once saw this live at Plimoth Plantation with a real fire. They've also got a root cellar, a partially underground stone structure to keep food fresh in a time before refrigerators, and a short walking path through the forest with more exhibits. In the remote far corner, where it says, "Museum Trails continue", those aren't really museum trails with more exhibits. Those are just regular hiking paths through the woods.
Back indoors to "Life on the Reservation", you'll see a dozen smaller dioramas of different aspects of life, including a mock home, a 1780 farmstead, a Native man participating in the maritime economy, and more. There aren't many artifacts, but you'll see pieces from an old-time flintlock gun, and a scale model of an old Pequot fort with an S-shaped entrance to prevent rapid entry. You'll learn that as long ago as 1630s the English settlers were coming into conflict with the Native population. Although the museum is tactful about using the term, it was a genocide. The Nation lost 95% of its people in the 17th century, leaving only 4,000 people in 1636, and then another 85% during the 18th century, through disease, wars, and loss of land causing Native people to move away. I was surprised to learn that the Pequots were allies of the English because they were dependent on the colonists for trade, and had hostilities with the nearby Narragansetts. Pequots fought on the side of the English during the French and Indian War, and fought the British during the American Revolution.
You can walk into an installation of a 20th century home, with benches, where you can watch an immersive sound and light show, Almost Vanished. Although the Pequot population dispersed, and to varying degrees married and integrated with other Americans, to an extent some maintained their heritage, customs, and affiliation. So in the 1970s, with the Civil Rights movement driving cultural awareness and social acceptance, a younger generation returned to Mashantucket to revitalize the tribe. They fought to gain official recognition and regain land, and won. The tribe was federally recognized in 1983 and a law on gambling enabled Foxwoods to be built in 1992. There are 573 federally recognized tribes in the United States.
Your route ends with some rotating exhibits, which when in my case happened to be a modern photography exhibit, and Voices of Native American Women, which combines audio with photographs of Native peoples from many Nations. Of course they have a large gift shop with t-shirts, stuffed toys, coffee, mugs, maple syrup, jewelry and more, and take the elevator up to the observation deck, 185 feet high, for views of the woods and neighboring casino.
Whenever I travel, I like to meet people outside the tourism industry, you know, real people. To me that feels a more authentic way to pick up a region's culture, and socialize with someone who's not being paid to smile at you, someone who might genuinely engage with you. But to the best of my knowledge, the Mashantucket Pequot Reservation doesn't think of itself as one of those cute Cape Cod style tourist towns with a downtown neighborhood to stroll through, with lots of small shops and restaurants where you can chat with local owners. That activity is all centered at the Foxwoods Casino, which is also a resort, so don't embarrass yourself by asking if there's anything more. The idea that their average American lives might be an "attraction" is irritating. If you want to get a sense for the area, hiking trails will take you through the woods. And there's a zipline with astounding views, almost a mile long, running from Foxwoods to the museum.
With the important exception of their uniquely painful history, and their culture coming from America rather than from abroad, Native Americans are like other minorities. Some make culture and race a big part of their life and identity, and others don't think about it much. Make sure to check your questions before you ask them. Certain questions can make a person of color feel alien (take an interest, but don't be fascinated), or feel put on the spot to represent an entire people (don't ask questions that feel like a challenge, or bring up tough history tactlessly).
Anyway, I failed to make a new friend at the Mashantucket Pequot Reservation, but they have an extensive calendar of events, including the Schemitzun Pow Wow, a festival every August, where I bet you could meet people outside of the tourism business. They have a living history re-enactment of old-time Native, Colonial English, and Dutch life at their annual 17th Century Encampment in September, or visit the living history Native attraction at Plimoth Plantation on Boston's South Shore.
Events INSIDER is a labor of love where I strive to find the gems of wonder in New England. The Mashantucket Pequot Museum is one of those. It's just $20, a bargain for a space where you will spend at least 3 hours, and could spend an entire day. It's less than a two-hour drive from Boston, and even if a casino isn't your thing, make it a whole weekend and visit nearby Mystic Seaport Museum, the Submarine Force Museum, or make it a whole weekend that incorporates Newport, Rhode Island, or Hartford, Connecticut.
I'm glad to give the Mashantucket Pequot Museum my rare five stars PLUS, making it a must-see for everyone.
See the Mashantucket Pequot Museum for more.