Marmalade May Be Puerto Rico's Best Restaurant (5 stars)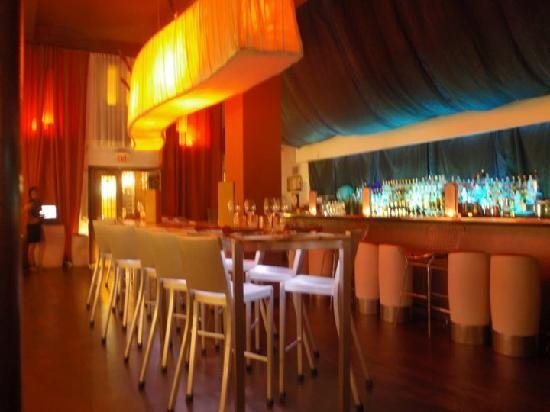 While preparing for my trip to Puerto Rico, I asked for advice and recommendations about places to go and things to do. While I was expecting to be told about the beautiful ocean water and the rainforest, a friend from Puerto Rico surprised me. His first suggestion was, "You have to go to Marmalade."
Marmalade is a high-end restaurant in the center of San Juan, the capital of Puerto Rico and where most tourists base themselves when they visit the island. I don't consider myself a foodie, someone who makes eating a special mission when traveling. But Marmalade is the exception. More than a restaurant, it's a "destination" that your mind will keep coming back to long after you have gone.
The restaurant is modern and busy, with drapes and soft but ubiquitous lighting dominating its interior. You'll find paintings and a fully stocked bar lit from behind and below, with giant empty bottles at each end. You can sit at the bar, share a long community table with strangers who could be friends, or choose a private table, made of marble and wood, which have comfortable metal chairs.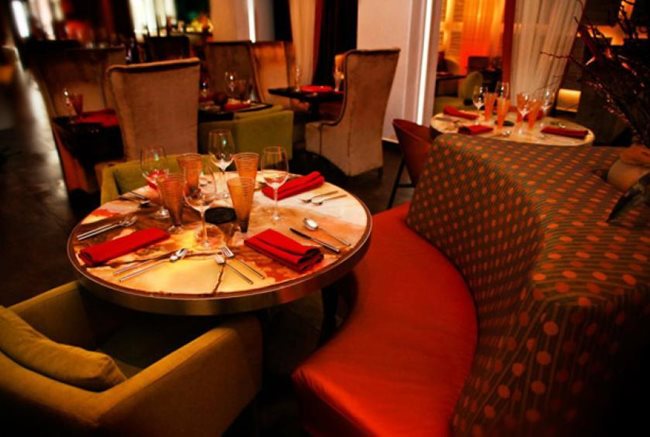 I was so pleased to find Marmalade well-lit, running counter to restaurants that attempt to create intimacy with darkness, but all that happens is that you can't see well enough for perfect chemistry with each other, and then start to fall asleep. Instead, lighting is all around you, in the archways, overhead and backlighting the walls. It's modern, funky, and surprisingly not too loud for conversation, even when packed.
Elegance is also a theme. Everything at Marmalade has a unique twist, even the water glasses, which are clear but stained with streaks of white. The themes of white and red work together without being garish.
Both male and female staff are dressed the same, in a pale white shirt and red tie. Our server made us feel like the only guests in the restaurant and we never needed to flag her down, catering to us in a way that pampered us like we're not used to. Although I was originally seated across the table from my friend, she readily agreed to allow me to scoot around to the closer side. They take away dirty utensils and bring new ones for every part of the meal. I have a pet peeve when a waiter interrupts conversation to ask if I'd like more water, or to make a big show of taking away dishes. At Marmalade, when staff attended, they did not interrupt.
The menu is expensive, but worth the price, and you'll find an extensive drinks menu including having a little fun with the descriptions of mixed drinks. Perhaps we were mistaken to order the Urban Hipster drink, which is colorful and comes with mint, because it's more of a standalone "let's hang out and talk" drink instead of a background that sits behind a meal. Wine pairings are suggested on the menu.
We ordered from the "tasting menu", which gives you the widest variety of foods to sample. Thus having ordered in advance, from appetizer to dessert, the courses all came out when we were ready.
We saw many themes at Marmalade, for example the excellent presentation for each meal. For example, the popcorn shrimp appetizer was served on a tray of sparking glass on an orange sauce. It's powerful, with guacamole, lime, and fried rice. Delightfully, the shrimp tails were removed, and it actually comes with popped popcorn.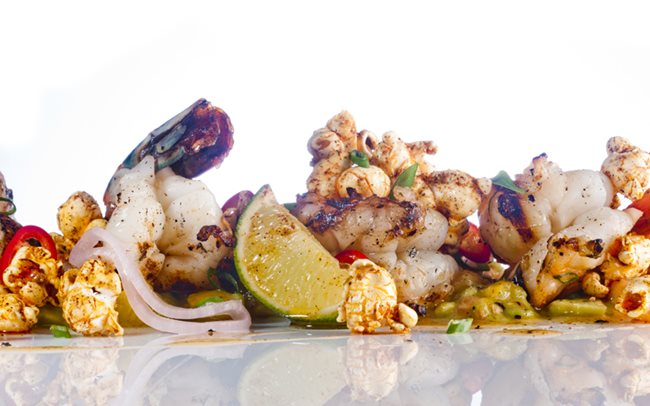 Another theme is that everything at Marmalade is textured with layers and colors. For example, the delightful paella appetizer has crunch on its top and bottom.
Order some bread to cleanse the palate. It's yeasty and served hot from the oven, delicious and served with oil, crispy but no burden to chew. I believe I smelled honey.
We also sampled the Heirloom Golden Beets appetizer, which was the only thing we tried that wasn't for me, but perhaps that's because I don't like grapefruit. I found conflicting tastes between the bland, crunchy beets, and the acidic sour taste.
The Jamon Iberico, a pear appetizer, is stunning, something I have never tasted before, combining possibly Gorgonzola cheese with pears and thinly sliced ham. It's interesting and rich, colorful and unique, well presented on a textured glass plate. I have a natural aversion to arty gastronomic lingo, such as being told that the ham came from pigs who were fed nuts, which made me roll my eyes, but you can't fault them for trying hard to perfect their dishes.
For the next course, we got the Tiny White Bean Soup, which my Puerto Rican friend had urged us to. It's served piping hot in an elegant white ceramic bowl. Holy smackers. It's remarkable, with the creamy texture of clam chowder, and very rich but not overpoweringly so. It's got a smooth, even texture, spicy with scallions. I can only describe it by saying that I felt like the bowl of soup was as deep as a pool. From tasting it through to swallowing it, there's flavor the whole way down. Even the smell is irresistible. It was the best soup of my life, hands down. I resisted the urge, in this upscale restaurant, to pick up the bowl and lick it clean.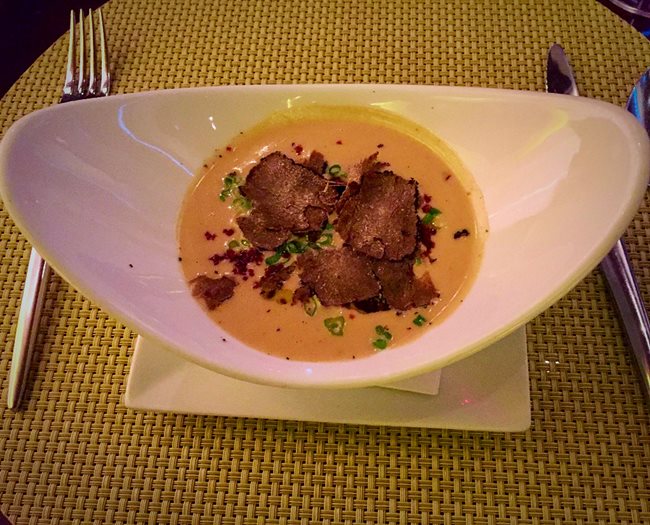 The Risotto of Lobster looks like a rice and cheese with lobster mixed with green onions. The lobster from Maine was a bit chewy, but that might just my lack of expectation from rarely ordering lobster, and it was a little bland. It's a one-note meal because it's dominated by the cheese.
For the main course, the Pasture-Raise Hormone-Free Beef Tenderloin was heavenly and comes with a wine sauce, sculpted into a small mound of such beauty that I hesitated to topple it in order to eat it. It comes with onion rings, lettuce, and asparagus, and importantly is grounded in a starch: turnip and scalloped potatoes with a hint of cheese.
It's a challenge to describe the Niman Ranch Natural Hormone-Free Lamb Tagine. It's original, with many layers of flavor. Beef is a richer meat than chicken, and lamb is the next level beyond beef. So to offset that heartiness, it's grounded with chickpeas, and with pomegranate seeds that add color more than taste. It's served in a spicy meat reduction sauce.
My friend and I were supposed to be sharing the desserts, but we ended up competing to see who could eat the most. You must try the Choco-L8, a chocolate mousse, where a dark chocolate layer is balanced by the chocolate on top that is sweet. It's crunchy but smooth in the middle, served with a raspberry, a perfect entwining of tastes.
I tried to stop my friend getting any of our shared Salted Caramel Corn Creme Brulee, but she was too quick for me. I hate to overuse the word, but it was also heavenly. It's also got a crunchy top layer, peanut brittle, with a smooth middle of ice cream that may have been coffee flavored.
Marmalade is the restaurant that does it all. From decor to service, to an extensive menu, to the attention to mouth feel as well as taste, to the presentation of the meals. Hot damn. This is the place to go, a "destination" as important as San Juan's beaches. It's cultural.
Whether you're a foodie or not you will appreciate Marmalade. Because of the price I cannot quite give it a "must see" five stars PLUS, but it's an easy five stars. If you're not rich but want to feel it for one evening, give it a try.
See more at marmaladepr.com.