Marini Farm Has the #2 Best Corn Maze in New England (4.5 stars)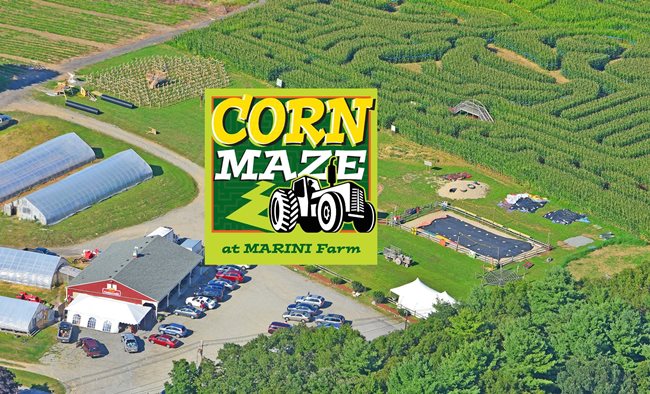 Now in its 90th year, Marini Farm is a real working farm with 500 acres, half of which is corn. They have a farm store and a mid-sized theme park attraction that you can visit, aimed mainly at kids, but with a corn maze, apple cannon, and paintball range that teens and adults may enjoy as well. It's all based on the North Shore in Ipswich, Massachusetts, an oceanside tourist destination where you can also see wolves at Wolf Hollow or attend an event at Crane Beach or Castle Hill, the historic parks.
Out front you'll find a farm store, which sells a wide variety of foods including tomatoes, bananas, watermelon, onions, apples, and a bakery with bread, pies, and muffins. Some pies were left uncovered on a countertop left with flies around. On the side they have farm animals to encounter, and you'll find hay bale sculptures and pumpkin displays to relax or take photos with.
To the other side, a large children's playground has a dozen inflatable attractions, including a giant open inflatable pad for jumping on, moon bounces including a pirate ship, and wooden painted dioramas to take photos with. Run the rope maze or visit the stand where they sell apple crisps, mini donuts, hot chocolate, kettle corn, candy apples, roasted corn, and hot cider. Everything is farm themed, with even a "sandbox" with corn kernels instead of sand.
The main attraction is the 8-acre corn maze, and there's also a 1-acre mini corn maze to the side. This year's theme is Aladdin, from Arabian Nights, so from a birds' eye view, the corn maze is planted in that shape. Two bridges that lead you up and over the maze give it a three-dimensional topography, making the maze slightly harder and more interesting. Be careful not to enter the exit way by mistake. The entrance is to the left of the exit.
I'm a corn maze enthusiast, maintaining New England's largest list of field mazes, but even I can admit that walking a corn maze can become tiresome. So I'm glad to say that Marini Farm takes on this challenge in several ways, making their maze #2 in New England, in my opinion, after Davis Mega Farm Festival.
First, and uniquely amongst corn mazes I've visited, you can go to a website that tracks your progress through the maze using your phone's GPS. This is far easiest than trying to work from a photo of a corn maze from above, which is basically impractical. Also, it shows you where you are. So you never get that sinking feeling that you don't know how much longer you'll be in the maze.
At other corn field mazes, which are grown very tall so that the views are monotonous. All you're seeing is corn. At Marini Farm, at the start of the season in mid-September, their corn stalks are short enough that you get some views of the fields all around you. That helps you orient yourself, too, and you also get good views when crossing one of their wooden bridges in the maze.
The maze has no dioramas, games to play, or snack shack, but you'll find puzzles and clues through the maze, including places to take a crayon rubbing. Ribbons line the pathways, which are wide enough for you to easily pass someone going the other way, and the ribbons change color to let you know what part of the field you are in, a unique innovation. The ground can be uneven and with rocks, and bring boots if it's rained recently. We did spend more attention than expected looking down to watch our step. There was a little trash in the maze.
Also uniquely, they require you to carry a flag with you, so that you can wave it and get help in the maze from a staffer. This seemed unnecessary, and should have been optional, but must put many people's minds at ease, making them less worry about getting stuck. At night, they have flashlight corn maze nights. It's not Halloween themed, but they will have a not-so-scary Halloween kids' party and hay ride this year with costumed characters.
To the left of the corn maze you'll find a couple of other attractions for older kids or adults. They have an apple cannon that shoots apples or potatoes at a creative range with zombie dioramas, metal targets including trash cans that make a pleasing thud when shot, and big wooden boards with holes that, if you hit the hole, you can win a t-shirt. A paintball attraction with mounted guns uses the same target range. Of course you shoot eco-friendly paintballs. We found it harder than expected, since puffs of wind can steal away your shot, and the air pressure of each shot can change.
Of course the farm has space for private functions such as birthdays and corporate events. Their events include a pet-friendly day where you can bring you dog, and hold a road race and mud run.
Towards the road, you can join a hay ride. To begin, they give out cider donut samples and a guide tells you some history of the farm. But the ride itself sort of goes nowhere, visiting a meadow, apple trees, and corn, and no animals. It needs someone to stay in the wagon continuing the narration. It was beautiful, but the path was too bumpy to fully relax and take it all in.
Creative and unique, Marini Farm has some rough edges and will take only a half day to visit. But its corn maze outpaces almost every other corn maze in New England. I'll give Marini Farm 5 stars for the corn maze and 4.5 stars overall as a family farm attraction that shows innovation.
See marinifarm.com.