Make Discoveries and Enjoy a Classy Day in the Sun at the Newport Mansions Wine and Food Festival (5 stars)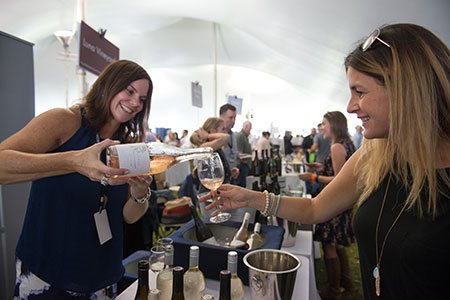 by Perrie Isidore
At the Newport Mansions Wine and Food Festival, you can sample and learn about hundreds of local, national, and international wines and meet local and national-level chefs for demos and tastes of every cuisine. It takes place over an entire weekend, at the Elms, Rosecliff, and Marble House in Newport, the mansions from the Gilded Age around 1900.
The setting couldn't be nicer. Each of the mansions, now owned by a preservation society, has been turned into a museum where you can learn about the lives of the wealthy, and their servants, and take in the beautiful and sometimes over-the-top opulence.
The Newport Mansions Wine and Food Festival is composed of several separately ticketed events such as the Wine & Rosecliff Gala, the Sunday Jazz Brunch at the Marble House Terrace, and Newport After Dark — which takes place at a local ocean view restaurant, Forty 1 North. The main events are two "grand tastings" at Marble House on Saturday and Sunday, which is the session that we attended.

There's not much parking along Bellevue Avenue, but the event sent guests to free satellite parking at the Newport Beach, from which coach buses of 30 to 40 people took us to Marble House within ten minutes. You enter through the mansion, but the entire event takes place outdoors, with dozens of staffed tables, and a jazz band with a sax, cello, and drummer on the mansion patio. Although you should wear practical shoes for any lawn event, guests came dressed up, creating a classy atmosphere. We didn't have access to the bathrooms in the mansion, but were given three mobile trailers with bathrooms, a step above portable toilets.
With some patience in line you'll get a black tote bag with the program, a list of the wines, and a branded wine glass that you can keep. Then you explore the lawn, taking in the ocean view, and meeting and speaking with chefs, sommeliers, and vendors. The grounds were beautiful, including a bonsi garden and a "Chinese Tea House", a minitature, separate building in an Asian style.
We had no trouble taking a seat when we needed to. The lawn is dotted with white round tables and chairs, for you to sip your wine and look out over the water. Or sit under the festival tent at a high table, or relax at one of the couches. There were also wooden benches facing an outdoor cooking demonstration on a raised platform, with different chefs presenting. We picked up a receipe for Seafood Jambalaya that we saw a celebrity chef making. There was also a cooking session inside the mansion.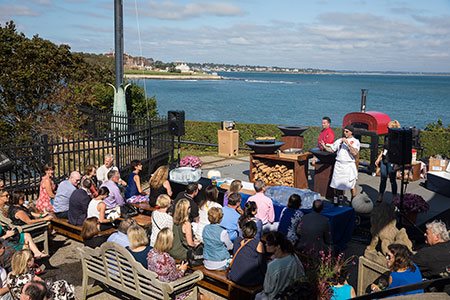 The tables mostly offered wine samples, but there were also a few food tables serving small plate tastings. Going from table to table, you'll find some big vendors including White Claw, a flavored malt with seltzer water and alcohol, and Baileys, the Irish cream liqueur. Along with the wine and food samples, you'll get giveaways such as a pink hat and a nice-smelling bag of wood chips. Some tables were more interactive, for example one where you can make your own mimosa, adding berries, flavoring, juices, and mint.
A series of white and reds, most of the wines were dry, but there were also a few tables with sweet wines, and some non alchol drinks-mixers and seltzers. Although some tables only offered one or two types of wine, most tables offered up to six wines to sample, usually one or two popular wines that aren't hard to fine and then more esoteric varieties. Baileys served three flavors of their Irish cream, for you to mix in with coffee.
For foods, we found fruit in cheeses, funnel cake with a grilled peach, and duck sausage, which was seasoned and dried right in front of us. It's always a treat to see Cabot Cheese with their delicious cheese samples, and we got an entire rib piece at one table. Delicious! Of course, the vendors hope that after sampling their wares that you buy their wine or visit their restaurant, but the selections are great ones and you will come away with many ideas on restaurants, wines, and food recipes.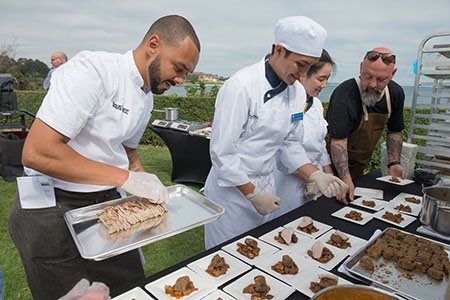 After attending the Newport Mansions Wine and Food Festival, stay in town to let your head clear. Because the shoreline cannot be privately owned, there's a strip of public land, a walkway, that runs between the mansions and the oceans, called the Newport Cliff Walk, which heads to the Newport Beach. It is a beautiful and uniquely New England pathway, where you'll find a few benches, or bring a blanket to sit on and relax. Of course there's the beach itself, historic Fort Adams, the nearby mansions including a topiary garden, and the many restaurants and shopping district to wander. See our review, The Newport Mansions are Educational, Spectacular, and a Cautionary Tale (5 stars PLUS).
There are other wine festivals, but the Newport Mansions Wine and Food Festival is great fun to feel wealthy for a day, at a beautiful outdoor location in an oceanside tourist town with plenty to do for a whole weekend's visit. You'll learn a lot about wine and food that will inspire you. I'm glad to give the Newport Mansions Wine and Food Festival 5 stars.
See the Newport Mansions website for upcoming events such as the Holiday Dinner Dance and Christmas at the Newport Mansions.