Loon Mountain Brings Adventure to Summer and Fall (5 stars)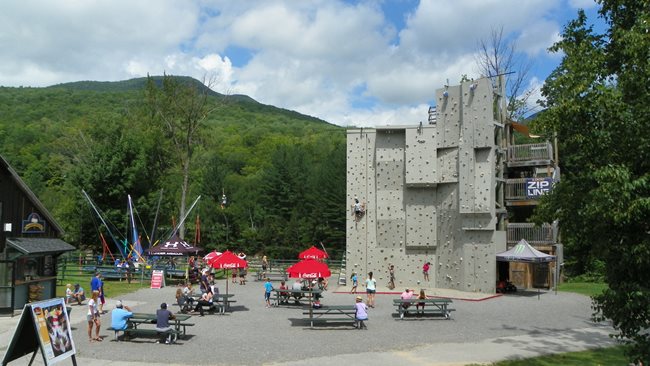 During the winter, of course you think of New Hampshire for skiing. But during the off-season, you'll find an adventure park at Loon Mountain, from late May to early October.
Their remarkable range of attractions are fun for both kids and adults. At the base of the mountain, their adventure center features the Aerial Forest Adventure Park, with 5 ropes courses from easy to challenging. Kids as young as 7 years old can do it, and you must weigh 250 lbs or less. Expect a physical challenge.
If you'd prefer something easier, ziplining is effort free and makes you look like a superstar in photos and video. Try the zipline, which runs 750 feet along a stream. Remarkably, there is a second zipline that takes you back to base. That is convenient!
You'll also find a bungee trampoline, mainly for kids, with a maximum weight of 200 lbs, a kids' playground, moonbounce, a simple maze, and a climbing wall that they say is the largest in the region. (Pro tip: use your leg muscles to lift instead of your arms.) You can also rent a dirt bike to explore the mountain pathways, or an "e-bike" which gives you a boost. They have just 8 e-bikes, so put your name in for them early, and they're only allowed on the highway, not cross-country trails.
To me, the best reason to visit Loon Mountain in the off-season is the gondola ride to the top. It's an 11-minute ride up in a clean, modern, cab that seats 4 people comfortably. (People do bring their dogs up in the gondola, if you have allergies.) Your ears will pop and you'll get great views all the way up and down the mountain, and can see that the hiking path up and down has great views as well. It's not scary because the gondola cabin is completely enclosed.
The summit is the 5th highest ski mountain in New Hampshire, and the 10th in New England. So even if it's a scorching hot day at the base of Loon Mountain, the top will be cooler, which has something to do with the atmosphere being thinner and having less of a greenhouse effect. We didn't need a coat the day that we went, but consider it. It's great to cool off and walk around exploring.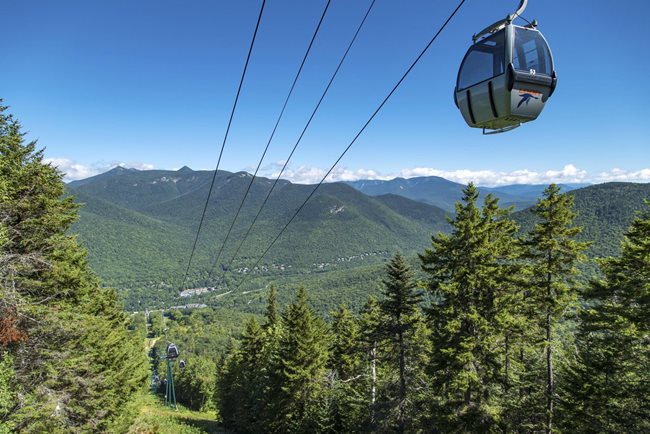 At the top you'll find the Summit Cafe, where you can sit on the terrace with a long overlook of a lake and the White Mountains. They've got a disc golf course, where you throw a frisbee instead of hitting a golf ball, a kids' playground, and an observation tower that you can climb stairs up to. They've got a small outdoor space for weddings with another long overlook view.
Finally, explore the "Glacial Caves". There are no real caves in New England; these are instead jumbles of boulders piled up by ancient glaciers. The clefts made by the large rocks leaning against each other form a series of "caves". There are several small locations, with well-maintained, safe wooden walkways through the forest to reach them. Most of the spaces require you an adult to twist to fit in, and so we only entered a couple. But we saw kids having a great time exploring there. Remarkably, and on select dates only, you can be a "guest train engineer" and drive their old timey steam-powered train. Of course, they have lodging on site, which we did not review.
Back at base, you'll find a large deck for relaxing, with a campfire, and a pub. You can spend an entire active day at Loon Mountain. Watch the individual attraction pricing, which will add up, and they need more waiver kiosks in their lobby to speed the lines along. Although you won't find permanently installed theme park rides, that's not the reason that you head up into the mountains, and you will find great views and ways to explore both athletic and easy. I'm glad to give a full 5 stars to Loon Mountain.