Longleat is the UK's Best Amusement Park and Zoo (5 stars PLUS)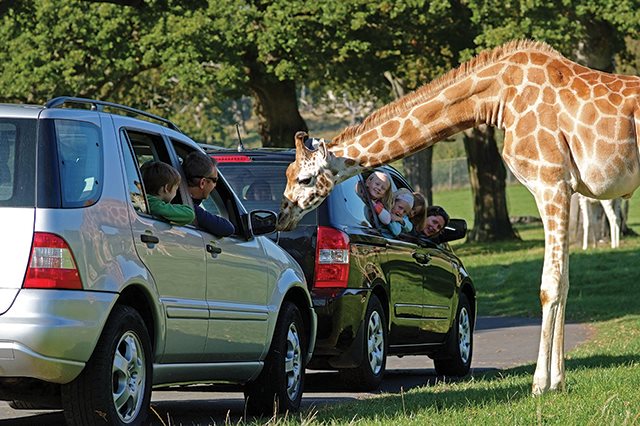 Longleat is an old British mansion that was expanded into an amusement park and safari that you can drive through with your own car. It's a must-see, out west of London where you'll be traveling to visit Stonehenge anyhow. You can easily spend a day at Longleat, or two days if you take your time. Of course they have festivals, including a balloon festival called the Sky Safari, The Food and Drink Festival in June, and others. They're open all year except January through March.
In the morning, we ate at Chameleon Tree House and Café. They have a variety of excellent hot and cold foods, including healthy options, served by friendly staff who also buss the table.
To avoid lines best, go to the Safari Park in the afternoon. You drive through in your own car. They give you a CD to play but we didn't have a player in our car. After entering, you can stop in the African Village and get out of your car, to meet animals including giraffes, which you can feed. You get right up close to meercats and a tortoise. Then visit the gift shop to buy stuffed animals, little bongo drums, or branded bags, and the Watering Hole Café, which doesn't serve a full lunch, but has sausages, bacon, pastries, juice, and tea cake.
Went to the Safari Park. I don't think it's music, I think it's just a narration. They gave us a CD to play. We didn't have a CD player in our car, but apparently it's a narration of what you'll see. We saw bongos, lemurs, giraffes, flamingos, and best of all the monkey drive-through. It's the most exciting thing because the monkeys will climb right up onto your car, which you must stay inside and keep the windows closed, unless you want monkeys in your car with you! Oh, they also have dromedaries, rhinos, tigers, elephants, wolves, cheetahs, and lions. Stop at the deer park to feed the deer. Some animals get up close to the road that you drive through the park. Others bask in the sun at a distance. Note that there are two driving lanes, a regular lane and a passing lane. So you can pull over to ogle animals for as long as you like, allowing cars behind you to pass you if they like.
Then enter the adventure park, the main theme park grounds. They have animatronic dinosaurs in the Long House, and other animals elsewhere. You'll find some rides strictly for kids, and we got our photo taken right up close with penguins. Then we went to the parakeet aviary to take photos with birds that perches on our arms and heads! Make sure to bring cash with you to buy feed.
You'll also find the world's largest hedge maze. When I visited Longleat 20 years ago, I was mesmerized by the maze, but was a bit disappointed on my return, having seen so many corn field mazes and other mazes since then. (Our favorites in the UK are now The Forbidden Corner and Leeds Castle.) The hedge maze is paved, for pushing strollers and so that it doesn't get so muddy after a rain. But the walls are very high, so you don't have a view of anything as you walk, just lots and lots of hedges. The paths are quite narrow meaning that it's difficult to pass people coming the other way. It doesn't have much inside to see, just a few clever grottoes that fool you by looking similar. They say that you can do it in 20 to 90 minutes. We got tired and exited early.
Skip the train ride, which is kid-sized, and seems to have the same views as the boat ride, which I think is the same as the Jungle Cruise. This ride is set back from the main throughways, hidden from view, and thus has shorter lines. On the boat tour, sit on the right-hand side to best see the wildlife. You'll find hippos and gorillas, and then you see and can feed sea lions! Again, take cash with you to pay for animal feeding.
Longleat House itself is a historic home, where you can take a tour or go on a self-guided tour. I would hate to disrespect such a historic home, but the UK is full of better curated old mansions where you'll find history more accessible, and if you're only at Longleat for one day, it's safe to skip it. They do have a few mannequins but it's not going to interest most children, or adults without a grounding in English history.
Longleat has so much to see for both kids and adults. Just walking the grounds or driving across the grounds is lovely. We especially enjoyed the safari, and don't worry about damage to your car from the monkeys. They are just delightful! You'll want to stop and feed the giraffes, and consider the VIP tour where they get you up close to the animals. Especially if you have kids along, you could easily spend two days there. We filled an entire day and didn't even see the bat cave, red pandas, mirror maze, and more!
Longleat is a true 5-star attraction, but it gets a rare 5 stars PLUS because of the monkeys and extensive other animal encounters. Next time we'll try to get the VIP tour!
See longleat.co.uk.