Local Motion is the Nonprofit Bike Shop that Promotes Biking to All of Vermont (4.5 stars)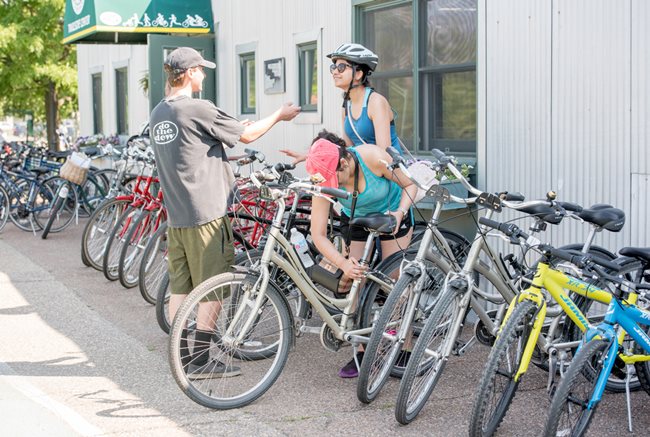 Local Motion is more than a bicycle rental center in Burlington, Vermont. It's a statewide nonprofit organization promoting biking and walking to everyone.
Now 20 years old, Local Motion help towns and cities understand how important biking culture can be. For example, they created a program called Bike Smart to teach children how to bike safely. They send four trailers each with 50 bikes to Vermont schools for a week at a time, where teachers use them to teach kids responsible riding. Last year they reached 14,000 children this way, in every country in the state.
So you're supporting a good cause when you rent from their rental center in Burlington, where they serve 12,000 people a year. It's right on the Island Line trail, an old train way turned into a bicycle path, which runs along the shore of Lake Champlain.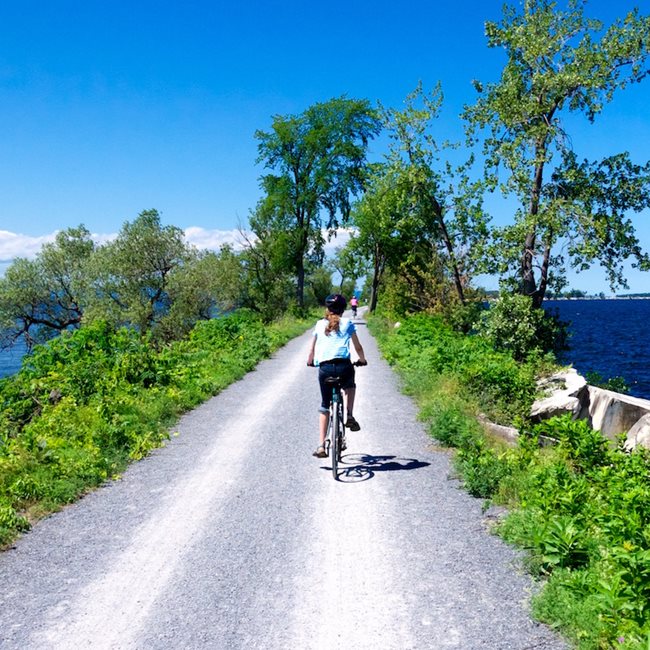 The staff were helpful and didn't make us feel we needed to be macho. They don't rent scooters but do rent regular bicycles, including electric bicycles! On an electric bicycle, you still have to pedal, but an electric motor accelerates your pedaling with 5 different levels shown on an LCD screen. The bikes have the usual gearshift as well. We kept ours in third gear and on level 1 or 2 of motor support. That was plenty on the bike path, which was all level.
It really works! The motor assist gets you going with hardly an effort. However, the bikes didn't glide as well when you stop pedaling, probably because of friction in the motor and gear system.
From the Local Motion shop, it's a 10-mile ride to the bike ferry, which Local Motion runs. That helps you cross a gap in the trail needed for boats to pass through, and then you're on South Hero Island, a delightful getaway. It's a rural area, with orchards, vineyards, and lots of scenic places to bike to. Our ride was cut short by rain, but we passed a science museum, a skateboard park, and had great views of the water with waves. You'll see tons of families with cute kids on the path.
Local Motion also hosts events, such as learn-to-ride rodeos, and 'lock and learn' about bike safety. They host helmet programs with specially subsidized helmets, and more.
Local Motion does a lot of great community work, including running "bike libraries" where you can borrow a bicycle for free. They're in a great location, have excellent customer support, and an adult can rent a bicycle for 4 hours for $25, which is average or slightly above average rate. The shop is small but a great way for you to feel active, without effort, and to see more, when you only have a day to explore Burlington. 4.5 stars.
For more, see Local Motion online.