Letchworth State Park's "Grand Canyon" Has Both Beauty and Luxury (5 stars)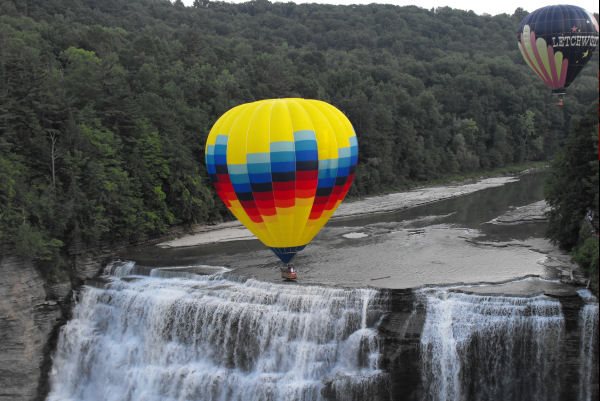 Set just east of Buffalo, for your next trip to Niagara Falls, Letchworth State Park may be the best canyon system on the East Coast. It is 17 miles of parkland surrounding and defined by a gorge cut through mountains by the Genesee River. The gorge walls fall as much as 600 feet to the river, which has three major waterfalls up to 100 feet high.
Although Letchworth has traditional campgrounds, you can also sleep and eat in luxury at the Glen Iris Inn, or just stop by to get a map and advice from an expert guide at the front desk. The inn is set next to the chasm, so that you have a stunning view of the rock walls and river from the overlook and front porch. Inside you'll also find Caroline's, a restaurant, which we went to for dinner.
Caroline's is far more upscale than you would expect in a public park, decorated elegantly with portraits and floral wallpaper. The music is peaceful, and your server lights a real candle at your table, though the place is a bit too quiet for complete conversational privacy. They bring out free bread and butter, delicious and hot.
The menu is extensive, with a cultural New York take on many dishes, including crab cakes, soups, a variety of salads, and steakhouse and seafood dinners, with vegetarian offerings and a wide choice of coffee and alcohol.
Their serving sizes are generous, making the pricing a good value. (For example, desserts are just $7.) We could have made a meal of just the appetizers! We tried the garlic Parmesan chicken wings, which come with a large side of bleu cheese. Being deep fried, the wings don't need the cheese, but it was hearty, not too greasy. The Parmesan cheese adds texture, with a garlic taste that takes you by surprise. Regular grilled chicken wings are also available. The chicken teriyaki potstickers, dumplings, were served piping hot and delicious, good, deep fried, and salty.
The salads that came with our meals were straightforward, with cherry tomatoes, lettuce, shredded carrots, and cucumber. Then came the meals, which were also oversized, served on enormous plates with an attractive presentation. You could have split either dish between two people. We asked for the Prime Rib & Seafood Dinner to be well done, and it was cooked thoroughly but didn't come dry, as elsewhere happens. Instead it was deliciously tender, with a juicy mouth feel, and easy to chew.
We also ordered the Porterhouse Pork Chop, with red russet potatoes and snap peas. The apples, with a hint of cinnamon, make a spicy offset to the pork chop, which is tender. The potatoes are baked so smooth that you can just pop them in your mouth without needing to chew. You'll find a dozen dessert offerings including the Beer Brownie Sundae and Maple Walnut Cheesecake.
Central to the park's activities, and next door to the rooms in the Glen Iris Inn, the Pinewood Lofts are luxury units that will leave you speechless to find in a park, with all the amenities to wait out a rainy day if you have one. It's the most luxurious place I've ever stayed in a campground, though too much full cabins to be called glamping, glamorous camping.
Our unit was a spacious, single space with a loft upstairs, with a large bathroom that included a hot tub. It felt homey rather than pretentious. A stay this comfortable lets you be fully active, hiking during the day, and then recharge yourself at night. Each level had its own thermostat for central air conditioning and heating. You'll find an island kitchen with all amenities, a television and electric fireplace, with plenty of seating. The queen size bed is comfortable, and the light blocking window shades let you sleep in if you need to. There's also an outdoor space where you can sit with a table and four chairs.
To make the best use of time, keep to the southwest side of the Genesee River, the park's middle and lower falls. That's where the scenic overlooks are. You can skip visiting The Mount Morris Dam, which is farther away than it seems, and because it's a dry dam — meaning they don't let water back up to form a lake — there is not much to see.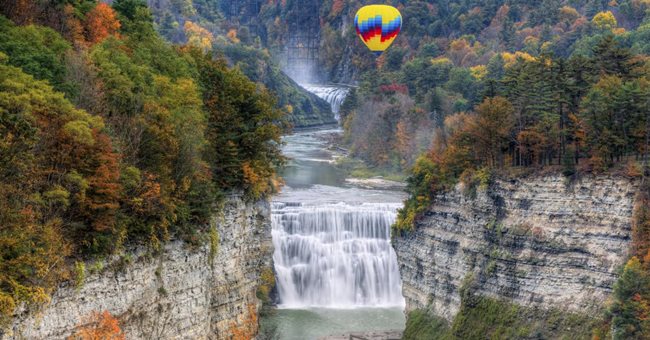 Instead hike the 66 miles of trails through the park, all either moderate or easy, with the most popular being Trail #1, the Gorge Trail. It's a 7-mile trail of moderate difficulty that visits the numerous gorge overlooks. You can also drive to most of them. The park has good signage, so you won't get lost, but pick up a map to guide you. We drove in order, north to south, hitting scenic spots.
The Gardeau Overlook is beautiful, but you'll see mostly trees. At the Tea Table, you'll find outdoor grills and cute picnic tables. This is a fantastic overlook where you can see all the way down to the river. Then at Wolf Creek, you can cross a bridge and climb easy stairs to get a stunning, up close view of the river as it cascades down a waterfall. It is easily worth the 3-minute hike. At the Snake Hill Overlook, you'll also get a very long view of the river, but Great Bend Overlook is even better because your view is less obscured by trees, and you can walk around a little, or sit on a bench to take it all in.
We skipped Humphrey's, where there wasn't immediate parking, and saw instead Archery Field Overlook, which also has picnic tables. Then we found ourselves at the Lower Falls, which has a restaurant and an entire campground, with dozens of picnic tables and barbecue grill spots.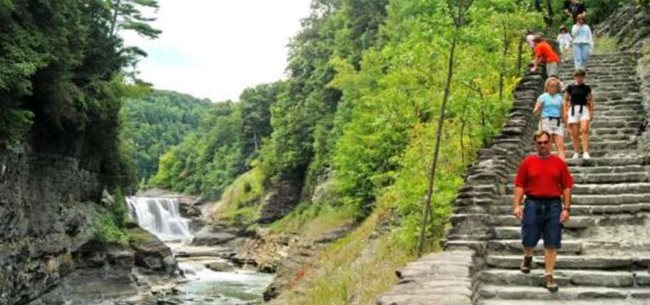 From there it's worth your time to hike 15 minutes, including a long stairway, to see the lower waterfalls. Nearby you'll find the Humphrey Nature Center, which is small but modern, with interactive exhibits such as a pressure plate that measures the force you can push with your hand, a kids' play area, and a lecture hall. They have wi-fi, too. Nearby is the William Pryor Letchworth Museum.
While Letchworth has offers the usual campground activities of hiking, fishing, and kayaking, it also has exceptional, bucket list adventures. Balloons Over Letchworth offers a hot air balloon trip at dawn or sunset that is sure to be stunning. You can also go whitewater rafting with Adventure Calls Outfitters, which we reviewed and loved (4.5 stars). Letchworth also hosts numerous guided tours and nature talks.
Nearby, the Charcoal Corral is a restaurant and mini-golf center that has a drive-in movie theatre. Or see the largest living history museum in New York, the Genesee Country Village & Museum, where costumed reenactors explain history. Other visitor attractions such as performing theatres rest in nearby Perry, New York, or make the even shorter trek to Portageville for bowling at the Letchworth Pines.
Letchworth State Park has great comfort in its food and accommodations as well as great views and places to bond with nature. It is one of a dozen gorges that call themselves the Grand Canyon of the East, and deservedly so! Letchworth State Park gets a full 5 stars.
See Letchworth State Park our review of Adventure Calls Outfitters.