Learn To Surf LA Gets You Surfing in Sixty Minutes (4.5 stars)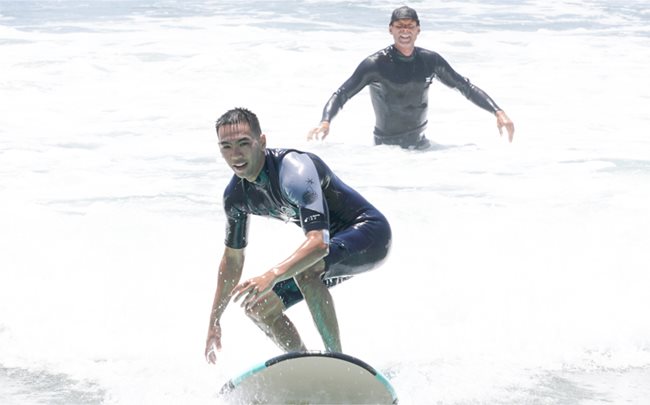 Learn to Surf LA is Los Angeles's best surfing school, licensed and permitted with locations in Santa Monica, Venice Beach, and Manhattan Beach, California. They kindly hosted me for private surfing lessons this month at their Santa Monica location. They also host group surf lessons, stand up paddle board lessons, and host corporate team building lessons and private parties, too. During school breaks, they host full-day "surf camp" experiences for kids ages 5-17, which includes body surfing, sand sculpting, and volleyball.
I knew that surfing would be a challenge, because I'm both overweight and tall. Falling is so easy for me, and balance is not. But my instructor, Michael, who is from the UK, handled me expertly. He was encouraging and never made me feel that I wasn't macho enough, even I looked way out of place so close to Muscle Beach.
The waves were moderate in severity. Of course, you need some good waves to give you a big push, which was a problem in lessons I tried the following month in Miami. Having a big push is what keeps you more stable, similar to how staying balanced on a bicycle is more stable when you're moving, not stopped.
The instructor took my measurements beforehand, for my wetsuit, because in May the water wasn't quite warm enough to go without one. And having my measurements he was able to choose the right board and technique. I'm too tall and amateur to simply hop up onto a surf board. I needed a four-stage process. First, I was told to lie down on the board. Then, bring one knee up. Then, bring the other foot up. Then stand.
We spent about an hour in the water, longer than the usual lesson, and I did manage to stand twice, but only for a quarter second. Still, that was a lot further than I got at my lessons in Miami.
Surfing is something that I thought I could never do. I'm just not an athletic person, and I'm so tall that I'm double trouble for any instructor. Standing on a surfboard even briefly was a dream come true and it was only possible due to the expert guidance of Learn to Surf LA. Michael thoroughly understood the principles such as centering myself on the board properly before trying to stand, and was able to comment supportively on why I was falling and how to fix it.
One note, the surf board in Miami was softer, and I did bruise both my big toes in Los Angeles. So, I cannot give it a perfect score, but it was as close to perfection as a fat guy like me can go. I'll give Learn to Surf LA a 4.5 stars.
See learntosurfla.com.