The John F. Kennedy Presidential Library and Museum Brings the Deep Themes of History to Life (5 stars PLUS)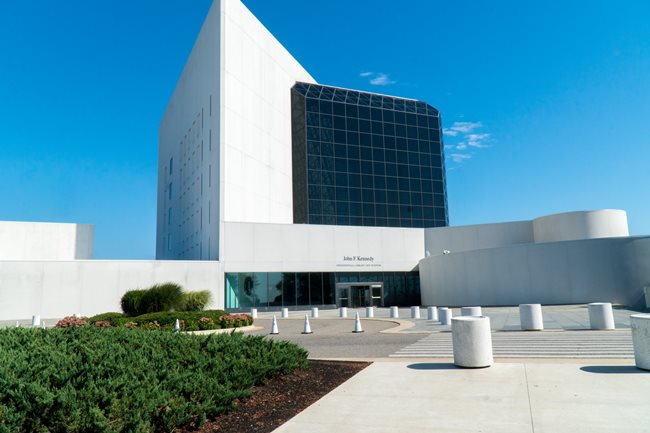 John F. Kennedy, or JFK, as you know was born in Massachusetts, served Massachusetts in Congress, and was President of the United States in the early 1960s. While he served for less than three years before his assassination, Kennedy is often ranked in the top 10 US presidents by historians. The John F. Kennedy Presidential Library and Museum, in Boston, is devoted to his life's work, including his presidency, and the impact he made that is still felt today. You'll find exhibits there on his founding of the Peace Corps, his setting NASA on a mission to land on the moon, civil rights legislation, handling the Cuban Missile Crisis, the Equal Pay Act for women, and more. It is one of just 14 presidential museums in America.
I was kindly invited to review the JFK Museum on Presidents Day, for their special Presidents Day celebration. There was plenty of parking, and for the holiday, a free shuttle bus picked up visitors from the JFK stop on the subway. They had a wide variety of kids' craft-making activities, speeches, and historic re-enactors, including African-Americans (Sojourner Truth and Harriet Tubman), and women, such as presidential first ladies.
The JFK Museum is accessible on all levels, to adults who want to dive deep into history, but also to adults and kids who just want to quickly walk through. While built in the 1970s, the museum's modern touches include video screens and touch screens, and the wall text of its exhibits are short and easily read. The museum also has a space for special exhibits, such as the forthcoming one about children in the White House, but the permanent exhibits pretty well matched my memory of the museum from my first visit there 15 years ago. There is plenty of seating throughout the museum for those who want a rest. The "library" part of the JFK Library and Museum is a research library, where scholars, and to a limited degree, members of the general public, can access documents from Kennedy's life and administration. The papers of famous author Ernest Hemingway are also archived there.
The museum is so interesting. You will learn a lot about history! To begin, you enter a midsized theatre and watch a short movie about Kennedy's early life. (Pro tip: the seats are tiny, but if you need something large you'll find chairs without armrests on the theatre's top tier.) Then you walk a single path through the permanent exhibits, which are engaging and accessible. You start with an exhibit on Kennedy's campaign for the presidency, and another on the first televised presidential debate.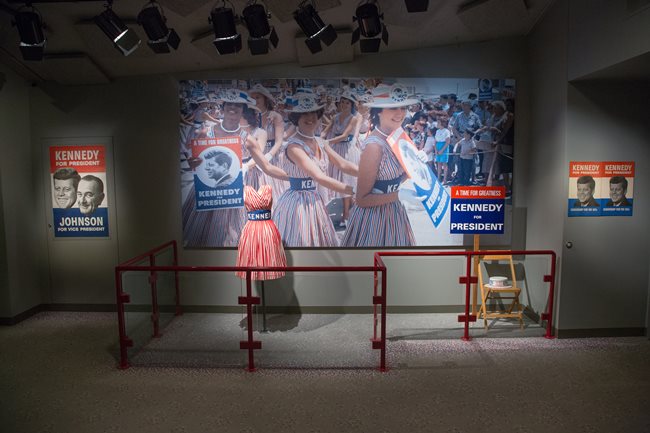 Even though I had previously been to the JFK Museum, I learned a lot! I learned that the missiles from the Cuban Missile crisis did not have the range to directly threaten Boston. I learned that JFK had an older brother who died young, a pilot killed in a military accident in World War II. I was reminded that JFK founded the Peace Corp, which gave a non-military way for Americans to serve their country and become unofficial ambassadors to foreign countries in a time before mainstream airplane travel sent American tourists everywhere. Kennedy was a pioneer in being a Catholic, at a time when Catholics and the Irish weren't fully assimilated into mainstream America. (People used to think that the Pope might try to give orders to Kennedy.)
There's an exhibit for Robert Kennedy, JFK's brother, who became his Attorney General. RFK fought organized crime, though surprisingly there's no mention of RFK's own assassination or a memorial for him. You can watch a film on the Cuban Missile Crisis. There's a dark, all-black corridor about JFK's assassination, with some video. The memorial is heartbreaking and will make you cry.

Then in the Legacy Exhibit, just before you exit, make sure to notice a piece of moon rock from the moon landing. There's also a chunk of the Berlin Wall, which went up when Kennedy was President. Of course there's a cute gift shop with an unusually wide range of items for a museum, including raincoats, shoulder bags, postcards, t-shirts, pins, ties, books, and more. On Presidents Day, their large cafeteria space also hosted a make your own ice cream sundae bar, and numerous kids craft tables to make popsicle stick flags, "scrimshaw" with bars of soap, and more.
You'll find plenty of special programs for kids outside of holidays, too, including arts and crafts and storytelling, though some of the permanent exhibits are more accessible to kids than others. For example, the mock Oval Office is roped off, and two delightful exhibits on the culture and home appliances of the 1960s — including a vacuum cleaner and board games! — are set behind glass.
The Kennedy Museum opened in 1979, and their permanent exhibits are aging a bit. At a more modern museum, there would be a museum volunteer demonstrating an old gadget to kids and adults alike, or a reproduction icebox to open and close, or an old board game that you could try, like Twister. Of course, the museum was of created at a time before museums encouraged visitors to take selfies, had great interactivity, or went the extra mile to connect history to the issues of today.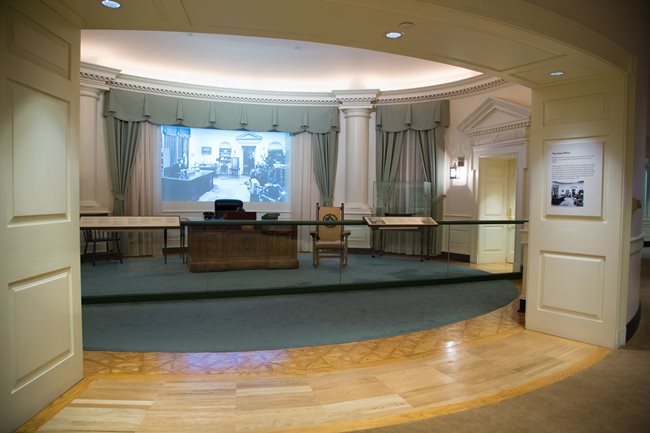 The JFK Museum is brave in its portrayal of the civil rights movement and Kennedy's civil rights legislation. It does not shy away from showing the discrimination of the era, and you'll see a video about it in the mock Oval Office. I was also pleased to find that the Presidents Day celebration event was modern and included women and minorities. One track in the day's schedule was dedicated to the suffragette movement, for example. The archivists and curators I'm sure are doing what they can to connect history to Boston's diverse audience.
That being said, the permanent exhibits were created before our modern sensibilities. In addition to the exhibit on the civil rights movement, there might have been an exhibit dedicated to one or more prominent African-American in JFK's personal orbit, or from his time period, for example Martin Luther King Jr. or the African-American women at NASA from the film Hidden Figures.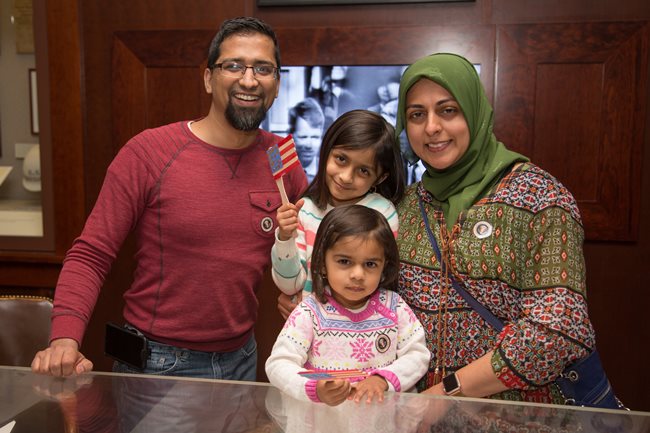 The Jacqueline Kennedy exhibit was also underwhelming. It's true that, unlike Eleanor Roosevelt and Hillary Clinton, Jacqueline Kennedy as first lady was not part of policy making and said that her role was to provide as stable and normal a family life as possible for the President. She was also a fashion and lifestyle leader. However, I'd like to think that Jacqueline Kennedy was a person of substance. She spoke four languages, had lived abroad, had been a newspaper photographer, and had assisted Kennedy in writing his book, Profiles in Courage. Although she was not considered an advisor to the Presidential administration, she traveled with Kennedy on many foreign trips and surely played a role in good will and diplomacy beyond photo ops. Mrs. Kennedy was the one who requested an "eternal flame" at her husband's gravesite. So in an era where we like to inspire girls and young women with role models, I would replace the cute knickknacks from Mrs. Kennedy's youth in her exhibit with something more substantial and inspirational.
We tend to speak well of the dead, and with JFK's tragic assassination, it's understandable why the JFK Museum glosses over some of Kennedy's failings. However, I have seen museums that are braver in their subject matter… for example New England museums that speak to Yankee roles in slavery, something that's easy to blame solely on the US South. Kennedy did make some mistakes, yet the Bay of Pigs fiasco is given just one mention that I saw in the museum. Kennedy arguably triggered the Cuban Missile Crisis by putting missiles into Turkey, and escalated America's involvement in the conflict in South Asia now known as the Vietnam War. Arguably, his domestic legislation was overrated, and he made a diplomatic error by signaling to the Soviet Union that he wouldn't fight a partitioning of Berlin, which became the Berlin Wall. For more, see this Washington Post article.

I asked some museum representatives whether the museum might in the future touch on these flaws, and they quite rightly pointed out that Kennedy's extramarital affairs, and other errors, aren't necessarily central to his legacy. I mean, he did defuse the Cuban Missile Crisis, no matter how it started. Americans were so afraid of the spread of the Soviet Union, and with the failure to resolve Vietnam's status after World War II (as independent or still a colony of France), the Vietnam War was probably inevitable.
Museum staff tried to argue, but unconvincingly, that exhibit space is limited, and maybe that's why the JFK Museum isn't more balanced in its history. Still, they added that numerous live events, speeches and special programs at the JFK Museum, have addressed his flaws.
I get it. Kennedy was a hero in the 1960s, the "Camelot" administration giving hope against the Cold War and nuclear scare. The nation needed a hero, and then he became a martyr. So I guess I'm okay with the museum not tarnishing that, the same way I'm still trying to idolize Benjamin Franklin, whom I recently learned was a slaveholder even though he was an abolitionist, and eventually freed his slaves. (God damn it, Franklin!)
I guess what I'm trying to say is, history is nuanced, and we shouldn't inflate flaws beyond their measure. Despite puritanical outrage being the big new thing on social media, if you don't know who your friends are, you won't  have any friends. And, as I mentioned, Kennedy is widely considered to be one of America's best presidents. Kennedy said, "The ignorance of one voter in a democracy impairs the security of all." In the Trump era, a presidency that places personal power over ideals and elevating America, maybe we still need Kennedy to be a hero a little longer. Let's give the JFK Museum's omissions a pass for another generation.
Maria Quintero, Outreach & Program Manager at the JFK Museum, kindly agreed to an interview.
Events INSIDER: For your Presidents Day celebration, what kind of family programs do you offer?
Maria Quintero: We get a lot of families that come by, a lot of teens as well, so we make sure that festival has offerings for children 5 and up, that includes teenagers and older children, but we have a wide variety of visitors, and we encourage visitors of any age to participate and engage with history in a fun and new way.
Maria Quintero: You'll get an opportunity to engage with past historical figures including suffragettes, past presidents, and first ladies. We have presidential and suffragette Jeopardy today, so if you're competitive, come win a prize, and our hope is to inspire continued civic action. It's never too early to make civic engagement a value for future voters to get passionate about.
Events INSIDER: More generally, what are the family programs that you offer on a regular basis?
Maria Quintero: We have our Celebrate! series, a monthly free performing arts series for children and families, and each month we make sure to highlight a different cultural holiday. It's a continuation of President and Mrs. Kennedy's appreciation for the performing arts, feeling that they're an important component of a democratic society, to highlight the cultural diversity of the country as a strength.
Events INSIDER: You must have additional activities during school vacation weeks.
Maria Quintero: Yes, for example, this Wednesday, families can come and we have a storyteller here who will be honoring African-American Heritage Month. Every day you can check out program to see our programs, geared to different ages, and the museum tours.
Events INSIDER: Thank you.
Although I've made some nitpicks, the JFK Library and Museum makes you feel the presence and power of history better than any other historic museum in New England. I love Plimoth Plantation and the Boston Tea Party Ships & Museum (and they are each our advertisers) but it's harder at those locations to go beyond an intellectual understanding of history. The JFK Museum fully conjures the spirit of, "Wow, this changed the world!" It's the place where, 15 years ago, I was able to ask a question directly to former US Vice President Joe Biden and former US Secretary of State Madeleine Albright, who spoke in the JFK Museum's prestigious speaker series, which brings national political figures to Boston.
The JFK Museum has that magic. It draws you in, being powerfully engaging emotionally as well as intellectually fascinating. It's a thrill that I have found rarely at museums: at the Native American Museum in Washington DC, at the Mark Twain House and Museum in Connecticut, at the Kennedy Space Center in Florida, the American Heritage Museum in Boston Metro West. It's just WOW. It makes you proud, even if you are not from Massachusetts, that we had Kennedy.
Although aspects of the museum are not as modern as they could be, they add special exhibits and numerous programs ranging from kid stuff to speeches by the world's top newsmakers and authors. The JFK Museum's newsletter is the only email list in New England that I urge you to join (besides Events INSIDER, of course), because when they announce that a celebrity is coming to speak at a free event, you need to pounce on those tickets. By the time I would tell you about it, they would already be gone!
I'm glad to give the John F. Kennedy Library and Museum my rare 5 stars PLUS.
For more, see the John F. Kennedy Library and Museum.