Interview: Halloween Clownfest at the ONCE Lounge in Somerville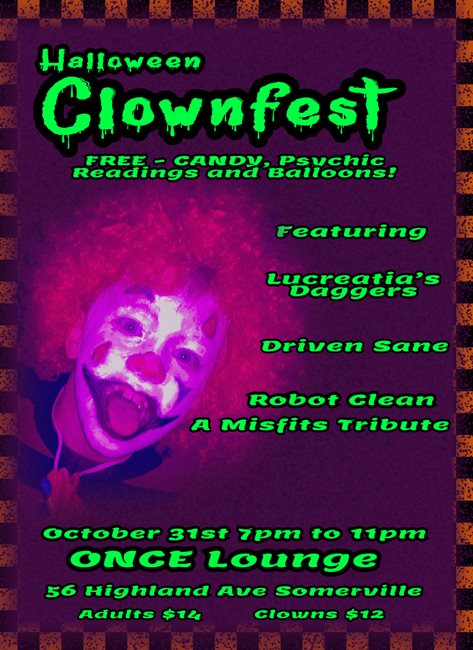 Halloween Clownfest is more than a party. It's one night of evil clown insanity run by Matt Martino, who in recent years has run the haunted Halloween attraction closest to Boston. It's a live music show with sideshow attractions and more, at ONCE Lounge in Somerville. We were glad to be able to interview Matt about the event.
Events Insider: So, what is Halloween Clownfest?
Matt Martino: It will be on Halloween of course at the ONCE Lounge. I've run Halloween shows there before and it's been great. This time, we have a horror punk metal musical lineup with a Misfits tribute band headlining called Robot Clean. It's perfect for Halloween. Plus we have two other bands, Driven Sane and Lucretia's Daggers, as well.
Events Insider: Are clowns the "in" thing right now for Halloween?
Matt Martino: Clowns are hot right now, especially evil clowns. Stephen King's It was a big hit. So we want a music show, but to do something different than just a music show. It will be clown themed, with free psychic readings and balloons. And of course we have candy. Clowns have the best candy. Adults want to go out dress up and have fun too!
Events Insider: If anyone knows what's trending for Halloween, you do. Tell us about your movie.
Matt Martino: I wrote and directed the movie Chainsaw Maidens from Hell. My previous movie, The Drachen Recruitment Experiment was very micro budget. So Chainsaw Maidens had to up the stakes. I got well known horror actors like Lloyd Kaufman from the Toxic Avenger and Kane Hodder from Friday the 13th. I greatly admired their work so it was an honor to work with them.
Events Insider: Halloween Clownfest takes place at the ONCE lounge in Somerville. What is that?
Matt Martino: ONCE has become an icon overnight. It is the do-it-yourself punk rock club of Boston. A lot of other venues either closed down or lost their luster for various reasons. But ONCE is only a few years old and attracts people from all over. It was recently named one of best live music venues in America by Consequences of Sound.
Events Insider: So ONCE is back in business?
Matt Martino: Oh yes! ONCE has an amazing staff; it's led by great people. They were the victims of a robbery and some shows got cancelled, but they reopened and now the demand for their space is bigger then ever.
Events Insider: We track hundreds of Halloween attractions, but they're almost all outside the Boston area. For years you've run a haunted house right in the metro area, in Somerville. What are the pros and cons to being so close to Boston?
Matt Martino: It's great to be around a big population because people are always looking for entertainment. At the same time, competition is fierce. Space is scarce. And costs can be high.
Events Insider: What else are you working on?
Matt Martino: I am currently over seeing the building and renovation of an old building into a production studio and art space here in Somerville. It's taken almost three years to develop it and I have little time to spare until it's done. Still, I couldn't let my favorite Holiday to go by without me doing at least one show. So I came up with Halloween Clownfest.
Events Insider: What can people expect from Clownfest?
Matt Martino: We plan to be the loudest and most fun Halloween party in Boston this year. We have music, candy, drinks, and a psychic. It will be a whole night of music and fun. So come and join us.
Halloween Clownfest will take place Wednesday, October 31, at the ONCE Lounge, at 156 Highland Ave, Somerville, MA, from 7pm to 11pm.
For more, see oncesomerville.com.