The Inn at Mount Pleasant Has the Best Views of Any Bed & Breakfast I've Seen (4.5 stars)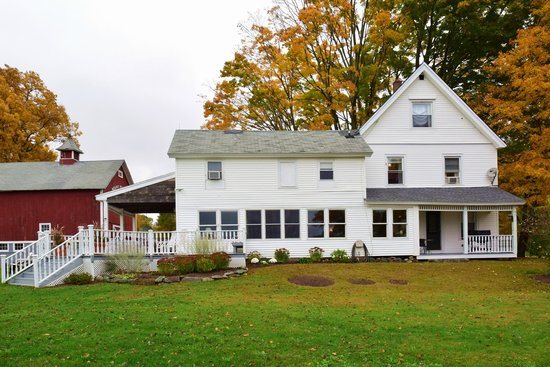 Just west of Hartford, the Inn at Mount Pleasant has the most beautiful grounds and view of any bed & breakfast place I've ever been to. It's an 18th century farmhouse and barn set on a hilltop with long views of the surrounding hills, which was especially pleasant during fall foliage season. Far off, we saw yellow leaves drifting slowly like a snowfall from the trees changing color. Despite the morning sun, we saw fog passing through the valley between the mountains created by Nickel Brook Creek, so named because of the nickel mining operation nearby.
Outdoors, the Inn at Mount Pleasant has an outdoor grill and large deck, a hammock, a fire pit for campfires, birdhouses, and easy access to hiking and mountain biking trails. They often host weddings and other events, outdoors and in the attractive barn. Remarkably, the site was named as a favorite by Tim Urban from American Idol, and was the site where ESPN filmed the introduction to the Colin Cowherd Football Show. Click the links to see amazing drone footage of the property.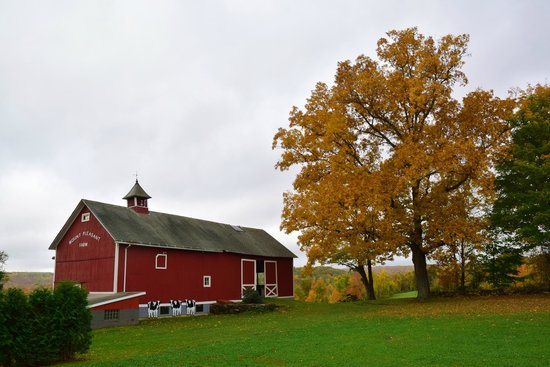 The Inn has no animals, but is a real farm with hay fields that get gathered every year. The place does have neighbors, but you'd never know it. It feels private, and yet there is full cell phone coverage and good WiFi.
Owner Bob Bombardieri had a long and successful career in construction, building more than 150 homes, and it shows in how the property has been lovingly restored. While the house was gutted, it retains the same footprint, and he kept a wall or two. He took wood and bricks from the old farm and incorporated them into the renovation, too, including two supporting beams in the house. The old-time farmhouse theme is present throughout, with wicker and wood furniture, and baskets as decorations and light natural wood flooring. They have an old-timey wall phone with a speaker you lift up and put to your ear. It really works!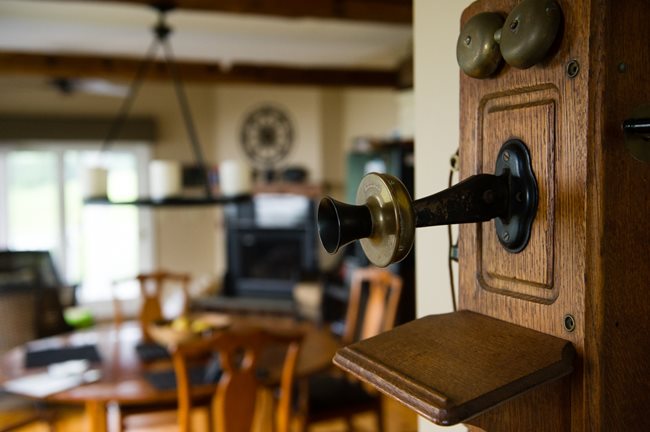 The barn is on the Connecticut State Register of Historic Places, and retains its original walls and some of the stone foundation, with the ground floor originally housing cows but now being a cement-floored wood workshop. Large barn doors on opposing sides slide open to give you an indoor/outdoor feeling to the interior space, and when you walk in, there's a wonderful old wood smell. It has the original tables, with a bar and a loft level, seating perhaps 80 people. It's hung with festive string lighting.
Inside, there are four bed and breakfast rooms for rent. Like the rest of the house, my room was large and modern, while retaining an old farmhouse style. Mine had a large private bathroom with a fancy showerhead and air conditioning. I appreciated having plenty of pillows, and the towels and sheets were fluffy and comfortable — the opposite of the chain hotel experience where they buy the roughest towels, so they can survive daily bleaching. There's laundry on site which presumably guests could use. There was no work desk in the room, and while you could sit and watch TV, or look at the astounding view out the window, in warm weather at the Inn at Mount Pleasant, you should be sitting on the deck or strolling the grounds. At night, it was absolutely quiet.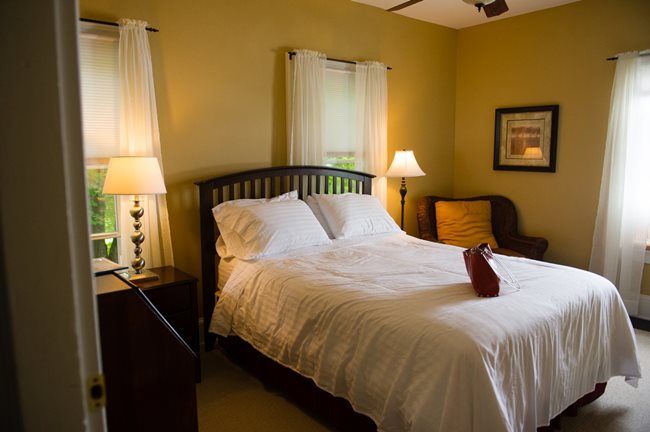 Although Bob told me that they don't cook a hot breakfast because they didn't want to be classified as a restaurant, a quick search online for Connecticut hotel laws seems to indicate that, for a private home with fewer than 16 guests, he would not need a food service license. I suspect that part of the reason they don't cook a breakfast is that running a service business isn't a personal passion. Instead, he told me that opening a B&B was so that he could show nearby real estate properties to guests. This showed a bit in the continental breakfast, which was partially laid out, but required going into cabinets and the fridge to complete. This is not that big a deal — don't be lazy! — but it's also not the feeling of being pampered that weary travelers need and can find in other B&Bs. Bob is understandably proud of his renovation work at the Inn, but I was not ready to hear about zoning laws and building codes before getting my coffee.
For a wedding, party, or corporate function, the Inn at Mount Pleasant is a choice destination. For a stay, while not having "all the touches", and only a self-serve breakfast, the Inn at Mount Pleasant was comfortable, combining modern convenience with an old farm connection to Connecticut's past. Because of this and its world-class, stunning views for self-reflection and bonding, I'll give an outstanding 4.5 stars to The Inn at Mount Pleasant.