At iFLY Orlando, Get the Thrill of Sky Diving Without the Heights (5 stars)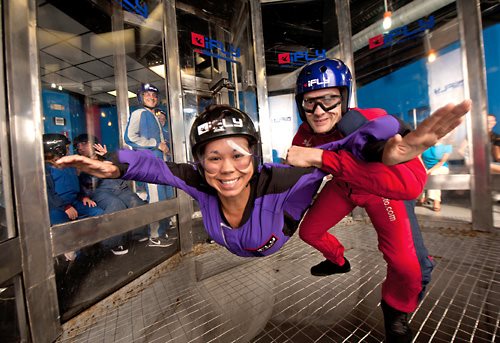 While in Orlando, we reviewed an attraction called iFLY. It's an indoor, vertical wind tunnel that simulates sky diving and I'm told is exactly like the real thing. It's basically a giant fan in the floor that blows you upwards, supporting your body weight.
A short training is involved, but they also put a trainer in the wind tunnel with you, to help with your body posture. You know how you can put a hand out the car window when you're driving, and the wind will lift your whole arm? It's like that. Our instructor was Josh Lakhotia, who was supportive, friendly, and had great energy. Even for those of us who were nervous, he put us at ease and didn't make us feel bad if we didn't get it right away.
Speaking of which, you get to try it twice for two minutes. The first time, I sort of twisted and flopped, but the second time I got it! And was glad for the break in-between. It's very noisy, but easy, interesting, you don't die. You go into the wind tunnel in a group with others and get to watch them go as well. Of course you can buy a video, or shoot your own (from the outside, since nothing is allowed in the tunnel). At only $70 a person, it's well worth it, and if you can purchase a second time you get a little discount. You can do the whole thing, in an out, in under an hour, maybe even 30 minutes.
It's such a short experience that there's not much to write amount. It's a bucket list activity that has great visuals and fun. The price is right, it doesn't take long, and it's convenient to downtown Orlando. I'm eager now to check out indoor skydiving at SkyVenture in New Hampshire, although it's an hour's drive from Boston.
It's an easy choice. iFLY is immensely fun and makes you feel brave for basically doing nothing. Make like a tree and leaf to get blown around at iFLY. It gets a full 5 stars!
Read all 11 of my Orlando reviews and suggestions, and see www.iflyworld.com.