Hysteria at Connors Farm is an Entire Evening of Scary Fun (5 stars PLUS)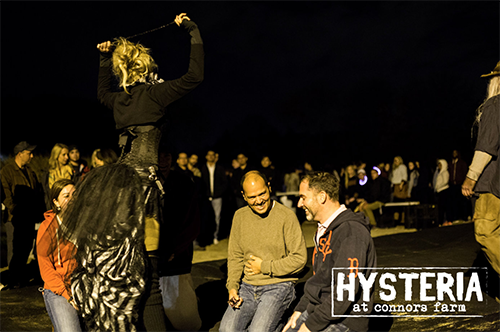 During the day, Connors Farm is a family fun farm, open seven days a week, where you can walk a corn maze, pick your own apples, peaches, and pumpkins, with apple cannons, baby animals, pig races, a mechanical bull, plenty of great food, and a big farm store.
But at night, the last few years it has been my #1 pick in Massachusetts for Hysteria, the Halloween attraction! It takes place in Danvers, which used to be part of Salem, and is where the "Salem" witch trials actually took place in 1692. It's an easy 30-minute drive from Boston.
You can have a great time even before you go into the attractions. Ride the mechanical bull, warm yourself at the three bonfires, one of which has a tree with swings. It's remarkably enjoyable to shoot the apple cannons — yes, a cannon so you can shoot apples! — and shoot paintball guns at trees and targets planted in a field, although sometimes hard to see at night where the apples are going.
Go through the "flashlight maze", a non-haunted but beautiful cornfield maze where you should bring a flashlight or use your phone. Flashlights are available for sale in the farm store. There are no actors to jump out to scare you, so it's okay just to relax and enjoy walking under the stars. If you have asthma, make sure to bring your inhaler.
The big attraction itself, Hysteria, is a 30-minute woods walk. That's a very long attraction, with each step decorated with Halloween sets and filled with spooky actors waiting to jump out at you. There are plenty of actors and you'll walk through a school bus, a separate corn field, the woods, and an amazing "Vortex" room that seems to spin around you. They have a lot of fog and some laser effects, with animatronics to scare you.
It wasn't a perfect experience. There are a few steps up and down in low light where visitors could stumble. The attraction is so long that it's easy to get bunched up with the group ahead of you, spoiling some of the surprises. Most of the actors had no lines to say, and there was a lot of filler (cloth strips not resembling set design) making the attraction less theatrical than I remember in the past.
Unfortunately, there's no zombie paintball this year, where you sit on the back of a truck and shoot paintball guns at actors. I'm told it's really hard to hire people willing to stand in a cold corn field all night getting shot at. Maybe animatronics or mannequins could take their place?
Also, getting around the farm was a challenge. Signage would help us find the apple cannon, paintball attractions. You can buy smores to cook at the bonfires, but there's no sign saying this. I would think a dedicated staffer standing there hawking smores would pay for itself, and be a convenience.
Still, there is so much to do at Hysteria and you can spend an entire night there! Just the quality and length of its main attraction makes it a 5 star Halloween destination. Then add the corn maze, the bull, the apple cannons, bonfires, the delightful farm store, and more… I'll choose Barrett's Haunted Mansion as the #1 attraction in Massachusetts this year, but Connors Farm is an easy 5 stars plus!
Hysteria is one of the few "must see" attractions that I simply cannot miss during Halloween. Go there and you will see why. Oh, a bonus, it is located next to the Topsfield Fair (closed for 2017) to give you another reason to make the trip.