Hype Man at Company One Theatre Deserves National Attention (5 stars PLUS)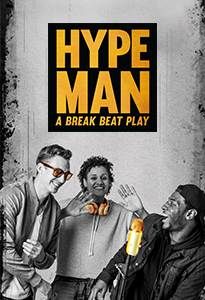 Hype Man, a Break Beat Play, by Idris Goodwin, by Company One Theatre, with Shawn Lacount, Director; Kadahj Bennett, Music Director & Beat Maker; Aislinn Brophy, Assistant Director; Jessie Baxter, Dramaturg; Tatiana Isabel Gil, Assistant Dramaturg; Lawrence Moten, Scenic Designer; Cassandra Cacoq, Costume Designer; Jen Rock, Lighting Designer; Lee Schuna, Sound Designer; Misha Shields, Choreographer; Cesara Walters, Properties Designer; Karthik Subramanian, Production Manager; Alix Strasnick, Technical Designer; Cesara Walters, Stage Manager; Sarah Schneider, Assistant Stage Manager; Bridget Anderson, Assistant Stage Manager; Evyn Newton, Master Electrician; and Debra Marcus, Sound Engineer & Board Operator, runs through Feb 24, 2018 at the Boston Center for the Arts in Boston, Massachusetts.
In Hype Man, a hip hop group's big chance to become famous collides with a social injustice in the community they come from. Should they speak up and make a difference? Or stay out of politics and not risk offending some of their fans? The play takes brave positions in the differing perspectives of its three characters, who are black, white, and racially mixed. It's an issue taken from real life, for example, when Beyoncé said nothing overt but her dancers publicly supported Black Lives Matter, police responded by refusing to work security at Beyoncé concerts. The show takes place in a small theater that seats perhaps 120 people.
The play starts strong, and with no dialogue, as Peep One (Rachel Cognata), spins up a new beat in their music studio. Lighting by Jen Rock creates a party atmosphere, including a lighted stripe all around the stage's outer edge, like on those fast cars from the movies. The music is infectious and you'll do a chair dance. Plus, you get to see how the characters create hip hop beats and songs — and how they love to do it so much. This yearning sets the stakes high as the group struggles to become a success.
I attended with my girlfriend, who is black, and she felt that the social justice issues may be obvious to a black audience. But we could hear the finger snaps and mm-HMMs of parts of the audience, presumably black, who seemed to be emotionally invested. And for audience members such as myself, a white guy who doesn't live with black issues day-to-day, I felt I learned something. The play was balanced, also highlighting the pain and perspective of all of its characters. Before the show, the most interesting playbill I've ever seen recounted the history of hip hop, hype men, protest in song, and white rappers.
Great work by scenic designer Lawrence Moten and lighting designer Jen Rock transforms the stage, for some scenes, into from the recording studio to performing in front of a live crowd. The audience is encouraged to clap and cheer at points during the show. But it's really the energy of the actors that drives the characters' live performances and the behind-the-scenes drama.
The entire cast is strong, but Holy Mother of God, Michael Knowlton, as Pinnacle, a rapper, brings it to the next level. As the white character he faces the difficult challenge of trying to understand and accept the outrage of his friends, which endangers the group's success. He sells the heartache of his character's poor background and how desperately he feels trapped and wants to escape from the dilemma, for example, with mouth work. He's often holding something in his mouth and you feel you can read the tension on his face.
I was pleased to see that Kadahj Bennett (Verb) was given a wide role to play, as black roles in theatre and media are often restricted to stoicism and anger. Verb is a former wild party boy who gets to celebrate in the show but later literally cries from frustration. He has the best line in the play, explaining that although he is family with his hip hop friends, he has a wider family in the black community that he cannot ignore. You sense that his reactions come from a lifetime, not a single incident.
The characters are remarkably grounded, authentic seeming, especially thanks to costuming by Cassandra Cacoq, even wearing tattoos. They change their used clothing in every scene but also change their pristine sneakers. Peep One is not given the best lines of the show, but makes an unfinished stab at the misogeny underlying hip hop lyrics — an important topic but just not the theme of this play.
Although the play is almost entirely just characters speaking to each other, the action keeps going without a lull, with the characters creating music in the studio, or performing it live. (Unlike traditional musical theatre, they never break character or scene when performing.) Choreographer Misha Shields keeps the characters moving around the stage so that the long scenes of talking are never static. Playwright Idris Goodwin's dialogue is crisp, and full of tension and striking moments that make you gasp.
The show, which is in its world premiere, has a few rough spots. The dilemma of what to do about Jerrod would have been heightened if the tragedy had been more clearly tied to the hip hop group. It's implied but never said that the tragedy happens in a community that the hip hop group has a stake in, and we only hear about it at a distance, whereas it might have been acted out on stage, or shown through a special effect such as a projected video, or a Pepper's Ghost effect. Such an effect could have been brought back at the end of the show for a closing punch.
Rehearsals tend to focus on later scenes, and I found the first few scenes hard to understand, needing better diction. The play resolves itself with a final rap song with stunning lyrics, but they only show that piece being created. The show could have closed on a big performance of the song, but instead the play goes elsewhere.
Hype Man is stunning, poignant, important, and only strayed across the line of being preachy a couple of times. The drama and music each create a physical thrill. It dives right into racial topics while representing all viewpoints with nuance and respect. Hype Man transforms an audience into an AWE-dience. It deserves national attention. I'm glad to give it a rare, must-see 5 stars plus.
You have very little time to see the play's current run, but I hope and expect it to return.
For more, see www.companyone.org/production/hype-man-break-beat-play/.