Hurricane Harbor at Six Flags New England (4.5 stars)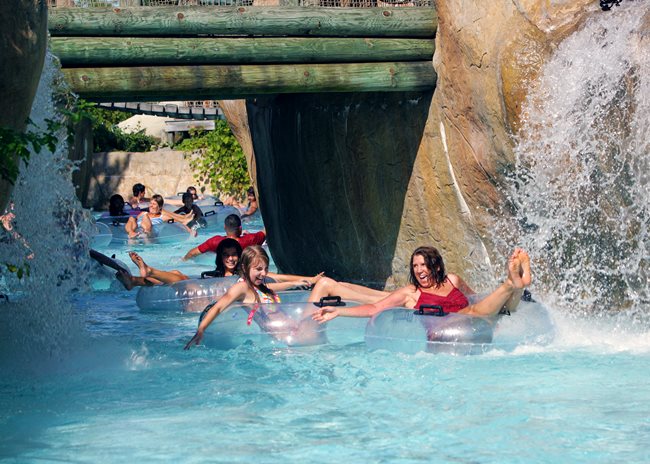 It's summertime at Six Flags, so of course you should visit their water park, called Hurricane Harbor. It's all based conveniently off the Mass Pike near Springfield, a 90-minute drive from Boston, slightly further than Canobie Lake Park, Water Country, and Water Wizz, but those destinations don't have New England's largest amusement park as well. Leave Great Wolf Lodge and CoCo Key Water Park, which are all indoors, for the winter — how delightful to sun yourself at a water park in February.
Hurricane Harbor is included in admission to Six Flags, and you can freely switch between getting soaked and drying off on the non-water rides. Check out the new Harley Quinn Spinsanity ride, which we reviewed at 5-stars, and we also loved the nearby Gotham City: Crime Wave, which really shakes the water off.
Looking at the park map, you can see that Hurricane Harbor takes up half of Six Flags New England, but it felt smaller with several rides closed — staff said for overcrowding, so perhaps they were changing the water filters. So we didn't get to go on Commotion Ocean, the wave pool, and we didn't see Hook's Lagoon or the Kiddie Octopus, two giant water playgrounds. I loved Cannonball Falls, three giant water slides, where lines were short. I think Geronimo Falls, where four people share one ride, was closed as well. Unfortunately, Splash Water Falls, the biggest ride where 8 people shared one tube down a water ramp, closed in 2016. So what was left to us was one or two-person rides that were basically slides. Good, but not as much variety as we'd hoped for.

I can see on the website the Tornado, Bonzai Pipelines, Swiss Family Toboggan, and Typhoon, other water slides, but they must have been closed as well, or somehow we missed them. I didn't duck quite in time and had a glancing hit to my head on what I believe was the Shark Attack ride, flipping over and scraping my elbow and knuckles. It's my fault for not paying attention, assuming that the ride would be large enough for even me, a giant 6'4″ person.
Six Flags boasts two lazy river rides, Adventure River and Hurricane Bay, where you can float with the current in a circle. I didn't note which one, but we enjoyed floating around in our inner tube. Even on a Monday, with some of the rides closed, it was a touch too crowded for a romantic moment together with my partner there.
If you have the cash, rent a private cabana, which has waitstaff and private seating for six. They of course have changing stations and showers to wash away the chlorine water. You'll pay both for parking and to rent lockers to store your stuff. There were things we wanted to carry with us, such as sunglasses, sandals, a shirt, towels, but there's no storage at the rides for these things. So you'll need to go back and forth to the lockers (a rental is all-day), or simply leave them along the walkway in front of each ride, which is what most people did. Don't leave your sandals just in the lockers, because the pavement gets really hot in the summer sun, too hot for feet! Master tip: leave anything you really care about near or with the lifeguard.

You can also rent inflatable tubes, which come with the benefit of getting you through a faster line, but we were confused exactly which rides the tubes matched with, and where to store our tube when we weren't using it. (Answer: we just left it and nobody took it.)
Although we visited Six Flags on an off day, closures are rare and most days you'll explore all of Hurricane Harbor. We loved the water slides, and having access to the entire amusement park outside the water park was a delight. I'll give it 4.5 stars and hope to return on a better day.
See https://www.sixflags.com/newengland/attractions/water-park-rides.