Howe Caverns is the Ultimate Cave Destination: Safe, Comforable, and Easy for Anyone (5 stars PLUS)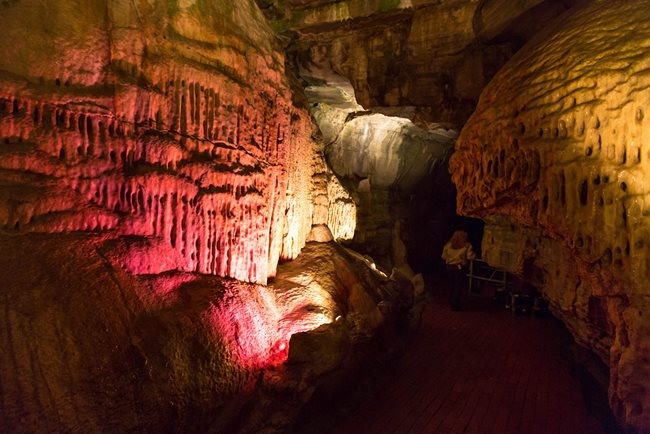 New England doesn't have any actual caves, despite what advertisements might tell you. Those "caves" in New Hampshire are just rock jumbles. So you need to go just over the border in Eastern New York, to get to cave country. Howe Caverns is the best in the area, just 3 hours' drive from Boston.
Unlike the nearby Secret Caverns, which you should also visit, Howe Caverns is the ultimate professional cavern. Above ground, you'll find a zipline, ropes course, and other adventure park attractions.
Parking is two dollars. Then walk into their visitor center, with strong air conditioning, to smell the glazed, roasted nuts in their sweet shop, where they also sell fudge. Of course they have a restaurant and gift store on site. The tours are inexpensive, and take you underground for an hour and fifteen minutes, comfortably lowered and raised by elevator the depth of a 16-story building. The cave was discovered in 1842; we might have preferred to hear the history of the cave personally from our guide instead of watching a video to begin.


The caverns, being underground, are cool, so bring a coat. There a guide will entertain you with the history of the cave and little of the science behind it. You'll see stalactites and stalagmites, but also flow stone, a kind of limestone that seems to melt and flow to form the cave walls. The walkways and metal handrails are sturdy, and you don't need special footwear or a hard hat. They also avoid stairways as much as they can, instead providing ramps. Although it's not handicapped accessible, it is easy to do.
The caves are beautiful, and with the group size being small — ours was 20 people — you'll be able to ask questions of your tour guide. Understandably, there's no cellphone service in the caves, and with the contrast between the absolute darkness and the artificial lighting, you won't be able to take good photos in the cave, even with a flash. Fortunately they have a professional photographer in one spot from whom you can buy a photo. (Or check out their monthly photography tour.) Just after the rock formation called The Witches, you'll find a bench, and there are other benches as well to get off of your feet. Part of the tour includes a boat ride!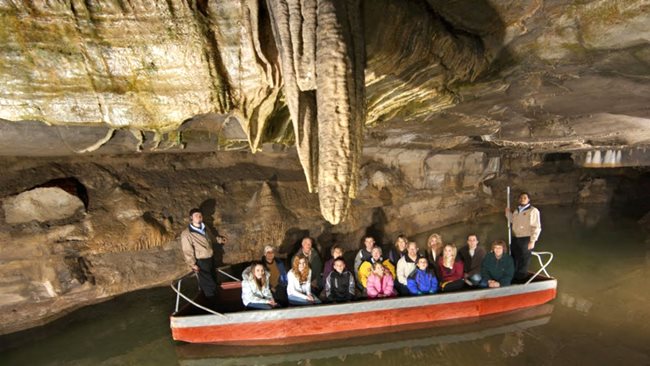 Our guide was Izzi, who was chipper, fun, and answered all our questions with patience. As with any cave tour, you should watch your step and watch your head, which is a bit distracting from the beauty. Your tour guide and any kids in your group will also be a distraction. Make sure to choose moments to enjoy the serenity of the place and take it all in. One portion of the tour, which can be skipped, takes you through winding, tight passages, along a paved pathway. Don't forget to tip your guide.
Howe Caverns is a bit touristy, more ooh and aah than educational. The colored lighting seemed to take away from the natural beauty, in the same way that you don't need to paint something made from dark wood, and there was too much fun sharing the names of all the rock features, instead of quiet meditation. However, the tour is not crass, just targeted to a broad audience, and we did get a bit of science. It's genuinely fun, and they do a good job getting visitors through efficiently, avoiding wait times.
With its above-ground attractions, a motel, regular cave tours with a cave boat ride, and special adventure cave tours, Howe Caverns is the ultimate caving destination for tourists. You'll get a more authentic "my crazy uncle owns a cave" experience from the nearby Secret Caverns, but Howe Caverns is so safe, professional, and convenient, and comes with so many amenities and other things to do. It's easy to simply visit them both, or make it a weekend and check out the nearby Natural Stone Bridge and Caves  and the Iroquois Indian Museum, too. (All the other caves in the region require you to have your own caving equipment and experience, and I could not find a tour guide company for them.)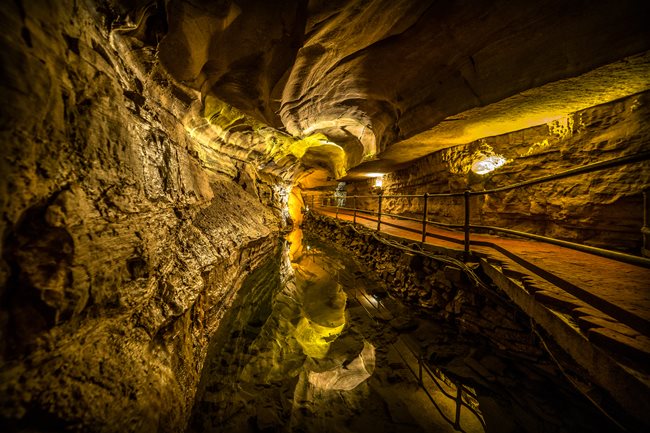 Howe Caverns deserves my rare 5 stars PLUS, making it a must see the next time you're in Eastern New York.
See howecaverns.com.