Holiday Cheer at Bright Nights and Edaville Festival of Lights
by Johnny Monsarrat
There's something brave and liberating about being outdoors at night, even in December, and if you like holiday lights on your neighbors' houses, you'll love the large attractions that have millions of lights to share.
Edaville Railroad (Carver, MA) – 5 stars
Edaville Railroad is the biggest in New England, with 7 million lights. Their focus of course is a train, and we were lucky enough to ride the steam engine (it's usually gas powered), with a real engineer shoveling in real coal! The 20-minute ride takes you in a loop through the woods. There you pass hundreds of displays, some simple and some as fancy as an animated pirate ship that shoots a cannonball. You'll find every kind of creature, including bears and dinosaurs. It's a shame how reflective the glass windows are, so you don't get perhaps the perfect view, but it's wonderfully peaceful to be out in nature, snuggled in the warmth of the train car. Outside the car, Edaville is far enough away from big cities that you can see all the stars.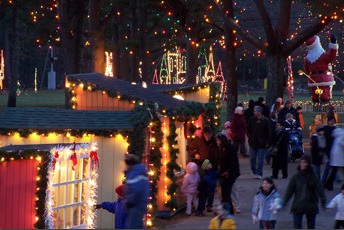 The amusement park component of Edaville keeps growing every year. In addition to the two large indoor areas, where you can of course buy gifts and food, now you'll also find a dozen rides. My favorite is the Ferris wheel, if it's warm enough, and the carousel. They also have a dumbo ride, mechanical balloon ride, and bumper cars! It's romantic for adults and something fun to get your kids out of the house at a time when few outdoor attractions are open.
I love the holiday atmosphere at Edaville. Everyone there is happy and it's fun to mingle. You can stroll around and get right up close to lighting displays like a frog turning into a prince and an eagle grabbing a fish. While I'm not a Christian, I did find the Jesus aspect turned down low… only a few of the songs played require me to worship the Big Guy in the Sky, and there were only two creches and one Noah's ark. That's a tiny minority among what might be a thousand displays there.
I hear that you can ride the "Polar Express", and I'm not sure what that entails exactly, but you can meet Santa and hear a book being read to you. I got a glimpse of the addition they are working on for next summer, and I'm not supposed to tell you what it is, except that I'll say it will be amazing and something kids love even more than trains. So I hope you'll visit in the winter and then next year consider Edaville for a warm weather journey too.
Find more at www.Edaville.com
Bright Nights Springfield (Springfield, MA) – 5 stars
Bright Nights is a completely different experience. In this nighttime display, you drive slowly through a park filled with holiday displays, for what must be 30 or 40 minutes. That is a lot of lighting! They have 406 displays and 650,000 lights, which sounds like less (and it is mathematically) but a higher fraction of them are animated than at Edaville.
Springfield was the home of children's author Dr. Seuss, and they have lots of custom Dr. Seuss displays that must be unique to Springfield, not purchased. Most of the holiday lights were animated in some way, with dinosaurs delightfully chomping grass to deer jumping over the car. I didn't see a single effect that I was sure I'd seen at Edaville.
While not as transformative as being directly outside in the night air and walking amongst the lights, the convenience and warmth of staying in the car was appreciated. Even without Santa, you can tune your car radio to 98.5 to hear "Elf radio", with what seemed to be a prerecorded DJ talking about Bright Nights. That helped create a sense of community more than you would have expected from a line of cars rolling at 5 to 10 miles per hour. I wish there was a place where we could park and just walk around under the stars with hot chocolate, but they do have a "Santa" area that perhaps serves this purpose when it is open (it was closed for some reason, but presumably you can pull in and park and sit on his lap or something. Yay! I mean, your kids can sit on his lap.)
As someone who is not a Christian, and finds Christmas a big oppressive — it's so everywhere, unescapable — I was grateful to Bright Nights for toning down the Sky God stuff even more than at Edaville. They do have a Jesus creche, but instead of standing on its own (where it would sort of mean Shut Up We Win), it's right next to a Menorah and a Kwanzaa sign, so the symbolism is really diversity and acceptance. Yes, there was a Noah's ark, with its tinges of creationism, but hey, Noah's ark has cute animals, how are you going to not include that in a light display? I get it. On the radio, they kept the songs to the Frosty the Snowman stuff, without a single song about the glory of Jesus. (Don't pout, Christians, you basically own everything in December.) So super fantastic thank you to Bright Nights for going all the way in being inclusive.
If you are traveling to Springfield for the day, don't forget to visit the Springfield Museums, and I was lucky enough to be in town for their annual Parade of the Big Balloons, surely the best Thanksgiving parade around, where we found parking easily. Now that's a Christmas miracle. Thanks, Springfield!
In the end I have to give both attractions 5 stars. Edaville is more serene and natural, with tons of rides, but Bright Nights is warmer and more inclusive, and there's more to do in Springfield to bring you out for the whole day or weekend. These two attractions are the best of all the night time displays in our area, and I would know, since I list more holiday displays than anyone else in New England. So you should make the trip and visit them both!
Find more at www.BrightNights.org.