Creep Through a Haunted Corn Field at Hicks Family Farm Haunted Weekends (3 stars)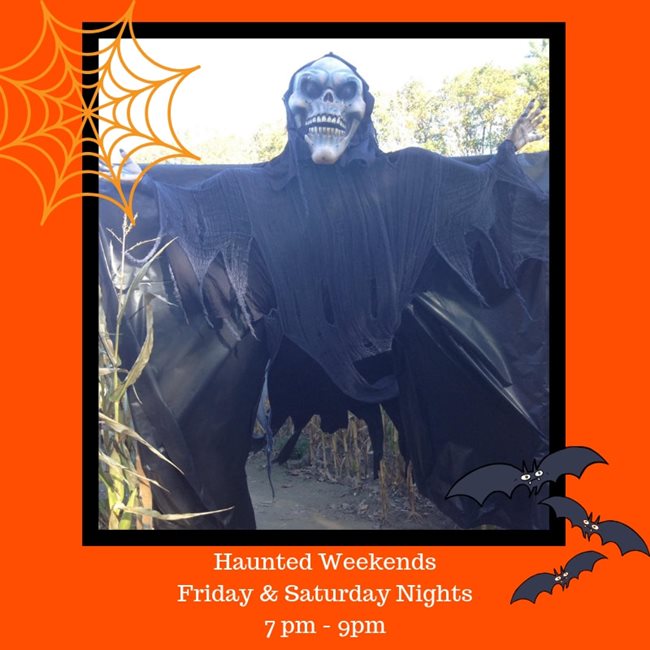 Hicks Family Farm is a 5th generation farm in northwest Massachusetts that during the summer and early fall is open to the public with 9 holes of mini-golf, a petting zoo with baby goats, rabbits, a baby calf, and pigs, and a corn maze. Some evenings they have a non-scary flashlight night where you can walk the corn maze, and at other times, a section of the corn field — not the maze — becomes a Halloween attraction.
I arrived during the daytime and got to explore the maze, which is 7 acres and 3 miles of trails, taking some 45 minutes. They get the theory of corn mazes right. It's not about getting lost and being "challenged" to find the exit. Hardly anyone can genuinely navigate a corn maze. We walk randomly and hope to exit. The fun part of corn mazes is discovery, and the Hicks Family Farm corn maze is designed just that way. From the overhead view you can see that there are few difficult decisions to make in the maze, which is simple. It's not full of dead ends, either. Instead, it's a place to explore and find dioramas.
Each curve and dead end has a sign or farm display to see. You'll learn the history of corn, how farms work, and wooden displays with holes to put your face to take photos. There's a "Farm & Garden" section that teaches you how sap flows, "The Village" which has a jail and post office, "The Forest", which has a bear, owl, and a campground, and "Enchanted Forest", with a dragon, gnomes, and a unicorn. The paths are surprisingly level and even pathways, free of stumbling hazards. That's because the field is grown on loam, a kind of dirt with no rocks from a former riverbed. The dioramas are low budget, homemade installations, but show a lot of heart compared to other farms that have signs only, purchased garden stuff only, or nothing.
Although I wasn't able to stay for nightfall, staff kindly led me through the Halloween pathway, which cuts a different path through the corn field. Their mannequins are amateur, level, handmade, such as some "zombie" child dolls, with simple cobwebs and stations made basic wood and tarps without much decoration. However, they do a lot with a little! They loan guests flashlights rather than having full lighting in the corn field.
It's a clever destination. In one place, six people from the local fire department dress as zombies and chase you around a big figure eight. In another, and I have never seen this at a Halloween attraction, there's a shadow play, where you see a white sheet behind which is a boy with an axe and a light that projects his shadow. Meanwhile another axe ghoul rushes up on you from behind. There's tight path through the corn maze, something else I've never seen elsewhere, designed to make you feel claustrophobic.
They have a clown section with joke gravestones. They use psychology to get you to look in the wrong direction, and then they scare you, for example with butcher shop and chainsaw guys rushing you from behind and in front. In another place, there's a fog machine and you must say BeetleJuice three times to escape a ghoul. (It's from a movie.) At the start of the maze, they give you a plastic "finger" and then you get stopped at a toll booth and have to "pay" with the finger for passage, or he'll threaten to chop one of your own fingers off.
With such heart and clever psychology, it's hard not to like this place, despite the amateur decorations, lack of animatronics, and (as I can see from their website photos) amateur costumes and makeup. Unfortunately, at night the petting zoo and corn maze are closed, and it's only a 5- to 7-minute walk through the haunted corn field. So this year I'll give Hicks Family Farm Haunted Weekends 3 stars, but was excited to learn that they hope to add daytime and haunted hayrides next year. A cleared area with a campfire, chairs, food vendors, and even field games, would be welcome, too. They have the creativity and heart for a big future attraction that I would love to return to.
See hickscornmaze.com.