Hever Castle is the UK's Best Garden, and Mazes Too! (5 stars PLUS)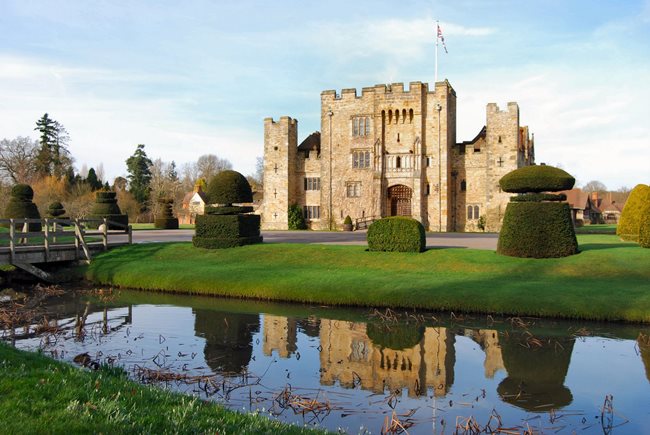 06/15/18 by
Johnny Monsarrat
Hever Castle
Hever Rd, Hever, Edenbridge TN8 7NG, UK
When you visit the UK, you're going to want to see castles. At Hever Castle, you can even stay overnight! Part of the castle was built in 1270, later it was owned by one of King Henry VIII's wives in the 16th century, it has 18th century construction too, and it was restored in the early 1900s by a wealthy American. These days, it is a historic home, garden, and grounds with attractions.
Staying overnight at Hever Castle is opulent and inexpensive. The rooms have names instead of numbers, and the corridors feature dark wood paneling. The bed was remarkably comfortable, a must for weary travelers, but watch out for bugs if the window is open. It was large, comfortable, clean, and old-looking (but actually built in the 1990s) while having a television, a self-service tea set, and other modern amenities. To start the shower, just push a button. Breakfast is limited to 8am to 9:30am, and it's continental, meaning just cereal and pastries, but they also have a menu that you can order from of mainly egg dishes. Make sure to check out the old-timey billiards room. You can walk the grounds beginning at 10:30am, and then the main castle opens to visitors at noon.
You'll quickly find The Moat Restaurant, which offers deli sandwiches, hot and cold drinks, pastries, and cakes from the castle kitchen. Then discover a sculpture garden with animals made from hedges: a tortoise, deer, birds, an octopus, and more. Delightful! And you've barely just entered the grounds.
You can try archery, learn croquet, or explore the Italian Garden. We visited in May, before summer's full bloom, but we saw a dozen gardens and the one at Hever Castle was just the best. Even more expensively built parks are just not perfectly curated like this. There's so much stone and decoration. Unlike at Blenheim Palace, which was beautiful but often just open lawns, walking through the gardens at Hever Castle you'll discover a new surprise every few steps. If you walk a couple of minutes in any direction, the landscape of the garden alters and changes. You'll find great, long distance views. It is artistic, and wonderfully creative. No wonder, as we read, that Hever Castle won the UK's Garden of The Year award in 1995. It really is the perfect combination of natural but also crafted design.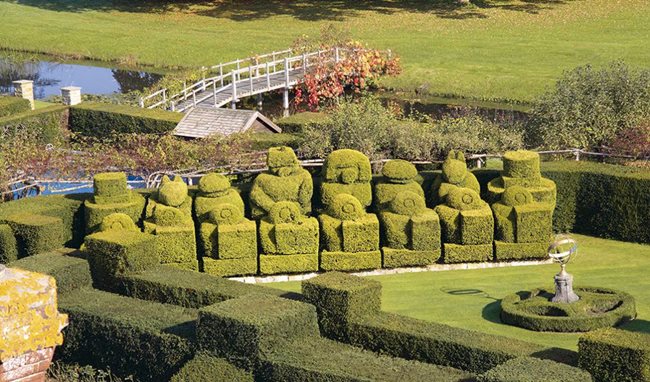 There's a terrace with Roman columns where you can just sit and observe the lake. Or go for a ride in a paddle boat or row boat. You'll find several fountains, trees and beautiful flowers, cute kids running all over. It's idyllic. You'll see vines, a rose garden with 4,000 rose bushes, green houses, rivers with bridges, and an entire brick wall of moss and stone with fountain water dripping the entire length. It's not just extensive, some 125 acres, but also inventive. It's one of the most beautiful curated places that I've ever been. Walk an Italian arch passage way built from what seems to be marble. It is rich and lovely, with benches to sit upon and admire the water and sculptures. I can only imagine how it looks when everything is in bloom later in the summer.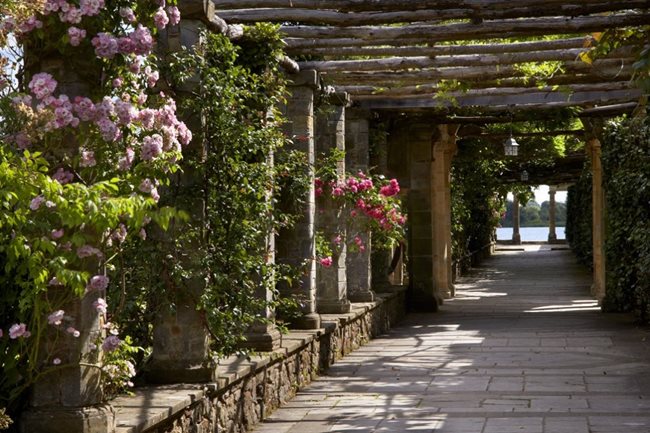 Pathways are paved for strollers and wheelchairs. The Guthrie Pavilion Restaurant has yet more pastries and snacks, cold sandwiches, a variety of coffees and hot chocolate, cold drinks as well, and snacks both healthy and not. Of course they have gift shops, are available for weddings, you can play golf nearby, and they host festivals of jousting, flowers, canines, and more.
There's so much more, for example their water maze. It's a central turret of rocks surrounded by a moat of water, with stepping stones. Although it appears to be completely open, your step on some stones triggers a fountain of water in front of you, blocking your path and requiring you to try elsewhere in the maze to make progress. It's great fun both to do it and to see kids laughing and doing it all around you. Stay cautious and you won't get wet. It only takes a few minutes to solve, but it's beautiful and unique. Once at the central tower, you can climb its stairs to the top, and get a great view.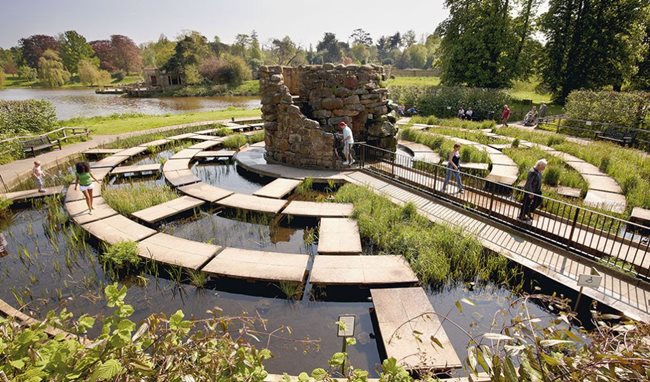 We also found the Yew Maze, which is picturesque but small and not notable. The pathway is paved with a deep layer of gravel, which is attractive and keeps the mud away if it rains I suppose, but it's hard to walk on as you sink in an inch with every step into the well of tiny rocks. As at other hedge mazes, the pathways are tall enough that you cannot get a good view while you are walking, and the paths are a bit too constricted to allow easy passage if you come across someone going the other way. Arriving at the center, you'll be rewarded by discovering a stone Obelisk, not as interesting a "folly" as we'd hoped for.
We had to rush off to Leeds Castle, which is nearby and also excellent, so we only had a glance inside the actual Hever Castle castle building, which is small. Anne Boleyn, one of King Henry VIII's unfortunate wives, grew up there. The site was formerly in ruins but renovated a century ago by William Waldorf Astor, a wealthy American politician and newspaper publisher. Inside you'll find 16th century tapestries and much more, but beyond some mannequins it's not hugely curated for the weary tourist unfamiliar with British history. So it was a challenge to understand the context for everything that we saw, causing us to appreciate Hever Castle for its grounds more than its buildings.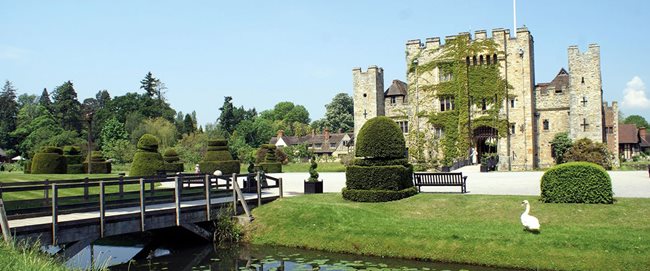 We rushed through Hever Castle and grounds in 90 minutes, but you could easily spend three hours here to truly relax strolling the gardens, to have a full sit down meal, or explore the castle with more respect than we paid. They also have an adventure playground, just for kids, a military museum, a lakeside walk with birds and sheep to view, miniature model houses showing the history of English architecture, and other attractions.
While you're east of London visiting Hever Castle, also visit Leeds Castle. They are complementary. Hever Castle has the best garden in the United Kingdom and feels more classy and relaxing. Leeds Castle has more interactive exhibits like its Birds of Prey shows, and the UK's best hedge maze, but it's more commercialized and dense with amusements, not perfect to bond quietly with nature or get a romantic moment to yourself. Leeds Castle is a great theme park, but Hever Castle just feels so royal! It deserves my rarely given rating of 5 stars PLUS.
See hevercastle.co.uk.