Herkimer Diamond KOA in NY is a Nation-Level Glamour and Education Campground (5 stars PLUS)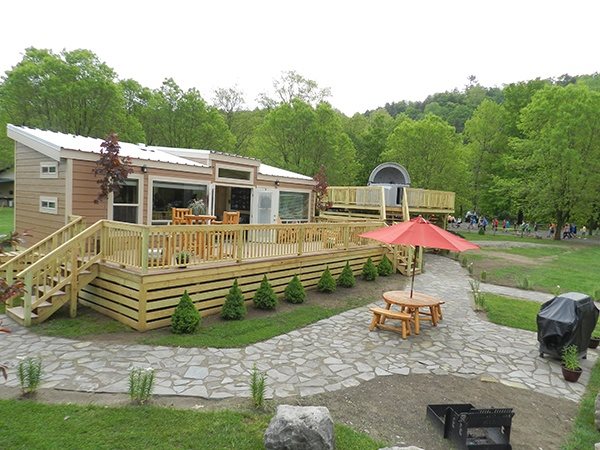 While visiting the Herkimer Diamond Mines, we stayed at the Herkimer Diamond KOA Campground, which is one of 508 KOA (Kampgrounds of America) Campgrounds in the US and Canada, but one of only 16 KOA "resorts". I can see why they call it a resort, an edutainment, pristine, curated campground but with genuine natural beauty, with luxury options. The Herkimer Diamond Mines and Miner's Table restaurant are unique destinations, creatively designed and well-organized, 5 stars. The reason for my 5 stars PLUS rating is the campground. While not an enormous destination, and it is manicured, it is set along the West Canada Creek, offering great outdoor views and activities. It takes your camping experience to the next level. This campground makes my home look like a campground.
If you're more rugged than I am, you can bring your own tent to camp sites with the usual electricity, water, picnic tables, fire pits, and swings, some along the water. Their deluxe RV campsites have water, electricity, and sewage hookups, with a concrete patio, furniture, and a gas grill, and a garden. What's truly striking, however, are the lodges. Each is themed for a different activity or personal interest, and because these small cabins have hotel-level amenities, this is glamping (glamorous camping).
Perhaps I'm one of the world's laziest people, but I don't think I'm alone. I'm not ashamed to say that I don't want to hike a few days into the wilderness, far from hospitals and showers, carrying 50 pounds of camp supplies. At a campground, I don't get why bonding with nature has to come with hours of packing, hauling, and setting up the campsite, getting poor sleep on an air mattress in a tent where bugs crawl in, slow cooking on a tiny camp stove, and showering in a communal space with cold water and spider webs. Yes, you can save money that way, but to me, when I can afford it to avoid it, it's just overhead that drags me down. I bond with nature better whenI'm feeling awake and clean, in the same way that I experience everything better when I'm awake and clean.
We stayed in the Tree House Lodge, which sleeps two in a comfortable queen-sized bed and two in bunk beds. It is a work of art, looking like a log cabin raised up from the ground as though in a tree. Inside, it feels like a log cabin, made from dark wood, with a high ceiling, and decorated with a two-handed saw, old lantern, stuffed and mounted deer and fish (not my thing), and other hunters' delights. But in actuality, it's a luxury cabin with amenities such as bug-proof modern construction, air conditioning, a big shower, and a full kitchen including a toaster, coffeemaker, microwave, and stovetop plug-in oven. They provide books on geology, gems, and crystals.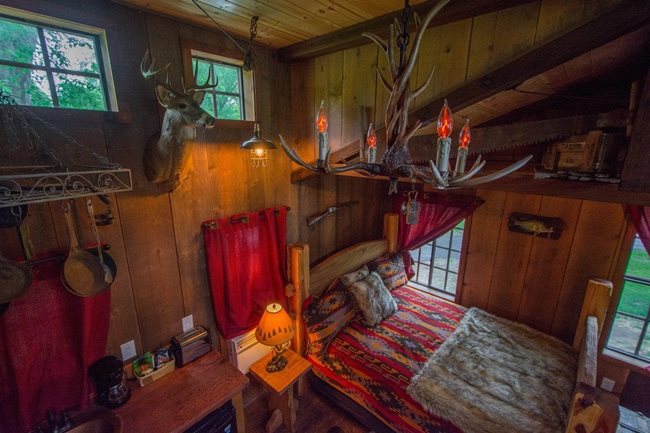 Outside, you have a modern barbecue grill, your own patio and campfire pit, and a hammock big enough for two. It's so comfortable to make you feel a bit guilty, so we were glad that it was campsite-level clean instead of hotel-level clean, there was no freezer, and we appreciated the blackout curtains, but early sunlight from the high windows woke us early just the same.
Remarkably, every lodge at the Herkimer Diamond KOA Campground has its own theme, with an educational goal. These standalone luxury cabins are like outdoor hotels. Some lodges are themed with different gemstones. Others are dinosaur themed, where you can learn about paleontology. They have two fishing-themed lodges. Their environmentally conscious lodges are solar powered, with bamboo floors and dual flush toilets. One oversized camping site has 52 apple trees. The astronomy-themed cabins are decorated with NASA photos and have their own telescopes! 

With their edutainment focus, the Herkimer Diamond KOA Campground attracts classy, intellectual people. We were not kept up late by shouting, drunk young adults, and not woken early by screaming, sugar high children. Instead, walking the campground was just peaceful. It's impossible not to shed your city living stress. Unlike other campgrounds, which are surrounded by nature on the outside, but internally are densely packed tent sites, the Herkimer campground has plenty of free space, simply parkland to explore. Signage around the campground is good, so you won't get lost.
You'll find organic gardens where they grow vegetables that get served in their restaurants. An outdoor dining area offers an easy and inexpensive breakfast. They only serve pancakes on Sundays, but any day you can get an egg sandwiches, bacon, ham, bread, or a breakfast burrito. You can play disc golf, where you throw a frisbee instead of hitting a golf ball, and there's a pool with plenty of shaded seating and picnic tables. There's a little playground for kids, basketball and volleyball courts, and we even saw a dog-themed cabin with a little dog playground.
In the camp store, you can buy an inflatable tube and float down the creek, which we tried. It was easy to do and a real joy. Pro tip: stay to the right. You can also bring your own kayak or canoe. The campground offers lessons on fly-fishing, regular fishing, and cray fishing, and you can catch bass, trout, and crayfish in the creek.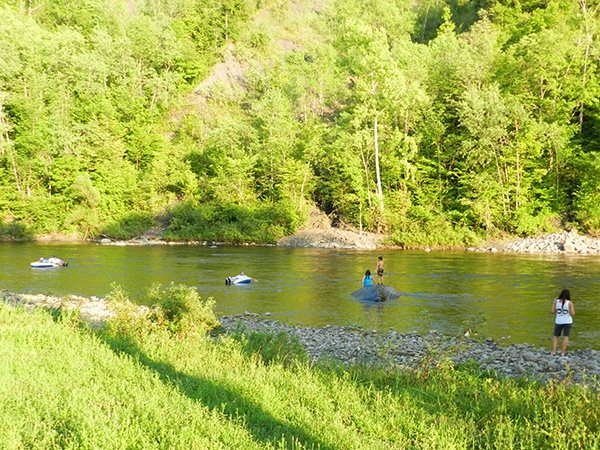 They host groups including STEM camps for kids (Science, Technology, Engineering, and Math), and athletic tournaments. Activities include outdoor movies, wagon rides, and a community firepit for with S'mores. WiFi is listed as an amenity, but we could not get cell phone reception anywhere on site, or find Wi-Fi except at the restaurant.
I've researched events with a passion for more than a decade to discover gems in the wild like the Herkimer Diamond KOA Campground, where across the street you can literally discover gems in the wild. I'll give Herkimer Diamond KOA Campground my rare 5 stars PLUS.
See the Herkimer Diamond Mines website,  the Herkimer Diamond KOA Campground website, my review of the Herkimer Diamond Mines (5 stars), and my review of their restaurant, The Miners' Table (5 stars).