Heritage Museums Gardens Aglow Has Holiday Lights and Beautiful Grounds (5 stars)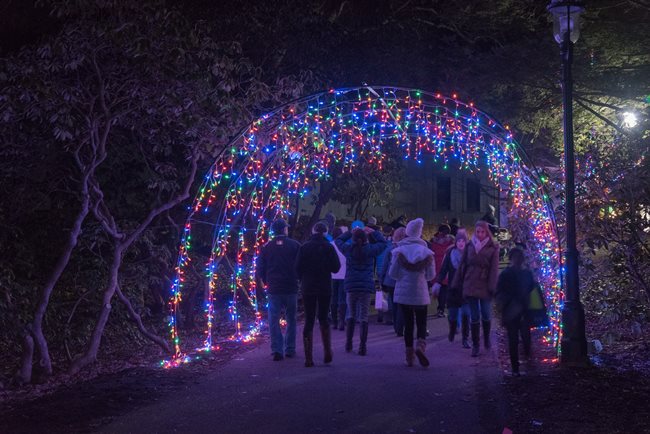 Heritage Museums and Gardens is my favorite destination on Cape Cod, in Sandwich which is the closer end of Cape Cod, between 60- and 90-minutes' drive from Boston. During the holidays they host thousands of winter lights! It's a remarkable indoor / outdoor destination on 100 acres, where you can explore the beautiful gardens at night, then go inside to warm up, and then explore some more. The lights are hung creatively and come in many varieties. In one place there's an elven glen with lit crystals. Elsewhere colored floodlights highlight trees. The park has many sculptures, too, which are also decorated.
You can find a map of the grounds online, but you needn't worry. Unlike the grounds during warm weather, when there are many hidden paths to discover, in the winter there's only one main path that passes three main buildings: the Automobile Gallery, the Special Exhibitions Gallery, and the American Art and Carousel Gallery. I did a careful scout of the place and there's no risk of your missing something through not paying attention. (More ropes closing pathways are needed. The Hidden Hollow, treehouse, lake walk, Windmill, and Hart Family Garden are closed.) The paths are almost all paved, making it easy to push a stroller, and you'll find indoor bathrooms everywhere.
Prices are low, only $18 for adults or $7 for kids (less for groups), and the food inside is inexpensive as well. A truck from Cape Cod Donuts sells donuts for $1.75 and hot apple cider for $2. You can roast smores over an open fire for free, or buy a smores kit for only $2. Their cafe also serves hot chocolate, coffee, warm mulled wine, beer, turkey noodle soup, Christmas whoopie pies, Christmas chocolate chip cookies, gingerbread men, and more.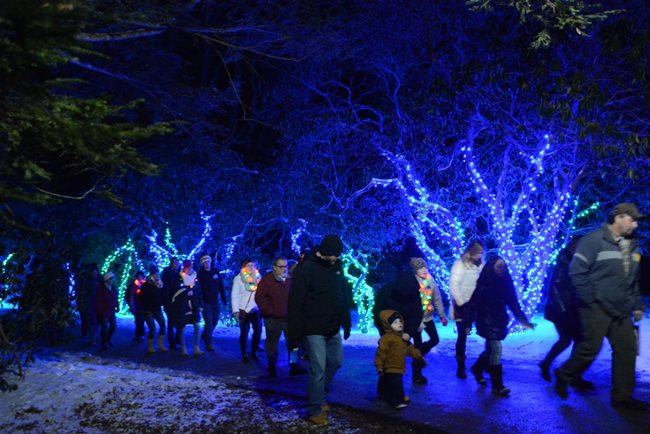 You'll find an ice carving demonstration with ice sculptures, a labyrinth, and a pile of oversized building blocks and foam pieces that you can build a giant fort from. Follow the tunnel of lights to the Special Exhibition Gallery, where you can meet Mrs. Claus. There they display a giant gingerbread house, decorated holiday trees, and have model train tracks running all around the room.
At the end of the trail, find the Looff Carousel, which is included in admission, with the Heritage Collection, an exhibition of Americana that includes weathervanes, holiday tree, pottery, Native American baskets, and civil war guns. There's also an automobile museum on two levels with dozens of perfectly preserved old time cars, and Santa in one of them to greet you. They're decorated indoors and out with holiday wreaths and trimming.
All around the grounds you'll find tiny deer made of wood, and if you get a book you can stamp it at each deer. If you find them all and fill up your book, you can win a gift such as a flashlight. Of course there's also a gift shop that's entirely holiday-themed, selling Christmas socks, night lights, toy shelf objects, snowmen, toy soldiers, elves, deer, pottery, books about automobiles, scarves, kids' toys, and board games — most intriguingly, a "Host Your Own Murder Mystery" game.
As a non-Christian, I'm a bit touchy by how Christmas is so pervasive and overwhelming. So I'm glad to report that Gardens Aglow is almost entirely nonreligious, welcoming to those of any faith or no faith, excepting perhaps a touch in songs like Handel's Messiah and "It Came Upon A Midnight Clear". Arriving later in the evening on a Saturday I found parking in the main lot with no trouble, and they also have a satellite lot if that fills up.
Heritage Museum and Gardens is now my favorite Cape Cod destination for the winter, too. 5 stars.