Heritage Adventure Park is a Ropes Course Challenge on Cape Cod (4.5 stars)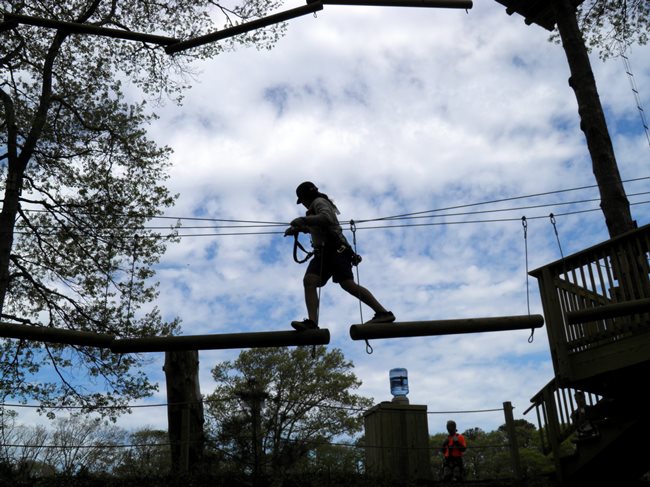 Heritage Adventure Park is a ropes course right next to the Heritage Museum and Gardens, my favorite Cape Cod destination. In the treetops, you'll find ziplines, climb ladders, and walk across tightropes and wooden bridges, with 5 routes to choose from, each taking 45 minutes or so. Plenty of water is available to stay hydrated. They've got a weight limit of 265 lbs.
The site was smaller than expected, with a small gift shop, a few snacks, portable toilets, picnic tables, and 5 routes between 10 and 25 feet off of the ground: three easy, one medium, and one difficult. It's safe for kids as young as 7 years old. The guides are friendly, supportive, and don't make you feel bad if you're not macho. They stay on the ground while you self-service your route, hooking up your own carabiners. Instructions were easy to follow and they even have a short practice course only 2 feet off of the ground.
The carabiner system is remarkably easy to use and secure. There was no wobble in any of the supports or taut metal lines, so you can really rely on them to hold yourself up, and we didn't find any fear of falling, even when one of us did fall and was caught by the belaying line. At all times you are double-hooked in and sometimes triple hooked. All the clipping carabiners, while necessary, does slow you down, and it's sometimes better to let a fast group pass you, or wait for a break, so that you can take your time, and give attention to the others in your party as they complete tricky parts of the course.
Longtime readers must wonder why I give so many 5-star ratings. First, I do like to support the arts, but also, it's because I'm good at choosing destinations that are a good match for me.
Heritage Adventure Park is a fantastic place for some people, that doesn't happen to be right for me. They don't have a non-athletic option, a ridiculously easy street that is all ziplines or cake walks. Because the courses are accessible for children, the guide wires were often too short for me. I am a very tall guy. Both my friend and I had trouble as well as having fun. My advice is, use both hands, in your gloves, and try to avoid bouncing off the guide wires with your side or hanging on with your underarms.
I'll give Heritage Adventure Park 4.5 stars, but understand that you're getting in for a genuine athletic challenge, similar to whitewater rafting and more than go karts, amusement parks with ziplines, and other kid stuff. It's a bit smaller than I'd expected. As they expand in coming years, they are headed for 5 stars for sure.