Hello Tour Guide Tells the Old Stories of San Juan, Puerto Rico (4 stars)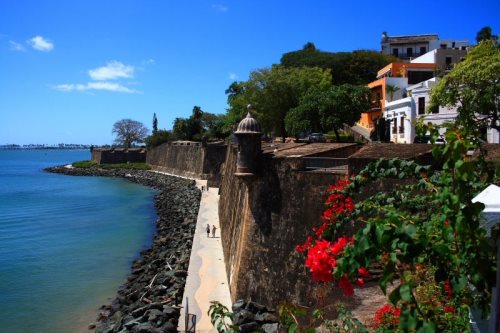 Debbie Molina Ramos has been a tour guide in Puerto Rico since 1999, and her approach is unique. She tells stories. More than any other guide we had during our trip, she wove the different locations that we visited on our nighttime walking tour, "Night Tales in Old San Juan", into a big picture sense for the history and people of Puerto Rico. She runs Hello Tour Guide.
Debbie's tour was excellently planned. It takes place at nighttime, when it's cooler to walk around the city. (She also gives a daytime architectural walking tour and others.) She knew exactly where to stand to take great photos, and she kept an expert eye out for traffic coming on the narrow streets. She frequently allowed us to sit through the tour, because standing for a long time is tiring, something that tour guides often forget.
Debbie was friendly and enthusiastic, sharing her love of history and heritage. Unfortunately, we found her hard to follow, and couldn't understand perhaps half of what she said. It wasn't her accent, but rather that she spoke quickly and without stopping. There's an old rule of public speaking that you tell people something three times. The first time prepares them, then they actually hear it, and finally they learn it. Debbie instead would, for example, point in a direction and make a reference to something far away in the city. She didn't understand that, being new to San Juan and tired from traveling, we couldn't tell North from South, and had no map of the city in our heads. We didn't know what she was pointing towards. (Note how in the last three sentences I said the same thing, three times, for clarity.)
Debbie clearly has superior knowledge to other tour guides and showed us energy and kindness. We learned way more about the character and history of Puerto Rico than we expected. But I have to say that you'll keep up better with Debbie's more creative but rapidly spoken tour if you've already learned the basics about San Juan, on your own, or by taking someone else's tour first. I like to be generous, so I'll say 4 stars for Hello Tour Guide.