Headless Horseman is Again the #1 Halloween Attraction in the US Northeast! (5 stars PLUS)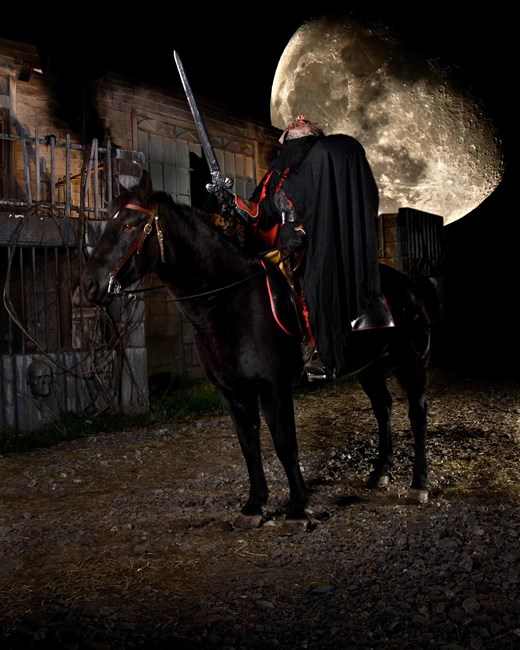 Headless Horseman is once again my favorite Halloween attraction in the US Northeast.
The attraction is much as it was when I visited in 2018 (5 stars PLUS), though because of COVID they have slightly fewer staff and the hayride route is now a walking trail.
You really can spend an entire evening at Headless Horseman!
Headless Horseman has a remarkable ten attractions. First, the hayride route, which you'll walk this year because of COVID, and which they've themed "The Haunting of Pumpkin Jack". Then you'll walk a trail that leads to the other 9 destinations, some of which are quite short, but it all adds up to 90 minutes of scares.
Even if you get the recommended SpeedPass tickets that let you go the front of every line, they have 90 minutes of scares, which is 2-4x larger than most other Halloween attractions, and that's not even counting the midway and escape rooms.
At the midway, you'll find several shops selling Halloween merchandise, while actors playing monsters stroll around, entertaining and scaring people.
They have a range of food choices from healthy to carnival. At the Evil Eatery, find hamburgers, cheese fries, chicken wraps, onion rings, nachos and cheese, Monster energy drinks, and other beverages. Deadly Donuts sells donuts, delicious though with perhaps too much sprinkled sugar. It's not clear from the signs whether they have hot cider, but they do! Just ask.
I find the garden area with adult-sized swings especially delightful, and there are plenty of picnic tables to eat or just sit and chat. You'll find dioramas in the midway as well. There's also a magic show, which I remember from 2018 as being pretty good, though this year I must have stopped by at the wrong time, 15 minutes of patter and handing out commemorative magnets.
You don't get rushed along at Headless Horseman, perhaps because there's plenty of space for the groups behind you to pass you. We spent a good 25 minutes along the hayride trail, walking through "The Haunting of Pumpkin Jack".
You'll find an entire haunted village, starting with a haunted barn that has rock and roll music, overhead string lighting, stalks of corn, mannequins, fog effects, and pneumatic animatronics.
The town also includes horse skeletons and a haunted post office, candy shop, police car, and barber. Murderous actors come out to threaten you as you pass. I always appreciate the work that goes into building a level path with no tripping hazards. Here you'll find a paved path or sometimes gravel.
You'll find a sky-high level of creativity and theatrics at Headless Horseman. The costuming, makeup, staging, and acting are original, not generic, and you won't find elements that seem cheap or storebought anywhere. Unlike at other attractions, actors have real lines to say, not just shouting to startle you.
And you'll find giant animatronics including a wolf and pumpkin monster. Artistic touches included tall, pumpkin statue creatures, a ghost on a crane, and a pumpkin with a skull inside of it. Then an actual headless horseman rode out on a horse to meet us!
We loved the demon who jumped out and the building facades up to three stories tall, including an evil church and tavern. It's a long walk, but if you're out of shape there's plenty of room to stop and rest up. Although a hayride is comfortable and convenient, I found the walk actually more fun, because when you're on a hayride you're separated from the action. I recall from my 2018 review that actors often hung back instead of coming up to the hayride to engage guests.
They made great use of projections, including a clown who appears, and you'll even find a haunted observatory, theatre, and a very long animated row of pumpkins as though going up to infinity. Of course it ends with a chainsaw attack and big fog blasts. Great!
Then you enter a walking path that naturally takes you through the next nine attractions. It begins with a snack bar and an optional 'Phantom Photos' booth, which is a diorama where you can get your photo taken and pay $13 for the privilege. In the time of cell phones, this seems a bit archaic, and the one diorama that you can stand in front of for Phantom Photos is not the best backdrop on site.
The remaining 9 attractions added up to an hour of scares, not counting any of the time waiting in line. (Waits were quite short for us with our SpeedPass tickets.)
The Lunar Motel, a 6-minute experience, is about half just gross stuff like a filthy bathroom. When you run a Halloween attraction, you're always looking around for landfill stuff like an old bathtub. I guess that's scary. But we loved the vortex, an entire room that seems to spin around you, and the animatronic car. And we loved that the actors had real lines to say.
The actors are smart enough to wait for the right moment, because even if that means missing some people, that means they're more effective when they do jump out. And, you can still get scared if you're at the back of a group. Not only the people in front get attention.
There were, I'm sorry to say, a few areas where you might trip over a threshhold, a half inch drop or a one inch step up or down.
Then we came to Glutton's Diner, which is of course a haunted diner, just a couple of minutes long. This was not particularly notable and my thought again was perhaps someone found some old restaurant stuff and thought they'd make use of it. We loved the meat grinder effect though!
Evil Reaping is a 5-minute corn field, a path not a maze, with some animatronics. We loved the toad creatures, but it does have an unexpected step down, just an inch, but enough to possibly trip over.
The Swamp Shack was one of our favorites. It's a couple of minutes long but you'll find moving floorboards and the swamp hut style goes all out with original theatrical staging. You really feel like you're in voodoo New Orleans.
Then it just gets better! The Horseman's Tomb is about 5 minutes long, a very impressive cemetery, with huge statues, mausoleums, and a headless horseman animatronic. It's just so extensive and so creative. A ramp in this attraction seemed like it probably should have had a fog effect.
Dr. Dark's is a circus sideshow. Four minutes, with creative animatronics. You won't see anything generic anywhere at Headless Horseman. I especially liked the half-shell of a giant pumpkin used to host a diorama.
Night Shade, which is 4 minutes' long, was my least favorite attraction during my last vist. It's just a greenhouse. But my two friends loved it, perhaps because they are closer to gardening than I am. It does have tons of animatronics, weird and interesting, including a bird head on a crane and giant mushrooms. I love the laser lake effect, though unfortunately no actor jumped out.
The Feeding is a haunted mansion, 7 minutes long, with a mad scientist laboratory. About half of this attraction was filler, found objects such as gears, hard hats, and bathroom tiling. But the other half, wow!
You'll find a human-sized model of the human nervous system, whose walls revolve. There's a mannequin screaming under water, and "infinity mirror" effect, and more. Make sure to step onto all of the pressure pads. I'm not a fan of uncomfortably loud electrical snaps that I guess are supposed to startle you, but to me they just hurt my ears.
You'll also find an entire corridor of mannequins suspended in water with fog, and an animatronic laboratory with test monkeys in cages. Watch your step up and step down in the stroboscope corridor. There's a surprise at the end. (Hint: it's the surprise the ends every Halloween attraction in the world.)
The last stop, which is really separate from the walking trail, so make sure that you don't miss it, is Two Raven Manor, which is 4 minutes long. There the walls close in on you, bookcases fall on top of you, and the doll head actors were the scariest thing we saw all night!
They have infinity mirrors, and an entire pirate ship room with a giant snake, wow, lots of animatronics, and a voodoo house. Wow!
Overall, Headless Horseman didn't seem quite as impressive as my last visit, perhaps because of a lower staff count. But with their extensive creativity and animatronics, and with so much to see and do, I'm glad to again declare it to be the #1 Halloween attraction in the US Northeast! 5 stars PLUS.
Owner Mike Jubie very kindly agreed to an interview.
Events INSIDER: How did you decide to start a Halloween attraction?
Mike Jubie: My wife Nancy and I started 29 years ago, and we had 35 employees to put on the entire show. We've grown from 45 acres to 62 acres of propery, and our staff and crew pre-COVID was 375. We were forced to cut back a little bit because of COVID, and we've increased our employees and crew somewhat, and hope that next year we'll be back to a full crew and hayride.
This year we're not doing a hayride. We've changed it to a 20-minute walk in the dark. Some of my friends are out there, so you may want to be a little cautious.
Events INSIDER: You really can spend an entire evening here, because of your midway.
Mike Jubie: We have our food concessions, a great donut bakery, Deadly Donuts. We have to start out every evening with over 1,000 donuts. We also have homemade desserts. Unlike other attractions that may be in a strip mall or warehouse, we have the blessing of Mother Nature. We have a midway area, a beautiful garden area, and we don't rush anyone through. We don't close until the last person has grown through everything.
Events INSIDER: What's your creative inspiration?
Mike Jubie: When we're doing the full hayride, we like to do have what we call 'mirror image'. That means that both sides of the wagon are getting something. They are seeing something and watching something [so you get a full experience regardless of whether you sit on the left or right of the ride]. We have a great team. We work with a great illusionist and we have great writers. It's a team effort. My wife Nancy is very much into this. Without her, it wouldn't be where it is.
Events INSIDER: Thank you.
For more, see the Headless Horseman website!