Haunted Somerville is Boston's Closest Halloween Attraction (5 stars)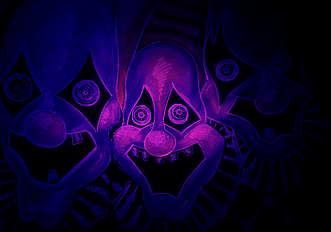 Most Halloween attractions require you to drive out at least an hour from Boston, but there's one that you can access easily on public transit. Even closer than the 715 Haunted House in Canton, and even closer than Ghost Ship Harbor in Quincy, is Haunted Somerville, based in East Somerville at the Art Farm.
It's the brainchild of Matt Martino, a filmmaker and entrepreneur whose films have been distributed nationally through the Hollywood system, and a professional lighting designer who came up helping to run SpookyWorld, still the best known Halloween attraction in New England.
The Art Farm itself is an outdoor venue with a bus that has been painted all 1970s funky style with sculptures bolted onto its front to give it mouse ears and a mouse face. It's lovely to walk under the stars at night, and being outdoors in New England at night is already scary.
To that, they add live music by Garbage Point, a horror punk band! It's the only Halloween venue that I can think of with a live band, except Witch's Woods (limited evenings) and David Mega Farm Festival (limited evenings). I've heard this band and they have exceptional driving rythyms and energy.
Then you walk through the spooky maze. The maze itself is plywood but has been professionally designed to look like brickwork, making it far more immersive than plain attractions such as the simple maze at Witch's Woods and Haunted Acres. You'll find decorations, dioramas, spooky mannequin creatures, and great lighting effects. Actors in Halloween costume jump out to make you scream and then you'll laugh with relief.
It's a remarkably fun time. While Haunted Somerville is not the largest or biggest budget attraction, it's convenient, creative, and coming to see the live band gives you more to do, keeping you on site for an hour if you wish. I'm glad to give it 5 stars! It's a must see if you live in the city. So close, why not?