Haunted Overload is New England's Most Artistic Halloween Attraction (5 stars)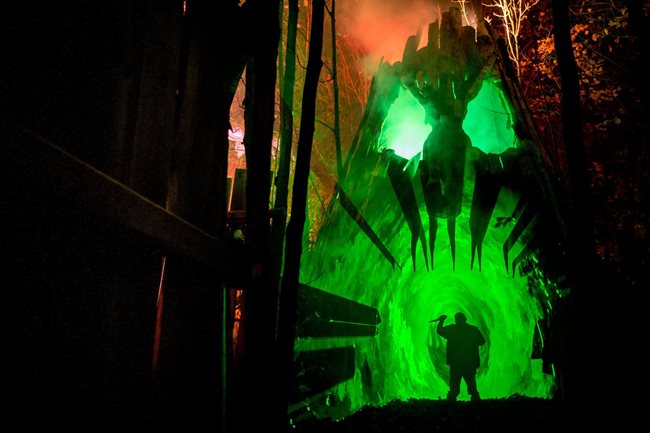 Haunted Overload is the most artistic Halloween attraction in New England. It is essentially an art installation that you can walk through, in the woods at the DeMerritt Hill Farm in Lee, New Hampshire.
Parking is free, but maze-like, so don't forget where you parked your car. Out front there's a farm store, but that's not where you buy tickets. Instead walk to the back where real, lit torches line the pathway, and you'll find portable toilets.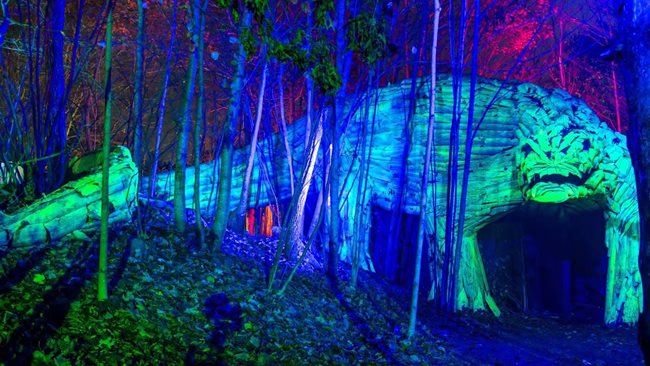 Haunted Overload is a 24-minute walk through the woods, but call it 30 minutes because even while you're waiting in line and approaching the ticket booth, there's plenty to see. Costumed actors come out to scare and entertain you. There's a three-story-tall pumpkin monster reaching down to grab you, with a three-story-tall pumpkin king lording over 200 carved and lit and pumpkins. And that's before you enter the huge, two-story castle with video effects and fog, with a menacing skull and chandelier!
The woods walk is smooth with no tripping hazards, but wear sneakers in case it's a little muddy, and expect to walk up and down hills quite a bit. Whenever the hills slope down, the pathway is constructed to make you feel like you're descending to an underground corridor.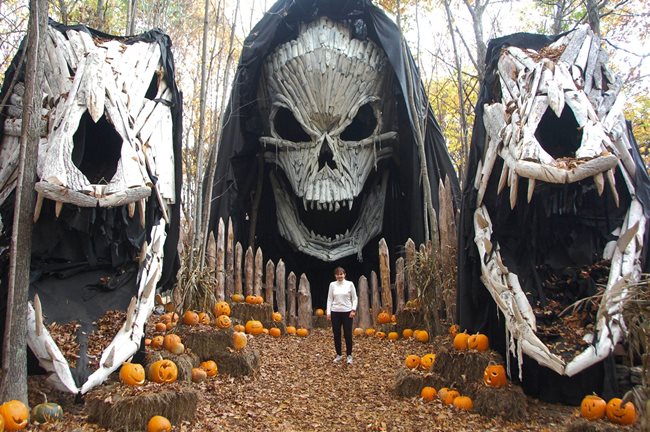 Tons of actors play creepy characters, with original costuming and good makeup. Most don't have lines to say, but many do, playing out a brief vignette that helps set a theatrical scene. You'll see a priestess in white with white devil horns, a spooky tarot card reader, and a snake charmer.
But it's the staging that makes Haunted Overload so powerful. You'll pass through a fun house, a purpose-built mansion, horse skeleton, with lots of strange mannequins and statues. There's a haunted mansion whose walls are crumbling and where tree trunks are invading. Unlike other attractions, which have a lot of generic filler such as storebought fencing and camouflage netting, Haunted Overload is entire custom built from wood. (Some brief but empty stretches with wooden fencing might have been simply open to the woods. Walking through the woods at night is naturally beautiful and automatically spooky.)
You'll pass wonder after wonder. You descend into a haunted mine. You pass a two-story-tall wooden bear guarding a cave. There's an evil hick playing a skeleton guitar, a massive two-story-tall wooden skull, a spooky church, and a slanted wooden house of dolls with blacklight effects. Just when we got bunched up a bit with the group ahead of us, an actor held us back, letting the group in front of us have some space.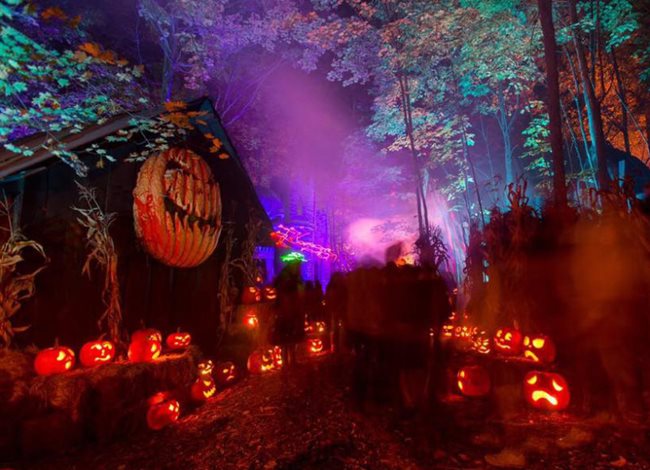 You'll pass through a unique-looking cemetery that's a series of upright coffins, with all the lids opened to reveal ghosts inside. There's a haunted barn and cornstalk field. And I've seen laser cones before, but never a multi-colored laser cone that they had this year. Although there are a few seats at the entrance, Haunted Overload is not an attraction where you can hang out with friends and chat. 
There's no hayride, corn maze, animatronics, or hangout spot with food, and not as many actors with theatrical lines to say as I would have liked. So while short of my rare and perfect 5 stars PLUS, I'll give again an easy 5 stars to Haunted Overload. It is a stunning destination, completely unique and original, and they have daytime hours and "fright night lite" events to admire the artwork without the scare.
For more, see Haunted Overload and the DeMerritt Hill Farm.