The Haunted Graveyard is New England's Best Halloween Attraction (5 stars PLUS)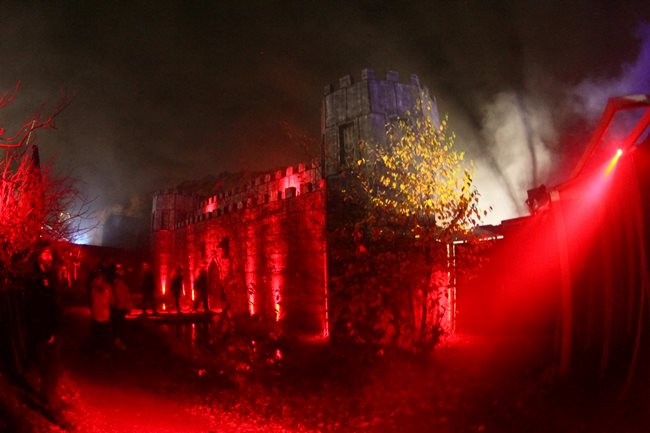 The Haunted Graveyard isn't just a standalone attraction. It's based in the oldest amusement park in the United States, Lake Compounce! The location is extensive and, except for its water rides, is completely open in the fall. Lake Compounce is the oldest amusement park in New England, with rides to rival Six Flags and Canobie Lake Park closer to home. Arrive early when they open at 5pm so that you can try all the theme park rides before their Halloween attraction, The Haunted Graveyard. It is based in Bristol, Connecticut, a two-hour drive from Boston, but it is mind-blowing and worth the trip if you love Halloween.
The Haunted Graveyard is extensive and will take you at least 45 minutes to walk through, with no breaks. It just goes on and on! It's a combination indoor walk but also outdoor woods walk and they also have a cemetery. Inside you'll find every horror theme you've ever heard of. There's an African witch village, bats, spiders, jungle, Asian vampires, spooky church, catacombs, snakes, a real waterfall with a bridge, an Aztec village, medieval torture, and more. There's even a castle front with a drawbridge crossing a real moat with water.
Special effects included a room where lasers and fog make opaque surfaces for ghouls to hide behind. And three "vortex" rooms, where the room appears to spin, at least two fog rooms, and one of which had bright eyes popping out of the darkness. Then the displays! There must be 200 displays in The Haunted Graveyard.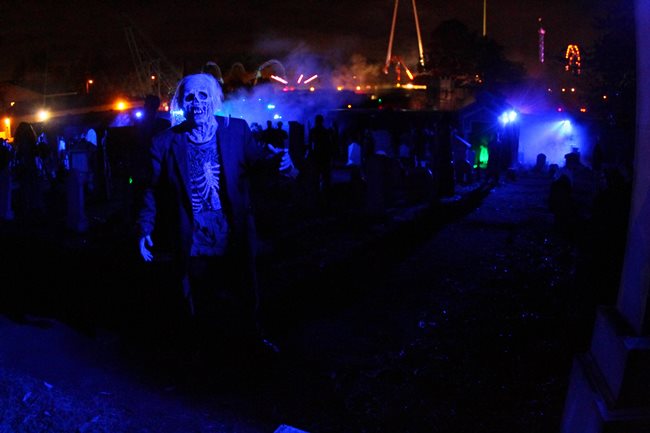 A lot of other Halloween attractions put up plywood to create an inexpensive maze, but it's clear from the thin wood, even if it's painted, that it's not a house, but rather a temporary construction, and it breaks the suspension of disbelief. At The Haunted Graveyard, the halls have archways overhead and embellishments such as stonework, so it feels like you're really in a building, even if for fire code reasons there is no ceiling.
Mercifully they have "timed" entry to the attraction so that you just wait until your time slot instead of standing in a terribly long line. During the short wait in your time slot, you get to see a makeup demonstration and can take photos with monster dioramas. The line moves quickly because they don't put much separation between groups. So you may not be surprised if you see the group in front of you get scared first, but just take it slow and let the group ahead of you get ahead. Actors clearly know not to just always scare the leaders of a long group and wait until the middle or end.
There's plenty of park staff dressed in plain black t-shirts who do not jump out to scare you. Their purpose is to ensure safety and help people too scared to handle it to leave quickly. The pacing was good and we had plenty of time to see things without getting bunched up. You'll find some amazing animatronics including a hilarious haunted farm. Actors know just where to stand and it's very scary. You'll yelp and then laugh the whole time.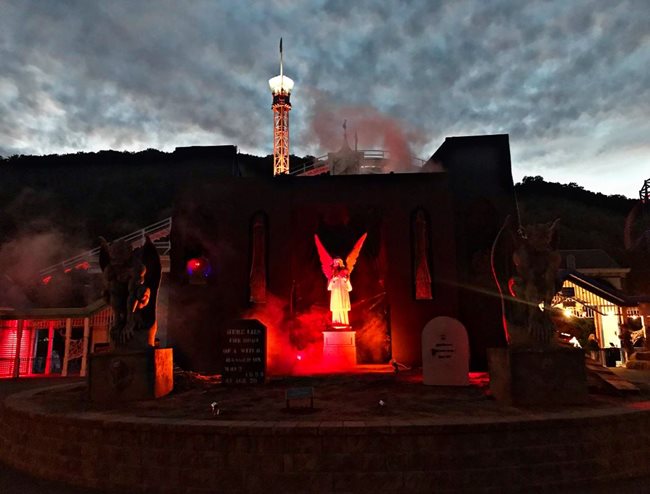 Some actors had lines to say, but most didn't. So you don't really go through theatrical scenes so much as theatrical sets — but this staging is excellent. The owners really get it that to avoid filler you need to decorate the endless passages of plywood with somewhat real looking paint patterns (such as brick work) and hang up mirrors and other ornaments to break up the monotony. There is no place at The Haunted Graveyard where you'll get bored for even a moment with filler decorations like hanging camouflage netting or bedsheets. It's wonderfully scary, with great variety — a fantastic place to spend your evening.
Take it from someone who has reviewed 45 Halloween attractions in New England. You'll be scared and thrilled by The Haunted Graveyard and it's absolutely worth the trip in the delightful setting of Lake Compounce. You can easily spend an entire evening there, 5 hours or more. The Haunted Graveyard gets 5 plus stars and is again New England's Best Halloween Destination.
Next year, look out for the Behind the Screams tour, a 5-hour event where the production team of The Haunted Graveyard shows you how costuming, makeup, animatronics, and more are done. You get to meet the crew, ask questions about your own Halloween setup! It's like a miniature haunt convention. The event comes with lunch and a daytime tour of The Haunted Graveyard so you can see how everything works. Then at night, when the attraction opens, you get admission to the entire theme park in the evening and unlimited VIP walkthroughs of The Haunted Graveyard. If you love Halloween it's a mind-blowing experience.