Haunted Graveyard at Lake Compounce is Again New England's Best Halloween Attraction (5 stars PLUS)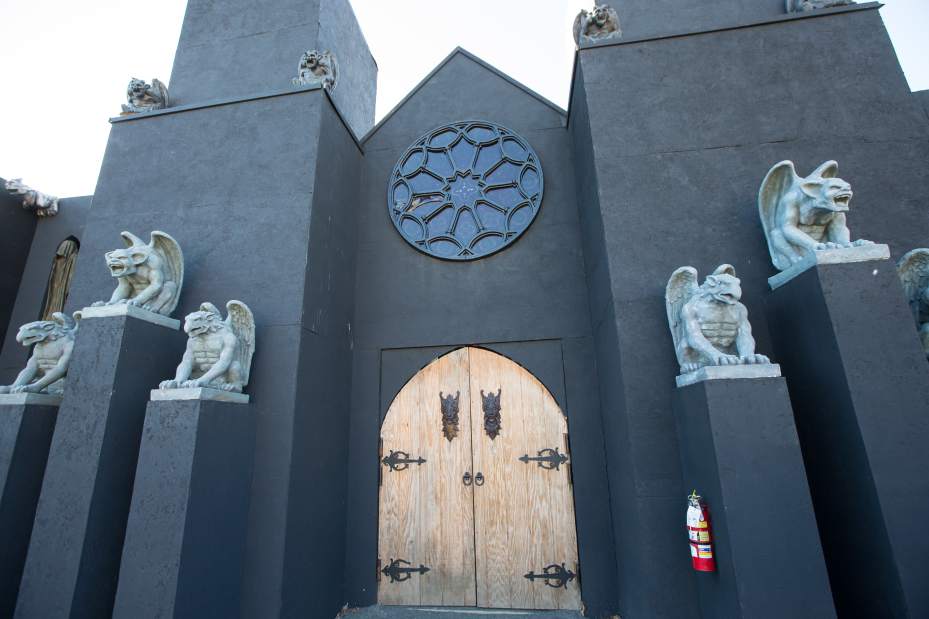 Lake Compounce is the oldest amusement park in New England, with rides to rival Six Flags and Canobie Lake Park closer to home. Arrive early when they open at 5pm so that you can try all the theme park rides before their Halloween attraction, The Haunted Graveyard. It is based in Bristol, Connecticut, a two-hour drive from Boston, but it is mind-blowing and worth the trip if you love Halloween.
Most of the park seems to be open except the water park. For the daring, find three roller coasters and several rides that turn you around or even upside down. We went on the Boulder Dash wooden roller coaster that is built into the side of mountain and several times has been named the best wooden roller coaster in the world. It's good but it rattles. Keep hold of your teeth filings.
The Ferris wheel was delightfully smooth and non-scary despite the height. And you'll find many other rides for those not too brave at heart, such as a merry-go-round, bumper cars, and a "Ghost Hunt" attraction where you sit in a car and get taken through several rooms — but you hold a laser gun and can shoot cartoon ghosts! It was so fun and thrilling that we went twice. I've never seen anything that interactive in a "ride" attraction at a theme park, and it was not scary, safe for kids. They have a cemetery where performers dance Michael Jackson's Thriller, with more enthusiasm than talent, but it's a fun time.
We also found The Zombie Lounge, a cafeteria with an outdoor deck (with free standing heaters) that faces the water. You can get a drink, relax, and just enjoy the live music. If you are careful you don't have to eat fried foods and cheese steaks — you can pork sandwiches, turkey burgers, and even a salad at the Pizza Palace. Admission to the park comes with free soda from dispensers everywhere, which helps prevent overheating the summer. The lines were short and no problem.
So you're already having a fantastic time and you haven't even gotten to The Haunted Graveyard yet! Mercifully they have "timed" entry to the attraction so that you just wait until your time slot instead of standing in a terribly long line. During the short wait in your time slot, you get to see a makeup demonstration and can take photos with monster dioramas. The line moves quickly because they don't put much separation between groups. So you may not be surprised if you see the group in front of you get scared first, but just take it slow and let the group ahead of you get ahead. Actors clearly know not to just always scare the leaders of a long group and wait until the middle or end.
The Haunted Graveyard is 45 minutes long — I timed it — which makes it about as long as the combined length of destinations like Witch's Woods (7 shorter attractions) and Haunted Acres (6 attractions) but having it all in one walk is fun. It's a combination indoor walk but also outdoor woods walk and they also have a cemetery. Inside you'll find every horror theme you've ever heard of. There's an African witch village, bats, spiders, jungle, Asian vampires, spooky church, catacombs, snakes, a real waterfall with a bridge, an Aztec village, medieval torture, and more.
There's plenty of park staff dressed in plain black t-shirts who do not jump out to scare you. Their purpose is to help people too scared to handle it to leave quickly. The pacing was good and we had plenty of time to see things without getting bunched up. You'll find some amazing animatronics including a hilarious haunted farm. Actors know just where to stand and it's very scary. You'll yelp and then laugh the whole time. You'll also find three "Vortex" rooms, one of which wasn't spinning, and some great fog effects including a descent into hell that needed more fog. But there's more! An old mansion, a blackout room in total darkness.
Some actors had lines to say, but most didn't. So you don't really go through theatrical scenes so much as theatrical sets — but this staging is excellent. The owners really get it that to avoid filler you need to decorate the endless passages of plywood with somewhat real looking paint patterns (such as brick work) and hang up mirrors and other ornaments to break up the monotony. There is no place at The Haunted Graveyard where you'll get bored for even a moment with filler decorations like hanging camouflage netting or bedsheets. It's wonderfully scary, with great variety — a fantastic place to spend your evening.
Take it from someone who has reviewed 45 Halloween attractions in New England. You'll be scared and thrilled by The Haunted Graveyard and it's absolutely worth the trip in the delightful setting of Lake Compounce. You can easily spend an entire evening there, 5 hours or more. The Haunted Graveyard gets 5 plus stars and is again New England's Best Halloween Destination.