The Haunted Graveyard at Lake Compounce is New England's #1 Halloween Attraction (5 stars PLUS)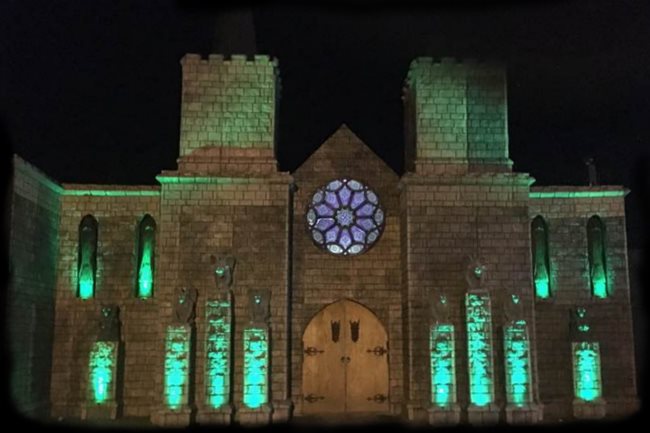 New England has only a few giant amusement parks. Palace Playland and Quassy Amusement Park close early in October, and Six Flags, Canobie Lake Park, and Lake Compounce have Halloween attractions through October. Each has its own merits. Canobie Lake Park has the most actual natural parkland, including a lake boat tour, Six Flags has the biggest rides and the most Halloween attractions (but of middle or low theatrical quality), and Lake Compounce has by far the best Halloween attraction, The Haunted Graveyard. It's a 45-minute indoor / outdoor walk through every horror scene imaginable, which is larger than almost every other Halloween destination, and being based at a theme park, you can spend all evening there, longer than at almost any other destination. It is again my pick for #1 Halloween attraction in New England.
Lake Compounce opened in 1911, making it America's oldest amusement park, and it's between 2-3 hours' drive from Boston depending on traffic, which is only a half-hour farther away than Six Flags. Even their entranceway is Halloween themed, with fog and monsters who come out to spook you as you walk through and into their entrance courtyard with animatronic dragons. Try to ignore the staff who pester you to have them take a photo. Pro tip: plan out which rides to head to and arrive just before opening at 5pm.
Just walking around the grounds is great fun. You'll find a small haunted pond, and a graveyard with fog effects, where at scheduled times actors will come out to dance Michael Jackson's Thriller and other songs, in basic makeup and costumes such as a white ripped shirt with blood stains. Much of the park's rides, excepting the water park, are open. You'll find dozens of carnival games, and you can find restrooms and food all over, including shots in syringes, and beer. Last year, the Croc Pot Cafeteria was open, with live music and a lakeside deck with great views to sit and relax, but it was closed the evening that we went. The healthiest place to eat is the Pizza Place, behind Phobia, where you can get a salad, or next to it at the Pig House, a pulled pork sandwich. Next to the apple fritter stand, you can sit with a fire pit and warm yourself. You can buy s'mores, hot chocolate, fudge, or a caramel apple.
I'm too big for the kiddie rides, which don't interest me anyhow, and the biggest of the thrill rides scare me too much, and I worry about nausea. Fortunately, Lake Compounce has plenty of mid-level rides. Although the bumper cars were temporarily closed, we rode the carousel, which was created in 1911 and goes around faster than you'd think. Unfortunately, the Wurlitzer organ and drums don't work anymore.
Then we ran to Ghost Hunt, my favorite ride. You get in a car that rolls along tracks, Disney World style, through a house that's been haunted by ghosts. Each rider gets a plastic laser gun and you shoot the ghosts, with your scores totaling up against your friends! It's an amazing ride, and we tried a variation of the same ride in our trip to Niagara Falls. The trip includes a maze of mirrors, and int's wonderfully interactive. Pro tips: Don't just shoot the first thing you see. Find and shoot the purple lights, which have the most points. When shot, the lights blink and you can't shoot again until they stop blinking. So amongst your friends you really want to be first to shoot the purple, and then get ready to shoot it again on your way out of the room. Nearby, just above the whack-a-mole, a life-sized animatronic Boo-cifer, a character from the Ghost Hunt game, comes out on a balcony to speak to you, every 20 minutes.
Wave Swinger is a simple ride with chairs that spin around in a circle, but don't yank you around or put you upside down. My friend was brave enough to try Wipe Out, while I and a some other easily nauseated adults stood by watching. I'm also a big fan of the Boulder Dash roller coaster, which is built into the side of a mountain and goes nuts but not destructively so. The Ferris Wheel wasn't super tall, but we went around three times with good views of the lake, the forest, and mountain.
Then we were one of the first into the Haunted Graveyard. It's a 45-minute indoor / outdoor walk, or slightly less if you come early and don't get bunched up to a slow walk anywhere. Set design is a major strength of the attraction. At most Halloween houses, plain corridors will have unpainted plywood and filler such as hanging cloth strips or stretched fabric "cobwebs". At the Haunted Graveyard, even the plain corridors are stippled with paint to resemble stonework, and covered with plaster statues or other decorations. You pass through some 23 different horror themes, everything from vampires to giant spiders, both dioramas and live actors, and it's remarkable how well the staging, actors, and their costumes stay within that theme. I just visited Witch's Woods, where the witch-themed hay ride gave way quickly to zombies and other themes. At the Haunted Graveyard, you can stay in one of their themes for a full 5 minutes.
Actors mainly just try to startle you, only sometimes having lines to say, but they sure know where to hide to surprise you. I've seen so many haunted houses that I don't normally get spooked, but actors startled me several times! Many sections had mannequins and you had to guess which ones were real people about to jump out, or they had actors camouflaged against a backdrop. Most actors just had masks, or basic makeup, and costumes were sometimes just torn clothing with blood spatter. But we also saw some elegant costumes and advanced makeup work, such as the woman with the bloody neck in the haunted mansion. In places, such as the extensive graveyard, staff from Lake Compounce were too overtly present with their street clothing, breaking the mood.
Themes included a cult church, a corn field with ceramic pumpkins and haunted scarecrows (and a rabid dog named Ernie, after the creator of the Haunted Graveyard), a haunted cow with spilling milk cans, and a slaughter house for humans. You'll see ultraviolet light effects including a huge demon and an animatronic snake, cult members with eerie necklaces, a tunnel of hanging flapping bats, animatronic werewolf monsters, and an extensive "cave" made of some kind of sprayed foam, which is laid on a sloped hillside, making you feel like you're descending into the cave. You'll see the Manchac Bayou Swamp with alligators, a voodoo guy asking for blood, clever little spiders running to and fro, an air-conditioned ice cave, a vampire castle, insane asylum, spooky African and Mexican villagers, and so much more. It's so long and wonderful. You'll see a lost land of souls with glowing eye masks, and use a drawbridge to pass over a moat an enter a castle.
Thankfully, the ground everywhere is even, with no tripping hazards, except when leaving the platforms in the spinning "vortex" rooms. It takes a lot of work to remove all those stones. You'll find fog effects, chainsaw guys, a ton of custom-built animatronics, and plenty of actors. They don't space out groups of people much, but you won't get bunched up much, and the actors know to scare people in back of groups as well as those in front.
You'll also see some big effects. In the cannibal slaughter house, an actor pushes his friend into a meat grinder. What a stunt! There's a giant demon with a gaping mouth, inside of which the huge boulder from Raiders of the Lost Ark rolls towards you. There's the Pit and the Pendulum, and an entire prairie home where mannequins stare at you through the windows. There's a laser "lake" created by fog and a plane of laser light. You descend down a hill slope through and underneath the lake. In another place is a cone of laser light, and three vortex rooms, which seem to spin around you. Near the end, you enter a completely dark fog tunnel where you hear the beating of a giant heart.
The length of the attraction, plus its quality in set design, animatronics, big effects, and actors, more than make up for occasional deficits in costuming and actor dialogue. By itself, the Haunted Graveyard might have competitors such as Haunted Acres, whose several attractions add up to some 45 minutes. But being placed in a major theme park, I can only give it my rare 5 stars PLUS again and make it my #1 choice in New England. Who might take the title next year? I'm seeing a growing trend of theatrical Halloween houses where actors engage visitors for a full minute or more in interactive scenes. But none of them are at this level of Halloween spectacle!
For more, see hauntedgraveyard.com.