Haunt on Eden Brings Theatre to Its Promising First Year Halloween Attraction (4 stars)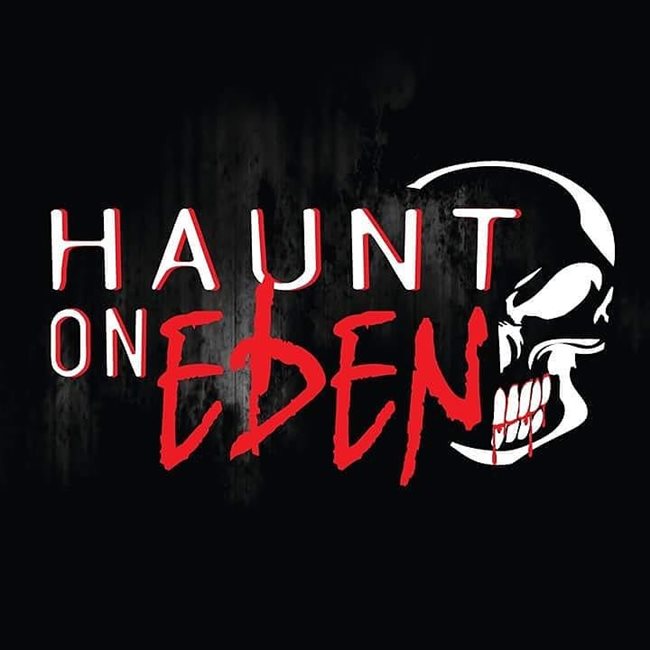 Haunt on Eden is a brand-new Halloween attraction created in Connecticut by Jeff and Susan Donis. It's a labor of love that follows five years of their running a Halloween fright at their home, and it's now taken to the professional level with an installation at Mt. Southington, a ski resort. Pro tip: as you approach with the main Mt. Southington sign on your left, parking for the attraction is not there but just afterwards; look for the reflective vest of the parking attendant.
The ski lift is not included in the attraction, but you'll find an outdoor waiting area with photo op stations, including a haunted swing set and dioramas. There, actors dressed as monsters alternately chase you or pose for photos with you, including a spooky little girl who silently stalks you, no matter where you go. They've also got a truck with fog effects and a food truck selling hot dogs, cheeseburgers, french fries, meatball subs, cheesesteak subs, chicken bites, hot chocolate, soda, and more. So you're already having a good time, and you haven't even entered the main attraction!
Although the indoor/outdoor attraction is new, and still being fleshed out since its opening was delayed by obeying the many safety and fire regulations that trip up Halloween attractions, the set design is basic, with "filler" portions such as hanging cloth strips, curtains to pass through, hanging clothes (some day, someone must explain to me why hanging clothing is part of so many Halloween haunted houses), and unpainted plywood. Some actors have uninteresting costuming, such as just a white shirt with blood spatter.
However, Haunt on Eden more than makes up for its growing pains — which I'm sure will improve this year and in future years — with its top tier theatricality. It's stunning. I've personally reviewed 50 Halloween attractions, and in nearly all of them, actors dressed as monsters try to scare you just by startling you. They jump out and growl. It's effective but doesn't make an impression that lingers. Sometimes an actor will have a theatrical line or two to say. Haunt on Eden goes all the way in giving its actors interactive dialogue, to engage visitors in 60-second vignettes. This extends the length of the attraction's pathway, gives a chance for real dialogue and acting to affect you, and the interactivity draws you deep into a narrative that you won't soon forget! I've only ever seen this kind of theatricality at brand new attractions at Evidence of Evil and Fear Town. (And there are also full-blown outdoor Halloween theatre shows such as Nautical Nightmares at Mystic Seaport, Sleepy Hollow at Old Sturbridge Village, and Legacy of the Hanging Judge at the House of Seven Gables, but these are less interactive.)
The theme will change every year at Haunt on Eden, and this one is The Village, a cult that confronts visitors, threatening that if they don't believe in their evil god, he will crush them. This was a strong opening, and was played out in a corn field setting, an evil classroom where the schoolmaster makes you kneel, an evil bedroom, a haunted bathroom with disgusting toilet, and other places. That being said, having delivered their threats, actors didn't seem to know what to do in response to visitor's replies, and their threat of a big evil demon set us up to expect a big finish, such as a guy in a huge costume on stilts, or a giant mannequin coming down at you on a zip line, which didn't happen.
However, we enjoyed the chainsaw monsters, the kitchen that literally included the kitchen sink, surely an inside joke, and more. It's a spooky, hugely original concept that has great potential, but needs better costuming and set design. It takes only 6-8 minutes, but could spend another 15 minutes in the waiting zone or ordering food at the food truck. They do hope to involve a charity cause in future years.
This year, I'll give 4 stars to Haunt on Eden on the strength of its potential, and expect great things in the future.
See hauntoneden.com.