Halloween Blitz Day 1: Spooky World NH, Haunted Acres
Halloween is my favorite holiday at Events INSIDER. It's creative, it's interactive, and you get to be "part of the play". So this year I vowed to do a 10-day Halloween blitz! This month, I will visit 28 attractions and bring you the reviews and information on everything Halloween in New England. We'll go indoors, outdoors as far north as New Hampshire, as far south as Rhode Island, and as far west as Connecticut. Click and scroll way to the bottom to see my list of 160 Halloween attractions. We list more creative October events than anyplace else!
Day 1: Thursday, October 24, 2013. We drove up to southern New Hampshire to experience Nightmare New England (Spooky World) and Haunted Acres, which were totally different attractions. On the way to Spooky World, we stopped by Haley's Pizzeria next door for a delicious and inexpensive dinner.
Spooky World presents Nightmare New England, Litchfield, NH (4 stars)
Spooky World presents Nightmare New England takes place in a small outdoor amusement park, where you can show up early, eat dinner, and try attractions including an arcade and batting cage. How fun! My favorite was the go cart track. Vroom! It's just an hour's drive from Boston and has a carnival atmosphere. You can stoll up and down the walkway, play carnival games, and listen to party music. They have a giant bonfire and plenty of staff to help you find your way. Alcohol is available. You can buy VIP tickets bringing you quickly to the front of the line.
Our favorite attraction at Spooky World was the Raven's Claw, a woods walk with the highest production value and the best actors. It's wonderful to spend some time outdoors. The other outdoor attraction, The Colony, and the indoor attractions were fun but did not reach high for theatrical quality. I have found that many commercial attractions, such as Witches Woods, perhaps with their eyes on the bottom line, have difficulty finding artistic excellence. The actors often seemed to be lacking in motivation, and there were few of them. The decorations, well, it's hard to make a lot of plywood seem scary, and I would have wished for higher production value in the dummies and more animatronics. More thought should be put into lighting, by someone with stage experience, because sometimes it was too dark to see and be scared by the props and decorations. At other times we could see too much what was coming.
Still, it's impossible not to have a great time when you get to walk through the woods, and we had so much with the go carts and carnival atmosphere that I cannot give Spooky World a low rating. It was great to pay one price (plus $5 for parking) to find five attractions — that is plenty to do. But the way to enjoy Spooky World is to think of it as a carnival night with friends. You go there to see the sights more than to be spooked, perhaps, but it's a good time and lasts all night.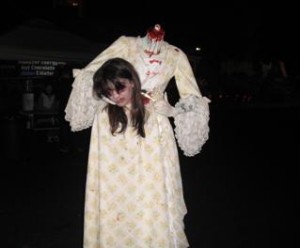 Upon leaving Spooky World, we found a Zombie Paintball event (2 stars) that costs $4 and is run by different management. Wow, Zombie Paintball! It is exactly what it sounds like: you are given a paintball gun and get to shoot zombies. This concept is amazing and there is definitely a floor to how bad any attraction called Zombie Paintball can be. Unfortunately, that being said, there was little to recommend about the attraction. The sets were basic and the actors playing zombies were not dressed in costume. Of course my heart goes out to the two poor people whose job it was to get shot all night! But their acting was not in the least theatrical or scary, I am sorry to say. They did not seem to react to being shot, nor could I tell in the low lighting whether any of my shots were connecting. Finally, call me a wimp, but I just did not see the fun in shooting a couple of people who presumably were not getting paid much and had been working a long, cold night. I hope that we'll see this attraction return with some more thought given to acting, staging, and with glow-in-the-dark paintballs.
Haunted Acres, Candia, NH (5 stars)
Haunted Acres is nothing less than a must see destination that deserves more praise than 5 stars can convey. Even before you enter Haunted Acres, you can explore two sites that are under different management.
The Haunted Zipline (5 stars, not run by Haunted Acres) does not have actors or spooky music, but it's a 1,000 foot zipline at night. Are you getting this? A 1,000-foot zipline at night! It dips down at an angle so you accelerate as you jet out over a lake and have to (with gloves on) brake yourself before coming to a landing strip at the end. I would love to have seen some spooky music, spooky spotlights, or maybe some ping pong balls shot at me as I approached the end, to heighten the Halloween experience, but to be frank just zipping down and hoping that I could brake myself was about all the freaking out I could take. It was a perfect experience, with helpful staff, a comfortable harness that did not leave me fearing that I would never have children, and I only wish that I could have done it twice, because the first time you're like AAAAAAA!!! and I think the second time you would really get to admire the beauty of the night. It really is more thrilling than scary and even if you think you won't be able to do it, it's really less scary than a roller coaster ride. You must try it, come on!
Unfortunately, the Zombie Apocalypse (1.5 stars, not run by Haunted Acres) I must insist that you avoid. I like to support the arts and unlike some reviewers I take no pleasure or ego boost in cutting someone down to size. Even the worst performances are somebody's baby, and I understand that Thursday being a school night that the Zombie Apocalypse was understaffed. That being said, it was bad.
It began promisingly. Actors dressed as military men take you out into the woods as "survivors" and lead you through the forest. Zombies appear and the men shoot them. Pretty great, eh? Unfortunately, I never saw a zombie get shot because the lighting was not good and I had to keep watching my step, so I was looking down, not around. The forest trail that they led us across was uneven, and even at a walking pace, it took all my attention in the low light to find my way. Then they asked us to run. To really run. With all the stones, this was flat out dangerous and I have to hope that no one falls and gets seriously injured. I myself stubbed my toe on a tree stump, hard enough to bleed. When later on the bus someone else mentioned a footpath obstacle to one of the actors, he laughed it off, apparently unaware that tripping hazards are a bad thing.
I wish I could say that this was the only negative to Zombie Apocalypse, but unfortunately the patter of the military men was repetitive and boring. It switched between comedy and horror, defusing both of them, and involved quite a bit of waiting. At one point, one of the actors asked each man in the group whether he would die for his woman, surely an awkward and inappropriate question. (And maybe a bit sexist.) I asked whether the delays were to allow the actors (on a night when they were understaffed) to get into position but apparently not. All I can say, and I am sorry to say this, is that it has fantastic potential but was as poorly executed as I have ever seen an attraction. I even suspect that the men were firing blanks, because my friend Nick, who was in the military, said that he felt a shell hit his chest. If that is true that they are firing blanks, well, blanks are too loud and dangerous to use in a crowd of running people and they are entirely unnecessary for this attraction. Someone at Haunted Acres assured me that this attraction will not return, but I don't know how solid that assurance was.
As for the real Haunted Acres, we found everything that we had been hoping for. The main area is a courtyard with a bonfire and a "pumpkin smash". You could even get a grilled dinner there. You can buy VIP tickets bringing you quickly to the front of the line. The 5 attractions were:
The Quarter Mile Nightmare Walk was our favorite. It's beautiful to walk through the woods at night, and this walk had tons of special effects including a giant animatronic demon and a fog enshrouded bridge in the woods. Kudos to the actors who laid down on the ground to reach out as though to grab us! Every actor here seemed to have a clever trick to play.
The Graveyard of the Damned was a cemetery walk that was solid but slightly less interesting.
The Maze from Hell was lower production value — basically a very dark maze with actors who at times felt like scaring us and at times seemed to just feel sorry for us and pointed the way out. But the maze was larger than expected and worth exploring.
Cell Block 13 was our second favorite, a thematic haunted house with some genuine surprises and clever effects.
3-D Nuclear Accident went way beyond expectations. I have seen a lot of these 3D haunted houses elsewhere. They give you glasses and you find a lot of paint sprayed on the wall in random splashes. I'm sure it's great if you're on drugs but otherwise, splashes of paint on the walls just aren't scary — too much a carnival ride. But the 3D house at Haunted Acres went beyond plywood to feature real sets and lot of pop-out artifacts and painted 3D props. It was perhaps the best 3D house that I've seen. One nitpick: there is a sharp step down that is not properly lit or warned to guests.
The result: Haunted Acres is a must see attraction. The zipline and most of the 5 other attractions go way past expectations and give you enough to do for an entire evening. I even wouldn't mind seeing the (not managed by Haunted Acres) Zombie Apocalypse brought back if completely redone. Haunted Acres goes way beyond 5 stars to being in the top 3 attractions in New England that I have seen. It is only a one-hour drive from Boston!
See all 160 Haunted Attractions and tons of Halloween events and much more at www.EventsINSIDER.com. And click 'subscribe' to subscribe to the blog and read more about the Halloween blitz!