Halloween Blitz Day 9 & 10: Haunted Cornfield at Connors Farm, Haunting of Hammond Castle
These were the last days of our quest to visit and review 28 attractions in 10 days, going indoors, outdoors, and as far away as New Hampshire and Connecticut. Click and scroll to the bottom to see my list of 160 Halloween attractions and more creative October events than anyplace else!
Days 9 & 10: November 1 & 2, 2013. Halloween is over, but it's not quite over! Just a few attractions run the weekend after the holiday, and we are going to The Haunted Cornfield at Connors Farm and The Haunting of Hammond Castle. This was the conclusion of our Halloween blitz, and we were sad to see it go, but happy to look forward to getting some rest. Ten days of trekking out to 2 or 3 attractions every night really wore us down despite our enthusiasm for doing it.
Haunted Cornfield at Connors Farm, Danvers MA (5 stars)
The Haunted Cornfield at Connors Farm takes place at another working farm in New England turned into an attraction, and at Halloween time they have three attractions: zombie paintball, a scary corn maze, and a not-so-scary flashlight corn maze. Having been to Charmingfare Farm and other farms, our expectations were low about how well produced and thought through the attraction would be, but we could not have been more wrong. Surprisingly, it was the best thing ever. VIP tickets are available to rush you to the front of the lines.
Start in front of the produce store where there is a large lit area just to hang out, with loud pop music playing. It's insanely fun to watch tiny kids ride the mechanical bull, which is surrounded by inflatable padding, and I even got to try it myself — although only for 5 seconds because my "friend" asked the operator to turn the bucking up all the way. You can buy milk, cider, corn, and a wide variety of other goods in the store, and to the side they have a barbecue pit with fried dough, onion rings, chicken wings, french fries, probably hamburgers and hot dogs. If you'd like to just take a walk in the night air, go behind the store and find a lake to admire. You can borrow a tricycle for a pedal race or clamber over what appears to be a spider web made from rope. Unfortunately, while they seem to have go carts during the day, that attraction was closed. One nitpick: the porta potty that I chose was destroyed inside with toilet paper, in a way that did not seem recent, making me think that probably no one on staff was assigned to regularly check the outdoor latrines.
Our first sight of the zombie paintball was when a flat bed truck pulled up with paintball guns fastened to its sides. We had explored four other zombie shoot attractions in New England and could already tell that this was going to be good. Clearly we were about to drive by fields of zombies and get to shoot them! We and a dozen others boarded and sat on a bench that ran along one side of the truck bed. The tour guide made no attempt to play up a spooky zombie story, and for once I approve of this choice. Really the attraction was pure joy rather than a scare, and for this reason is safe for emotionally stable children as young as six.
Unlike at other paintball attractions we've seen, our guide ran us through the safety rules with complete clarity. There was no awkwardness leaving us wondering "What?? Never mind, whatever." This was essential to our fully embracing the experience. He joked about the rules and made it fun, and ensured that we had our safety triggers off so that even the first zombies we saw wouldn't be a bad experience. My only concern is that the hardworking guide should be given a megaphone or microphone and speaker. I appreciate good marketing: cleverly, while we were just driving out, totally stoked, he offered to sell us more paintballs. I jumped at the chance to spend $10 each, even though as press I could probably have finagled it for free. That being said, as long as you are conservative with your ammo, you do not need to buy extra paint to enjoy the attraction, and your guide will tell you when you are half way and when you are nearing the end, to help you plan what you have left.
This attraction was an easy 5 out of 5 stars and easily worth the $35 combo ticket. There were tons of zombies, including plain targets, mannequins, and plenty of live actors. Crucially, the actors groaned and bucked when shot, secretly signalling to us that they were in on the fun. This was a total opposite to our experience just outside Spooky World NH where the actors seemed depressed or beaten down by the chill, and I felt so bad for them that it was not fun to shoot them. I have to give big kudos to the brave men and women who volunteered to stand in the cold all night and get shot. Great job, and thank you. Every little detail seems to have been thought of. They turned the tractor off so we could hear the instructions at one point, and it did not smell bad of diesel. The guns have socks that go on the end and we were asked to sit on the bench facing away from the guns, to reduce any monkeying around before shooting time. When the attraction was over, a team rushed up and refilled all the paintball guns while we disembarked, leaving it immediately ready for the next group. Out in the field, the lighting was good so I could see where my shots went and get a sense for my aim. The ride was long enough, and there was a nice finish with lots of actors.
We had long yearned for the ultimate zombie paintball experience, and this one was finally it! Unlike elsewhere, we got to hold our own guns. Because it was a ride, we didn't have to worry about footing. The zombie actors were good and there were plenty of them. The instructions were clear and given while riding so we didn't have to wait. One nitpick: our safety glasses were too scratched to see through properly. And I would like to have seen a giant mannequin or animatronic at the end, something that end on the highest possible note.
We then entered the Haunted Cornfield. This was also an underproduced attraction with a lack of mannequins, a lack of big dioramas, and very basic set design. We would love to have seen more money invested here. And yet like the zombie paintball it was also the best thing ever on the strength of the acting and what tech they did have coming together beautifully: a truly outstanding job.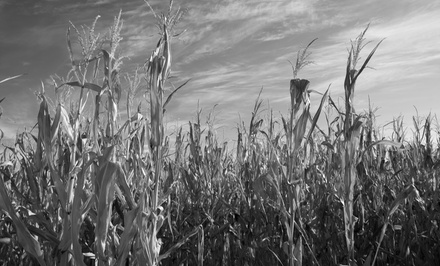 You walk through a real field of corn, which has been planted in a long twisting path (not a maze with dead ends and multiple routes). You start and end walking through fog so thick that you really cannot see where you are going, and there's also fog throughout the attraction, generated centrally and guided by air hoses. Again we noticed how critical it is to have someone at a haunted attraction who understands lighting. Where the ground was uneven — and the corn field breaks into a forest walk at one point — they had bright flickering lights so that we could see our step but also remain in a dark and scary setting.
Yes, the corn field was often basic: a series of tight pathways where actors would jump out and startle us. But there were also a number of real dioramas in the field that set up scenes. They really made the most of what was presumably a tiny budget. The actors clearly had real roles to play and knew what they were doing, and more than just growling to do. At one point we entered a trailer and a shrieking woman in chains got yanked out of sight, around a corner, by an unknown monster. Other actors crawled out from ground level or ran around on their knees. My favorite was a large open area where we got surrounded by zombies on all sides: mostly mannequins but also five lives actors. We have never seen anything like that before, even at the highly creative Davis MegaMaze corn field (which mostly plays to kids and while they have spooks at night they don't bloody it up for adults).
Again they seemed to have thought of every tiny detail in this attraction. They gave us glow sticks to wear around our necks, making it easier for the monsters to spook us. The lighting was positioned just right so we could see the dioramas and yet still be dark enough for monsters to startle us. Somehow, even without tons of special effects, this attraction plays to its strengths, the corn field is beautiful, and it comes close to competing with big haunts like The Haunted Graveyard, the well funded attraction at Lake Compounce, a giant amusement park.
Finally, we tried the flashlight maze. There are no actors in the maze and it is safe to bring your small children. You really don't need a flashlight to find your way in the dark, but it's not bad to have one, and conveniently (I love a good business strategy) they have them for sale in the store. (Why not for sale right in front of the maze?). It takes 20 minutes to solve the maze, so it's not giant, but great fun to walk under the night sky and just explore. The music from across the street was not too loud for us to relax and just enjoy the stroll. However, even if there weren't clouds overhead, I suspect that light pollution would have made it difficult for the stars to pop out. Although there are a few dioramas, including QR codes that you can scan with your cell phone that show you where you are in the maze, there wasn't much else, making this similar to other corn mazes in New England, and less fun than Davis MegaMaze with its complex dioramas and bridges. Still, let's not get grumpy about this. Taking any walk through a corn maze at night is great fun.
One nitpick: in addition to the wide avenues that were clearly part of the maze, there were a lot of tiny branches that we couldn't tell whether they were official routes or just places where people had trampled. Running string on sticks along the sides of all avenues of the maze would have been a chore but it would keep people guided and not trampling. Obviously, we hope that in future years they will add more dioramas in the flashlight maze.
And I noticed something else as well: happy employees. When I walk up and say, "Hey, I'm a journalist, I'm on your press list, can you hop us to the front of the line," it can be pretty awkward. It's normal for the staff to think "What?" or "Are you lying?" or "Hey! Get back in line!" and whether they say that out loud is an indicator of whether the staff know what they are doing, are feeling stressed out, or basically get it that they should confirm with their boss (to make sure I'm not lying) and then hustle us to the front. Everyone I met at The Haunted Cornfield was spot on, well trained, and I was glad to meet so many of them afterwards and give them some encouragement.
The production value might have been higher: there were no animatronics or impressive dioramas, just basically the woods. But you know what? We didn't notice or care. The Haunted Cornfield at Connors Farm is our pick for the best managed low budget haunted attraction in New England. It's exceptional how good a job they have done with (presumably) so little. This attraction is on its way to being the best in New England if they pump in more investment. They are doing a great job and I hope you will visit them in 2014 and see for yourself.
Haunting of Hammond Castle, Gloucester, MA (3.5 stars)
The Haunting of Hammond Castle takes place in perhaps the most fantastic venue that we have seen this year: an actual castle built to match those in Europe. I've been to this location twice during the day, once on a normal musuem day (it was decent) and once during a Renaissance faire (spectacular!). This was my fourth time visiting at night, and I am sorry to say that we did not find it as appealing as we once did.
We've been to many attractions, like Spooky World (high budget) or Fields of Screams (low budget) that don't seem to have a theatrical vision. The Haunting of Hammond Castle seems to have the opposite problem. It is perhaps the most theatrically unique and daring place that we have seen. Wow! Great job! Unfortunately, I sense that it's underfunded and not very well managed, not terms I use lightly.
Unfortunately, Hammond Castle lacks parking, so you park a couple of miles away in a state park. There you'll find vendors selling food and some volunteer booths raising money for charity. Unfortunately, the vendors gave up early in the season, perhaps because of low attendance caused by an early October cold snap, or lack of marketing, or word of mouth about the attraction not being that good. But you can still buy a few snacks there.
We boarded a school bus, the shuttle to get to the castle, and before we left, an actor in a lab coat gave us a very high concept story. We were joining an experiment to dive into the brain of a psychopath and possible murderer. It would have been nice to have gotten this story on the bus while it was driving, saving time. The backstory was quite elaborate and set us up to think of the haunted attraction as having a real story, with a start and ending, not just a random series of dioramas. We were hopeful.
Unfortunately, a story did not fall into place (or perhaps I just didn't find it accessible). Most attractions send you on a self-guided tour, with "spotters" along the way to make sure you watch your step, go in the right direction, don't steal anything, and don't vandalize the property. In this case, we were given our own tour guide dressed in a full hazard suit with a lantern. Unfortunately a number of conflicts emerged. The high tech nature of the "science gone wrong" was a mismatch for the ancient looking castle. (I am aware that during the day the castle is filled with the inventions of its former resident, but those seemed to have all been removed for this journey, or at least, lights were not placed so we could see any of them.) The high concept of the complicated backstory was a bit too brainy for our group. Were the things we were seeing taken from the mind of the psychopath, and why? How? What was supposed to represent what? There was a murder, so shouldn't there have been a murder re-enactment taken from the psycho's memory? In what I am sad to say was a bad choice (really I do not take any ego boost from talking down an attraction) our tour guide was forbidden from speaking in a situation which would have greatly benefited from constant exposition. We passed through a hallway in the basement twice. The first time, there was an asian woman in a chair attached to silver hoses and electronics, who I suppose was the psycho whose mind we were visiting. She screamed and twitched for us. The second time we went through (a mistake?) she just seemed annoyed. I'm sure having several actors all wearing the same fox mask was supposed to symbolize something. What, I don't know.
Really, the haunt seemed more bizarre than spooky. It was the most bizarre thing we saw in all our journeys this month. This wasn't a bad thing, but it was certainly a confusing thing. Spots of genius proved that this group has real strengths in set design and staging. We saw a spooky artist with a painting that had a monster emerging from it, as though he was bringing it to life. We saw a giant butterfly mummy with pins all in it. The setting, the castle, was really quite beautiful, it's hard to think of a better location for a haunted house. There was even an indoor pool with a monster. That being said, The haunted path that we walked alternated between indoor and outdoors, but strangely, two thirds of it was undecorated and had no actors, including all the outdoor spaces (outdoor spaces are automatically more spooky and should be the focus, I would think, when it is not raining). So much of our walk was simply getting from one place to another, and of the remaining one third, quite a bit had only basic decorations: for example, quarantine plastic sheeting in fitting with the science experiment theme. So it was not all genius. What was up with the room filled with wrapped "happy birthday" gifts? If this was going to be a "Sleep No More" experience, great, but we were prepped by the actors for a haunted house instead.
With 25 people in our group, it was impossible for every actor along our route to spook us. So each of us got the attention of perhaps a third of the actors, surely a bad way to make use of volunteers. Of course our group being so large also spread out, making this situation worse, something which our tour guide could not properly manage, being forbidden from speaking. We found that we couldn't get much attention from the actors so we held back a bit from the front. What they might have done was to stop the group and stage a 3-minute scene at different points along the route, similar to The Legacy of the Hanging Judge at the House of the Seven Gables in Salem, Massachusetts. This would have lengthened the attraction, which was only 20 minutes long, and allowed them to fill in the details of their spooky story. Stopping for a bit would also have lessened the walking and walking. Traveling through the castle you really have to watch your step on the stairs and watch for doorways. We would have loved to have spent some time standing still just admiring the amazing architecture of the castle. It would really have allowed them to play to their strength in theatre and also maximized how much time each actor spent with each visitor.
The lighting was not well designed, I am sorry to say. I was unable to find photos of the haunted attraction so I have put up some beautiful daytime photos of Hammond Castle. You can see how great it is. So why was there not lighting that at least showed off the natural beauty of the place? Or maybe the lighting was there on the outside but I missed it because our walk was too quick. I don't know. My friend missed the wonderful painting with the monster emerging because it was not lit. Neither was the butterfly I mentioned as another favorite. This being a science experiment haunt, it would have been nice to have seen Frankenstein Lab stuff like glowing flasks of liquid, equipment making electric sparks, or one of those weird touch globes that make your hair stand on end.
I have to support originality and groups that take creative risks. And I know that running a nonprofit isn't easy, and kudos to all the volunteers who clearly gave this their all. What they've done at Hammond Castle is exceptionally creative, but weird and didn't really work. It was shorter and less full of staging than it should have been, especially to draw visitors from as away as Boston. The last time I visited Hammond Castle I quite enjoyed it but did have a similar sense of high art not quite hitting the mark. That time they had us sign our names, pretending that a TV crew was filming, and then as we walked through the castle, we saw bits of the crew go from normal to terrified to destroyed to finally absent with a spooky white noise television screen. In theory, this was a brilliant idea, but how it was executed… I had to piece that together afterwards… during the experience, I didn't get it. This time I feel the same. I sort of get it that it was a journey through a mad woman's mind… but mostly, I was just disappointed. I'm sorry.
Unlike at The Haunted Cornfield at Connors Farm, where they seemed to have thought of everything, I got the sense that the current staff at Hammond Castle was overextended, handling too much at once. They were a bit on edge when I spoke with them, is what I mean. My recommendation for a low budget production is this: you make a well thought out plan, which is so good that you can raise $25,000. If you don't know any rich people,. you dress in a suit, attend business functions and network, and find them. Then you invest this into your attractions and people and marketing, and then you don't get overextended and have time to think through everything and even run a few people as a test to get feedback on how you're doing. This creates an upwards cycle where the next year you do ever better, the next year after you do even better, and suddenly you have a huge fundraiser with long line. I've seen extremely long lines at Hammond Castle for their haunted attraction in the past and this year (even though we came on a Saturday) it was empty. I really hope instead of overusing their volunteers (who are all worthy of praise) that Hammond Castle will begin an upwards cycle again in the years to come. Really all my negative commentary here comes with much love and hope for their future. Hammond Castle is such a beautiful location and deserving of the kind of exceptional oversight that the Trustees of Reservations and Newport Mansions give to their historic properties. I encourage you to reach out and get involved. This is a venue that deserves an 5-star haunted attraction. This year I can only give them a 3.5 stars.
See More
See all 160 Haunted Attractions and tons of Halloween events and much more at www.EventsINSIDER.com. And click 'subscribe' to subscribe to the blog and read more about the Halloween blitz!