The Gondolas of The Venetian Give Couples a Chance to Experience a Little of Italian Romance Right in Vegas (4 Stars)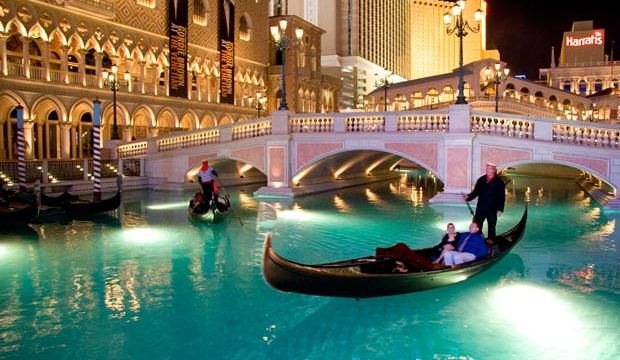 Las Vegas gives you the opportunity to tour the world. You can visit ancient Egypt. Or perhaps you are a Francophile and want to climb the Eiffel Tower of Paris. Should you want to stay state Side, take a trip to New York, New York. But if you want an authentic Italian romance, then head to the Venetian.
As you approach the Casino from the outside, those that have visited the City of Venice in Italy will see many familiar sights. You can see a recreation of the Doge's Palace where the ruler of Venice lived in lavish luxury. Just to the side you catch a glimpse of the infamous Bridge of Sighs where prisoners got a final glimpse of Venice before being thrown in a dungeon. Look a bit further down the road and the tower of Saint Marks Square looms over the crystal blue canals of the Casino.
It is on these canals that a couple can have a romantic ride in a Gondola. These are the small boats that act as taxis in Venice. There are few roads for cars in Venice, so water travel is the main means to get around. The Venetian attempts to recreate this experience for its guests. There are both indoor and outdoor options. Should the weather be good, you may want to enjoy the sunshine of the Nevada dessert. However, you can also head inside for a cruise to avoid bad weather should it be a factor.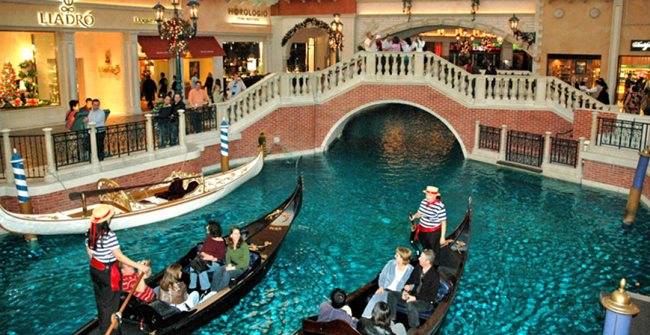 So how does the Gondola ride compare to an authentic trip in Venice? It's not quite the same. To begin with, Venice has a stately and ancient feel that can't be recreated. Venice has hundreds of years of history that show on every street and in every canal. Las Vegas is all new, perhaps decades at most, but well maintained. When you take the ride indoors, you get the feeling you are just taking a ride in a mall, which you basically are. Around you are cosmetic stores, clothing chains and jewelry shops.
In many ways the Gondolas of The Venetian in Vegas are superior to the rides you might get in Italy. The water you ride in is crystal clear with a blue bottom you can see. In Venice the water is dark primarily because the city was originally built on a swamp. Anyone who has been in Venice in the summer can tell you that the water there smells. No such problem here where you might as well be taking a boat ride in a swimming pool it is so clean.
The Gondolas are piloted by drivers authentically dressed in the kind of traditional costume you would expect from their Italian counterparts complete with their red scarves and stripped shirts. Our pilot even sang us the Dean Martin song "That's Amore" to add that Italian romantic feel while staying true to the Vegas Rat Pack. The ride was not long, maybe ten minutes. So it is best used as a stop on a bigger experience at the Venetian.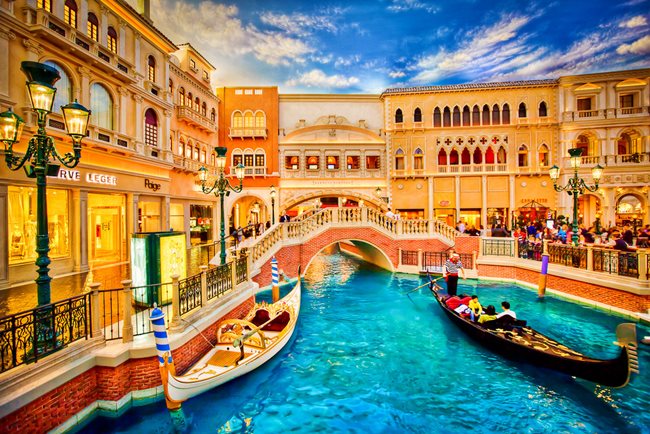 Once your Gondola ride is over, the Italian romance can continue. You can have a great Italian dinner at Lavo – a restaurant that boasts having giant one-pound meatballs. After, be sure to get your Gelato at Cocolini just as you might on the streets of Venice. Finally, make it a late night and get your espresso at Dandelion Chocolate. The Gondola rides of the Venetian are a fun way to supplement a romantic evening at one of Vegas's best Casinos.
Here's our video review!
For more, see The Venetian.