Where to Go in the United Kingdom for Non-Touristy Adventure and Culture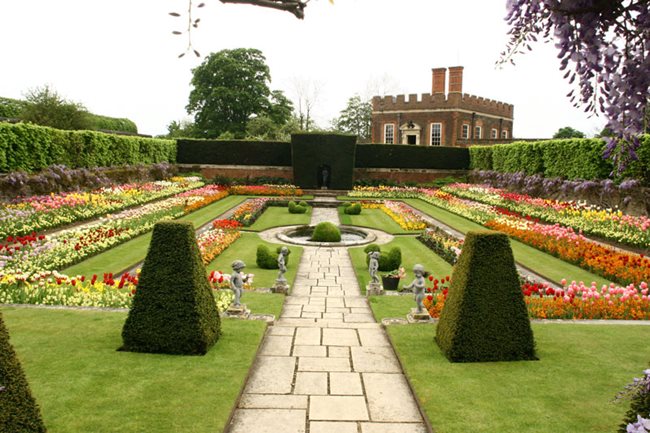 If you're like me, when you travel you want to visit more intellectual and wholesome destinations, where you feel that you're learning something. But you don't necessarily want to spend your entire week in the British Museum. You want to get out and explore. You want to meet local people and experience the real Britain beyond the tourist industry. And you want to have adventurous experiences that look great on Facebook but don't require you to be an athlete. This is your guide, 16 in-depth articles on the best UK destinations that were a fit for my type of travel.
Although summer is lovely in Britain, and it's the height of course for gardens in bloom, there's a lot to say for visiting in May, when I took my trip. It was warm enough, not too rainy, and we didn't ever feel ov-erwhelmed with tourists, even in central London.
But my advice is to rent a car and get out of London, which you could do without terrible crowds even in August. Just driving through the English countryside takes you into contact with locals, beautiful views, and so many sheep — including baby sheep!
Plan your trip in regions, so that you can stay overnight locally in each region that you want to visit. You will not actually need a car in London proper, because the subway is so good. Be careful about closing times for the destinations you want to visit. Everywhere in Britain it's quite common to post the closing time as for example 5pm and then it turns out they mean you can't enter unless you arrive by 4pm, the "last entry" time.
North of London
If you have the time to drive far from London, you'll need to visit Warwick Castle (5 stars PLUS), the most accessible (and therefore the best) ancient castle in Britain. It's so full of activities for adults and for kids, you'll learn a lot without needing to be a historian, and it's wonderfully creative but not so touristy that it lacks class. They have the world's largest catapult, a birds of prey exhibit, jousting with fire and acrobatics, and hundreds of mannequins making the castle itself easier to connect with.
Way North of London (York Area)
It will take you a couple of days to drive far north of London to York and beyond, and then to return, but the secret is that exploring the English countryside will really bond you with Britain and their country life.
The gem of our trip was The Forbidden Corner (5 stars PLUS), the strangest destination and most fun we had. It is an outdoor woodland maze filled with statues and dioramas that squirt water and shine ("follies"), and if you're clever you'll find the underground grottos. It is so extensive and delightful to explore!
Unless you've got extra time in the UK, bypass Fountains Abbey and Studley Royal Park (4 stars), which has a 1,000 religious abbey of stone and beautifully kept grounds of grass and rivers, but it's basically just a large park without much to see beyond relaxing and taking in nature — something you can do more time-efficiently elsewhere. (Relaxing and worrying about time efficiency are conflicting concepts, so that's why Fountains Abbey is only for people with at least two weeks in Britain.)
With just one day you can visit so many things in York, whose attractions are close together. Start with the JORVIK Viking Centre (5 stars), an astounding small theme park ride with museum that. Then visit the York Castle Museum (5 stars PLUS), which is hugely accessible, relating ancient times to modern times so that you can really feel the past.
You may bypass the Merchant Adventurers' Hall (3.5 stars), an old building that's beautiful but also modernized and hard to get a handle on. Check out the York Cold War Bunker, which we didn't visit, the reaction to the threat of nuclear war, and if you have the time, Castle Howard and there's so much else to see as recounted in my York overview. Buy a "York Pass", which combines admission to it all.
West of London (Salisbury Area)
No trip to Britain is complete without visiting Stonehenge, the 5,000 circle of ancient stone monoliths, but it can be disappointing to travel so far just to see it from a distance.
Plan in advance with Stonehenge Tours (5 stars PLUS) to go inside the stone circle at dawn or sunset, and they'll take you to so many secondary ancient sites as well, such as the Roman baths and a giant white horse carved into the side of a hill. Or you can visit sites on your own.
While you're out west, don't miss Longleat (5 stars PLUS), Britain's best amusement park and zoo.
On their safari experience, you drive through enormous enclosed grasslands, directly encountering lions, giraffes, monkeys, and they have a hedge maze, amusement park, a boat ride, and so many other animal encounters.
East of London
If you don't have time to drive north to visit Warwick Castle, the two next most accessible and fun (and therefore next best) castles in Britain are to the east of London.
Hever Castle (5 stars PLUS) has the best gardens in Britain, which are extensive and so creative, including hedge pruned to look like animals. You can truly get lost in them or in their hedge maze or the "water maze". You can even stay overnight on the grounds, which we tried, where the luxury was so healing for our weary traveler bodies.
Leeds Castle (5 stars PLUS) has the best hedge maze in the United Kingdom, ending in an underground grotto with fountains and statues to behold. They also have a birds of prey demonstration and lovely grounds to walk and explore.
Oh, by the way, once you've explored the ground, both locations also have ancient castles!
Northwest of London
If you have more than a week in Britain, visit the northwest for its many secondary destinations.
The Warner Bros. London Studio (5 stars) is so extensive and magical that, even though I had no interest in Harry Potter, the dozens of sets and hundreds of props warmed my heart. Still, if your trip is limited, even enthusiastic children should be brought to Stonehenge and ancient castles instead.
You can be forgiven for skipping Blenheim Palace (4.5 stars), which has beautiful grounds and the second-best hedge maze in Britain. But it's time consuming to visit because the attractions are rather spread out, meaning a lot of walking, and there are other beautiful places to see if you've got a week or less in the UK.
We did not go exploring elsewhere in this region, but in our research came upon top destinations Hidcote Manor Garden, Kew Gardens, Savill Garden, and Kenilworth Castle. You'll also find the town of Stratford Upon Avon, the birthplace of William Shakespeare, but my memory from 20 years ago is that there's not much to see there, although you can take in a play, which is sure to be great.
Metro London
It's so easy to visit London, because the airports are there, that you may choose like we did to put off its main attractions for another time.
If you're desperately short on time, you'll get the fastest connection to London's gems through a trip around the Coca-Cola London Eye (4 stars), a Ferris wheel right next to Big Ben. We enjoyed the Coca-Cola London Eye River Cruise (4 stars) even more, because it is longer and narrated, so instead of just getting the view, you are also learning.
The Tower of London seems like a great idea to visit, but if you have time to drive out of London, you will have seen enough castles. Because the Tower of London was partly a prison, you'll see torture, and I don't like to promote torture repurposed as macabre entertainment.
Instead visit Hampton Court Palace (5 stars), the 16th century palace of King Henry VIII, which has extensive gardens including a too expensive hedge maze and children's play park. Indoors, find costumed actors representing the past and the entire palace is well curated with placards that inform you but don't drag down a weary traveler.
Conversely, the Churchill War Rooms (4.5 stars) was too much for a tired traveler who's got a genuine interest in history, but enough is enough. These were the underground World War II bunkers used by Winston Churchill and senior staff to stay protected from German bombs and plan military actions. It's unquestionably historic, but so dark, drab, and overloaded with information that we felt bewildered.
Try to stay outdoors, but if it rains, see the tourist mainstays of London. The least touristy and most classy are Westminster Abbey, where hundreds of famous people like Newton are buried, the British Museum, where due to the fruits of the British Empire, it may be the world's best place to see the "entire world" in one day, and Windsor Castle, which we didn't see but I've read is great.
We didn't get to see any of the following, but it's a guilty pleasure to visit Madame Tussaud's Wax Museum, where you can pose with lifelike statute of celebrities, but yeah, it is self-indulgent and touristy. We skipped it. Choose the Natural History Museum and National Gallery over the Houses of Parliament, Buckingham Palace, and St. Paul's Cathedral. The Sherlock Holmes Museum is touristy and hokey, but fun and nearby all the other sites. Chelsea Physic Garden is the closest "top 10 British garden" to London.
In the evening, take in a play in London's famous West End, such as Strictly Ballroom (4.5 stars), the romantic comedy with great dance and music. It has an inspirational message that could change your life.
Or go to a party where you can try painting a canvas for a couple of hours, with PopUp Painting (4 stars), under the tutelage of a real artist who makes it fun, not pressure, in a bar where you can order drinks and usually food, too.
One Week Itinerary to Visit Britain
With just one week, call it 9 days including two weekends, you will need to stay in England. If you have two weeks or more, it's delightful to visit Wales and Scotland , but consider flying there. It is a very long drive. Or skip them and visit Ireland or France instead.
So now you've planned your trip to Britain the right way. You'll get culture and history, without blowing your weary tourist brain. You'll avoid the bustle of London and bond with the beautiful English countryside and people by driving North, East, and West. You'll explore mazes, gardens, castles, and interact directly with zoo animals and ancient stone circles. You'll leave feeling that you've done it all.
Here's a proposed schedule for a 9-day trip:
Day 1, Saturday. From America, leave Friday, fly overnight, and arrive early Saturday. Pay the rental car fee that allows you to fly directly into Warwick or York and later drop off your car in London for your flight home. (Or you may do as we did and waste a day, Day Zero, to fly into Gatwick Airport and drive hours through London traffic to get to Warwick, visiting Blenheim Palace.)
If your hotel lets you check in early, rest up. Then visit Warwick Castle, the nearby swan boats, and return in the evening for a Warwick Castle event such as the Grand Feast. Stay overnight locally.
Day 2 and 3, Sunday and Monday. Travel north to The Forbidden Corner. Skip Fountains Abbey and Studley Royal Park, instead spending the rest of your time in York. Visit the JORVIK Viking Centre, York Castle Museum, and other attractions of York. On the drive back south, you may visit the touristy but extensive Warner Bros. London Studio Tour of the Harry Potter movie sets, but not at the cost of missing ancient castles and history.
Day 4, optional Tuesday. This is the day to skip if you need an extra day in your schedule, for example to spend more time in London. Visit Hampton Court Palace and optionally Windsor Castle. These destinations are close enough to London that you may wish to move them later in your schedule or defer them to your next trip to Britain. Then drive way out west.
Day 5, Wednesday. Longleat with its safari and amusement park.
Day 6, Thursday. Stonehenge Tours that go inside the circle of Stonehenge, and spend the rest of the day with Stonehenge Tours, or on your own, visiting the Roman baths or secondary ancient stone circles and sites. Now drive all the way to the east of London. Because you'll need to plan in advance to get one of limited dates for the Stonehenge tour, you may (as we did) end up basing your entire trip around this day. Stonehenge and Longleat are close enough that Day 5 and 6 can be switched. Don't see the date you need? I recommend Stonehenge Tours, but a few other tour companies also go inside the circle.
Day 7, Friday. Hever Castle and Leeds Castle. Stay overnight in one or both destinations. Such inexpensive luxury and convenience will rest your tired traveler bones.
Day 8, Saturday. The Coca-Cola London Eye River Cruise, Westminster Abbey, the British Museum, and other London attractions. Try to stay outdoors if it's not raining. St. Paul's Cathedral will still be there your next trip to London. Skip the Tower of London and other tourist traps because you've seen so many great castles outside Metro London.
Fly home Saturday if you think you'll need a vacation to rest up from your vacation before going to work on Monday. Otherwise, why not see an evening show like Strictly Ballroom or take in a painting party with PopUp Painting?
Day 9, Sunday. More London, then fly home. Congratulations! You did it!
Make sure to buy an electrical outlet power converter for Britain, ensure that your rental car is an automatic drive (it's hard enough driving on the opposite side of the road), and it helps enormously to have a second person in the passenger seat constantly reminding you that driving on the left is not only okay — it's the law!
Have extra time? Visit sites in the Northwest of London, include Blenheim Palace and Fountains Abbey in your drive north, and go to other London locations such as the Churchill War Rooms worth a visit but only if you've got more than a week to tour.
I'd love to hear what you thought of these recommended destinations. Please contact me through the website.