Glide Over Water with Boggy Creek Airboat Rides in Kissimmee, FL (5 stars)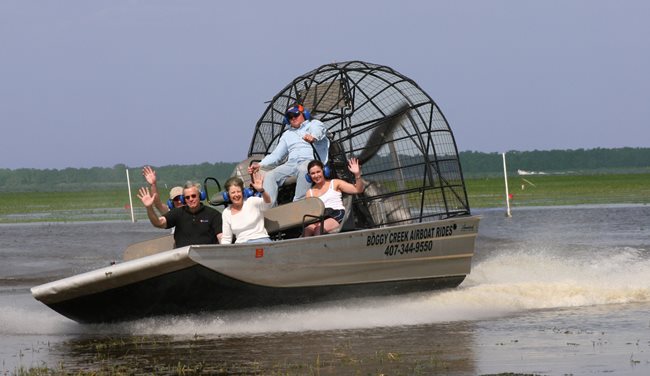 Have you ever seen a dog riding in a car, sticking its head out the window and loving it so much? That's what an airboat ride feels like. An airboat is a flat bottomed boat so you can glide through a swamp or shallow lake without churning up the root system and plants like a motorized propeller would do. Instead they have a giant fan at the back that literally blows you wherever you want to go!
We got to try it near Orlando, Florida, at two sites operated by the same company, Boggy Creek Airboat Rides.
First we visited their site on the north side of East Lake Tohopekaliga, which is marginally closer to Orlando's main attractions, but where they have little infrastructure and only give half-hour tours. No reservation is needed and it only costs $20.
It so was thrilling to go out on the water this way! It's just like in the movies, except nobody is chasing us. We had Captain Dave, who was hilarious, although I don't think he realized how loud the fan was even when idling — we often couldn't hear him. Captain Dave seemed to know exactly where to go even though we didn't see any signposts. He took us to see a baby alligator, and we saw a ton of adult alligators and birds such as a white ibis and the beautiful gallinule.
Because the boat has no keel, Captain Dave could make abrupt turns just for fun, causing water to splash up. Thrilling but not life-threatening, and educational but active, it's definitely worth your time. If you're in the area, for example visiting Gatorland, it's a must-see. They even have night-time expeditions!
Then we visited Boggy Creek headquarters, to the south of a somewhat more distant and separate body of water, Lake Tohopekaliga, also in Kissimmee, which by the way is pronounced "kiss-EM-ee". There they have a small attraction where you can "mine for gemstones" in a stream with a sifting pan. Or pose for photos in a grounded airboat and then feed a pen of alligators. The highlight was a live show at their Native American Village, which features open-air huts with thatched roofs, in an old Native American style.
We heard an interesting lecture there given by White Dove, who is from far away, but spoke about the people of the now extinct Jororo tribe, some of the last people the Spanish encountered. White Dove knew just how to keep the attention of both adults and children, educating us but also showing us cool Native American stuff like bows and arrows.
On the premises they've also got a small barbecue restaurant, where you can get a hamburger, pulled pork, bbq brisket, salad, dessert, french fries, all with a variety of barbecue sauce right on the table. You can even get fried pickles, which is exactly what you think it is, and "alligator bites", which are chicken nuggets but with real alligator. At the gift shop you can buy an alligator head. Wow!
The location is small, but you're already having a good time, and you haven't even gotten on the airboat yet. They offer half-hour and full-hour tours. Our guide this time was Ryan, who wasn't quite as cool as Captain Dave and didn't do as many stunt turns, but told us a lot about the alligators we saw. We also saw a hawk and many other birds. Great stuff! The driver really makes the experence. This location seemed larger and had taller reeds, hiding your view, and allowing you to more easily pretend that you're in a secluded bayou.
It's not hugely fancy like Disney, but it's easy, inexpensive, and unique. What a great combination of educational, natural, active, and safe. Boggy Creek Airboat Rides is an easy decision: a perfect 5 stars.
Read all 11 of my Orlando reviews and suggestions, and see www.bcairboats.com and www.wickedairboatrides.com.