The Ghoullog Has Theme Park Rides and a Halloween Woods Walk at a Real Ski Resort (4.5 stars)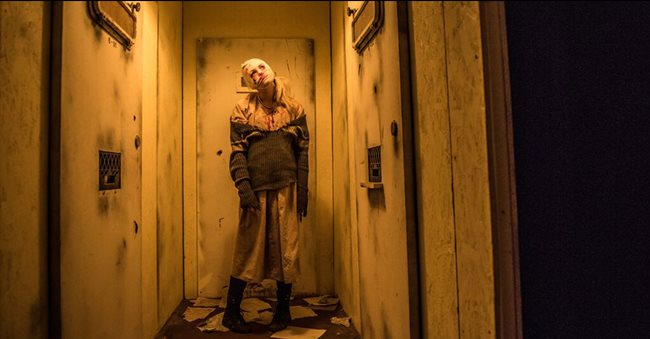 The Ghoullog is a haunted attraction that takes place at a ski resort! It's their 12th year, hosted at Cranmore Mountain. Unfortunately, they no longer operate the ski lift for Halloween like their sister ski mountain, Jiminy Peak, which runs 13 Nights each October. However, they have superior outdoor theme park rides, which I reviewed in September as part of Cranmore's summertime and early fall daytime offerings. They also have an attractive ski lodge with a bar and real restrooms. You can get low level dinner foods such as potato chips, gummy bears, nachos, hot dogs, pizza, and pretzels, or go to the small gift shop which sells t-shirts, hats, mugs, shot glasses, and sweatshirts. At the ticket counter, you can buy a regular ticket or a Quick Pass ticket to skip the lines. Halloween decorations in the resort space were minimal.
The attractions are strung together so that you pass through them one at a time, thankfully with actors stopping you before each section so that you don't get too bunched up. It will take you 35 minutes to go through the entire thing, not counting waiting in line.
You're so high up and far from city lights that you'll get spectacular views. It's beautiful to commune with nature and just admire the full night sky of stars. First you go into an "indoor" attraction that is built outdoors with dirt pathways, walls and, for fire safety, no ceiling. Unfortunately the attraction is mainly filler, such as forklift pallets, hanging rope netting, plywood decorated only with dripping blood, and an area of hanging hoses, that do not create an immersive set design. But you'll pass grave sites with crosses and skeletons in the ground, a fake corn field, a clown area with a ball pit, and a very dark corridor where you must feel your way forward. Wonderfully, there are sections where the plywood has been sprayed with foam as though you're entering a cave, but nobody enters a 6-foot-long cave. These cave corridors should be strung together to make a mood. Actors come out to scare you, mainly wearing masks and simple costuming. The low point was getting so bunched up with the group ahead of us that we stopped for a full minute. The best part was the "laser lake", a special effect that I first saw in 2016 and now seems everywhere at Halloween attractions. It's a fog-filled room with a plane of laser light some 3 feet off of the ground. This looks like a "lake surface" that monsters can hide underneath and pop up from. 3 stars.
Then you enter a woods walk. Walking through any forest is spooky at night, and attractive, too. The trail was well cleared of stumbling hazards, and you can tell where you're supposed to go — forklift pallets to guide you are unnecessary and mismatch the "forest" theme. Actors did have some makeup in this section, but often wore just street clothing. There are no animatronics, but we enjoyed the haunted fog area. There's just not that much to see in the forest. One diorama was dolls hanging from a tree. An "evil butcher shop" is just a deli case with some plastic pigs. A "haunted church" is just some stained glass that's not set into a wall, with rough stairs and a spooky nun wearing a mask. Some more theatrical set design is needed. 3 stars.
The next section though, the Fear Fair Inn, is remarkable. It's a 5-minute walk through a "hotel" that's made of plywood but so cleverly that it looks made of structural lumber, like a real building. Out front you're greeted by an actor, an innkeeper who sets the scene. God bless him. He had so much fun explaining where we were that it was infectious. Inside, the good set design continues, with wallpaper, pictures, and decorations on the walls, chairs, a shelf with books, a fireplace, and a check-in desk. This is the kind of immersive set design that helps a visitor suspend disbelief. Actors are mainly in masks and simple costuming, but kudos to the possessed woman on the bed, acting strange with physical contortions! You'll pass through a bathroom with a bathtub corpse, blood, toilet, and sink. (Little industry secret: Halloween owners get whatever junk they can find on the cheap. You find an old bathtub? Let's add it! That's why so many Halloween attractions have bathroom and kitchen scenes.) 4 stars.
The next and final section is a mix of good set design, and portions where the walls are just plywood with dripping blood. You're led through "Checkpoint Charlie", which sets a theme that seems to have no bearing on what follows, into a large warehouse like space in the ski resort. I don't know why we pass through a haunted locker room. I guess someone had some old lockers laying around. But then we pass through a cave area — these should be longer — and see a stirrup chair, an interesting mannequin with its head blown off, and two mannequins whose top halves have been stitched together. You'll find plenty of actors, in simple costumes such as lab coats, including a guy with a gas mask who offers us a "sniff" (not a real one) of gas through a face mask.
Delightfully, there's a scene where a monster pretends to be trapped by chains and then escapes to rush at you. That's the kind of 10-second theatre scene I love to see in a Halloween attraction! The morgue has some non-morgue-looking office shelving with corpse feet, but the sparking fuse box is a nice effect. There are also no animatronics here, except for a shaking hanged man, but — I just glimpsed the end of this — I believe there's a wooden slide where a monster shoots down at you? If so, I love it. 4 stars.
While they're not Halloween themed, the theme park rides at night are the best part about The Ghoullog. Called The Haunted Playground, they are no traveling carnival! These are full-blown industry rides permanently placed on the mountain. Thankfully, they are all mid-level attractions, by which I mean, they're not kiddie rides, so adults will love them, but they're also not giant rides that you're too scared to get on and will make you nauseous. A giant swing rocks you back and forth, there's a zipline that pulls you up a hill and lets you go — it's not nearly as scary as it looks — and a mountain coaster!
The mountain coaster is the best. While staying just 1-3 feet off the ground, you "fall" down a giant slope along roller coaster tracks. Part is too brightly lit to seem spooky, but there are nighttime portions. Pro tip: the handles are cold, and with the rushing of the coaster, the breeze makes it colder. So bring gloves. Or, without gloves, you don't need to hold the handles down at the start while you are getting pulled up, up, up. Make sure to take a moment just to enjoy the fresh air, smells, and amazing nighttime views. 5 stars.
Heartbreakingly, The Ghoullog lacks good signage and I don't think guests even knew to visit The Haunted Playground. The mountain coaster guy told me that only some 25 people had come through in the first 90 minutes of the ride being open. Please funnel visitors to the rides and bring the ski lift back, even if there's no haunt at the top of the mountain! That would drive The Ghoullog higher.
Lacking animatronics, with unconvincing theming, and simple costumes, The Ghoullog is not geographically nearby enough to any other Halloween attractions to make the long trip from Boston a "two-fer". It's a 3.5-star attraction elevated by its outdoor theme park rides, which urgently need better messaging to visitors. I'll give The Ghoullog 4.5 stars.
See theghoullog.com.