Fuji at Ink Block Gives an Original Boston Take on Japanese Sushi and More (5 stars)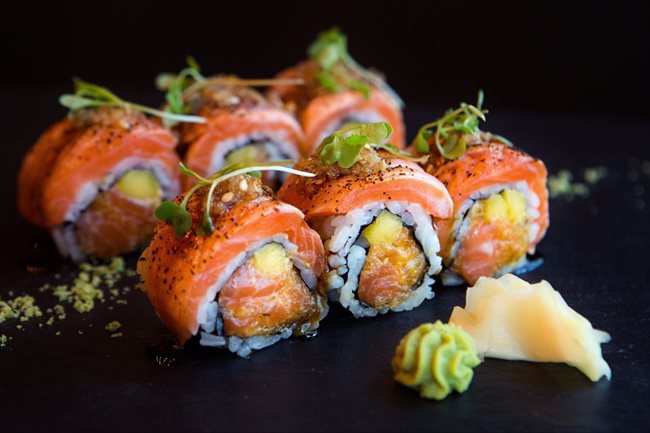 Based in Boston's South End, Fuji at Ink Block is one of six restaurants and two cafes of the JP Fuji Group, founded by Jimmy Liang and Peter Tse. They do a lot with a medium-sized space, which has a full bar, a sushi bar where you can see the chefs preparing food, an extensive wine collection, a gas fireplace, and general seating area, playing light rock music. The restaurant is modern, decorated with gold tones and plaster separating walls that give some privacy but let you see through, so that they don't reduce the apparent size of the place. Peeking into the kitchen, we saw chefs actually using woks in the cooking. It's dim, but not oppressively dim, with both large and small lights that are turned down and spread out.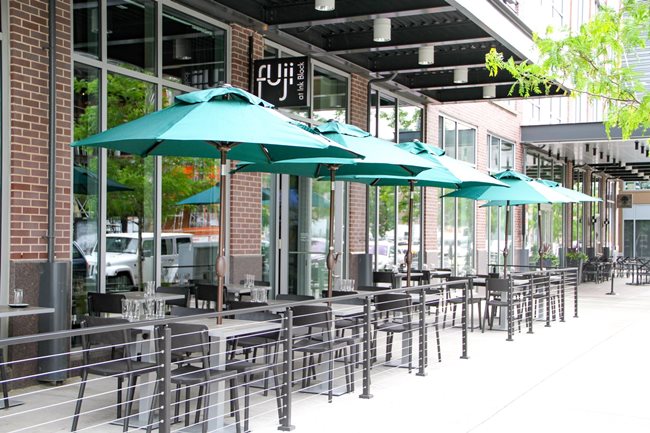 Co-founder and CEO, Jimmy Liang, and General Manager Michael LaMonica kindly agreed to interviews.
Events INSIDER: What would you say makes Fuji unusual?
Jimmy Liang: Since three months into opening our first location, we've been consistently ranked Top 5 in Boston for sushi. Companywide, we serve over 400 pounds of fish a day. We were the first in Boston to use fruit in our sushi and the first to start searing sushi, using a torch. That gives it a different flavor, a different texture. Sometimes people want sushi, but they don't want something raw.
Jimmy Liang: We also have a good culture of mentorship. We try to empower everybody through food. We want to train chefs, not line cooks.
Events INSIDER: How you do balance authenticity versus appealing to local American tastes?
Jimmy Liang: I've been doing sushi since I was 14, in and around the Boston area: Cambridge, Boston, Chinatown. I was head chef by the time I was 18. I opened Fuji when I was 19. I've been trained as a classic Japanese sushi chef, so my techniques are very Japanese. But I look at myself as an American sushi chef. Why? It's very simple. The water's different over there versus over there. The rice is different over here. Most of the products that we use, such as the fish, it's different over here. There's no choice in this matter. So we make American sushi here.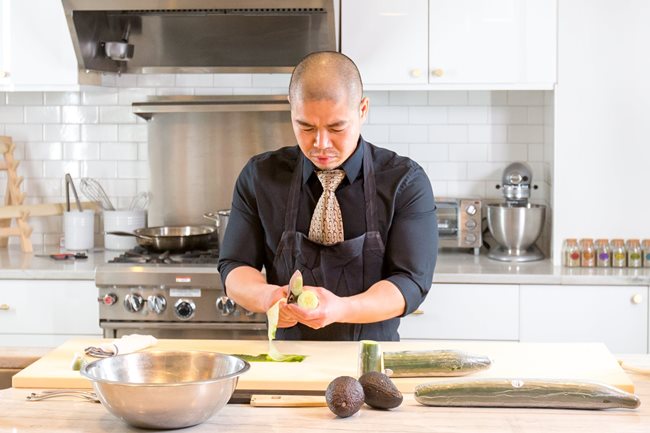 Events INSIDER: What's an example of an original menu item that combines Boston and Japanese styles?
Jimmy Liang: The spicy mayo. When I first got into the trade, usually when people do spicy tuna, it's usually a Japanese spicy sauce, Momiji Oroshi paste, which is a daikon [radish] spicy sauce. But when I came along, I started using sriracha [a hot sauce from chili peppers], I started using Japanese mayo, I started mixing stuff. In Boston, I think I was the first one to do it. I was the first one in Boston that took what sushi had to offer and made it more Americanized. A lot of chefs in Boston were all Japanese. I was one of the few Chinese kids. Once I started taking things into my own hands, I started recreating everything. When we first opened Fuji, back when I was 19, a lot of things were traditional, on the menu, but it wasn't really selling because we were in Quincy, Mass. So I started coming out with all sorts of different stuff. So that's one of the things that Fuji's all about. I believe that we've innovated the sushi trade in Boston.
Jimmy Liang: Even our chicken wings, deconstructed, are the way that I wanted to make them. I find that when most people eat wings, it's a little tough, but with our wings, the way we do the prep work, the way we fry them, you can eat then with a knife and fork if you want to. We've also won awards for this.
Michael LaMonica: Jimmy takes that authenticity from Japan and gives his own American Flair to it. That's one of the things that gives us our own identity. When people come in here, they recognize certain dishes, that you can only get here. One difference from a lot of high-end sushi restaurants, is that a third of our business is outside the restaurant, through catering. We're able to keep up that pace, to be quick on our toes, with a quality product and quick timing.
Events INSIDER: Thank you.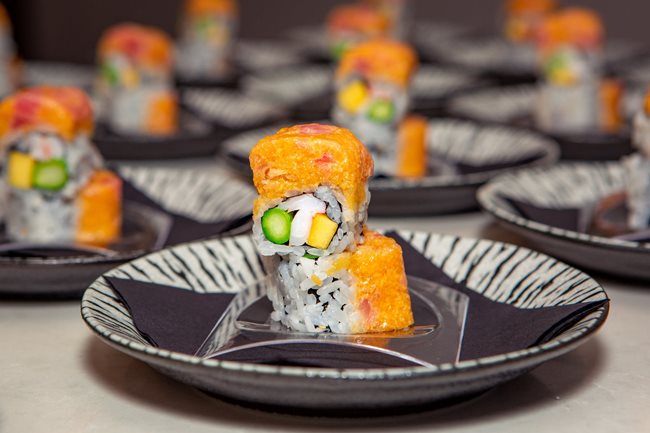 Take a seat at Fuji, where the service is warm and efficient. Ask for tap or bottled water, and you'll get chopsticks but can ask for a fork.
There's plenty of variety on their five-page dinner menu. It's a wide-ranging selection, with every category having both comfort foods you'll recognize, and unusual foods to brave. Their soups range from the expected Miso Soup and Spicy Seafood Tofu Soup to the exotic Foie Gras Chawanmushi (an egg custard soup), and Oxtail and Goji Berry Soup. You'll find unusual salads, for example seaweed and avocado salads. Appetizers also range from comfort food like Fried Handmade Spring Rolls, Potstickers, and Soy Glazed Ribs to crab meat dumplings, Salt and Pepper Calamari or Shrimp, and Lobster Rangoon. Try the fried rice combinations, noodles, and wok-tossed meals, or the "House Special Clay Pot", which is beef, pork, or duck on a sizzling buttered clay pot. They have Tempura and Teriyaki options, and three pages of sushi. For lunch, bento boxes and sushi sets are available, and there's a dessert menu with green tea ice cream and fried dough.
Of course they have a wide offering of alcohol, too. My friend tried the Sake Sampler, which has three flavors. The Joto is your choice if you're trying sake for the first time. It has a sambuca taste, very sweet but smooth, making it easy to drink. If you've had sake before, the Katafune is what you'll remember sake tasting like, with a much deeper taste, a little drier and less sweet, and strong, like a table wine taste. The Snow Maiden is the most unique looking. It's unfiltered rice wine, so it looks cloudy and white like rice. And it has a corresponding thick, milky taste and flavor, very deep, robust, almost like a cocktail, with a sweetness in-between the other two selections.
We tried the Salmon Wonton Chips appetizer, which was one of Jimmy's early creations. It's spicy salmon with tomatoes and onions and "tobiko", which is caviar, and has the spicy mayo mentioned in the interview. It comes on a simple black dish, and you load up the raw salmon sashimi onto the crunchy rice wonton slice before eating it. I'm not a fan of tartare, and found the very dry chips strange with and not fusing with the very wet meat, with the mayonnaise sauce making it gooey. But we heard that it is a best-seller at Fuji.
Then we tried the Deconstructed Chili Soy Wings mentioned in the interview. They're tossed in a slightly spicy soy, garlic, honey, and chili sauce, and topped with scallions. The wings are spicy, crunchy, and have a lot of meat to them. Unlike buffalo wings, they aren't greasy. You can taste that there's actually chicken in them. And they're spicy in a way that stays with you instead of evaporating. A few minutes later, you'll still be tasting the spice.
We also had the Ishiyaki Waygu. Waygu beef, like Kobe beef, is an especially tender beef that's marbled with a high fat content and umami taste, from special Japanese cows. (It's a good story, but they aren't really massaged and fed beer.) The small beef strips come decoratively presented on a plate that's a black-and-white piece of art, with garnishes of scallions and shaved carrots. To the side is an 'Ishiyaki', meaning "stone grill", a plate of black volcanic rock that is sizzling hot. You use your chopsticks to place strips of beef onto the hot plate and cook them yourself. It's interesting to watch it cook. It comes with Ponzu sauce, a citrus-based soy sauce, which they make in-house, as they do all their sauces.
Wow! The beef strips are really high-quality meat, and there's no stringiness to them at all. I've never had anything like this Wagyu beef, and there's a good crunch to the shaved carrots they come with. The Ishiyaki Waygu is found on the entree part of the Fuji menu, but is more of an appetizer.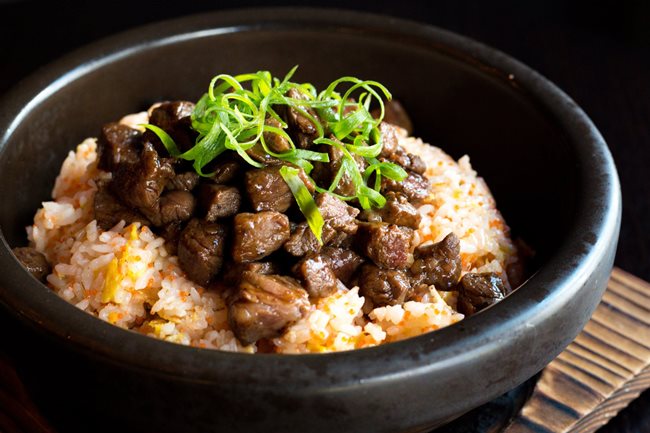 The Fried Handmade Spring Rolls come with a sweet and sour sauce and a spring roll sauce. Their shell is light, flaky, and thin, not too heavily fried, and the filling is very dense on the inside, made from mushroom, shrimp, scallions, turnip, and carrot. It was good but not notable.
Then our sushi came out. Wow! Its presentation was excellent, each type of sushi presented on different dishes, some also works of art. It was intriguing without being gaudy. Of course there's no smell to them.
Ming's Mango Maki is our first sushi recommendation. Fuji was also the first in Boston to combine fruit with sushi, an original blend of Boston and Japanese cuisines. It made me exclaim, wow, this is really good! And I tried to eat it all before my friend got to it. Ming's Mango Maki is shrimp, asparagus, and mango topped with spicy tuna. Of course it comes with wasabi and ginger. The mango infused sushi is slightly sweet, and has several layers of texture, but none overpowers or dominates the rest, so you can taste it all. It's fun to crunch, and not at all greasy.
Owner Jimmy Liang created The Queen's Maki for his wife. The sushi has all her favorite ingredients: Waygu beef, spicy tuna, and caviar. Pro tip: Watch that you don't lose the topping when you dunk the sushi in soy sauce. It comes with fried taro [a starch, like potato] shavings.
The Miss Waldorf Maki is another Fuji original and also dazzlingly delicious. It's spicy salmon and mango on the inside, and on the outside, seared salmon drizzled with a sesame garlic sauce. It's a little sweet, a little spicy, not overpowering, and has a great creamy mayonnaise taste and crunch.
The Open Faced Maki became our new favorite invention at Fuji. You know how at an Italian restaurant you might order "bruschetta", or a bread board, which is tiny grilled bread slices with various toppings? The Open Faced Maki is also a combination of neutral substrate and toppings, but the substrate is tempura nori [seaweed] rice crisps! So it's interesting as well as being a palate cleanser. You have to try it. It's so good and interesting.
The Lobster Consommé is another unique Fuji dish. It's a fusion three cultures: an Italian alfredo sauce, New England lobster, with Chinese flat noodles, served in a circular bowl. Thankfully, they've cut out the meat from a small lobster, so no lobster cracker or bib are needed. They decoratively present the empty lobster shell along with the meal. It's got a distinctive taste, and the scallions gave it a crunch, but this one didn't grab us. The thick cream sauce is heavy, and the thick noodles are heavy. Generally I find cream sauces problematic, and in this case it did hide the taste of the lobster meat, which there wasn't much of in the dish. It wasn't alien, but a light cream sauce or butter sauce with a thinner pasta might have worked better.
We also tried the Unagi Kabayaki, which is grilled eel in a sweet and savory teriyaki sauce over fried egg rice. I'm afraid to swim with eels. They're like snakes that can fly underwater. But I told myself that an eel is just another kind of fish, and my friend and I ate it. It's decoratively presented in a black bowl with its own serving spatula. Its slices of warm avocado are a welcome twist, and we liked the sweet, smoky BBQ style sauce, which is typical for eel. The meat is tender, easy to chew, and melts in your mouth. Eel you get anywhere often comes with tiny bones. They're miniscule fish bones that are hard to all remove, and the menu warns about this. There's nothing unhealthy about eating bits of bone, and my friend didn't mind it, but I found it strange, unwelcome.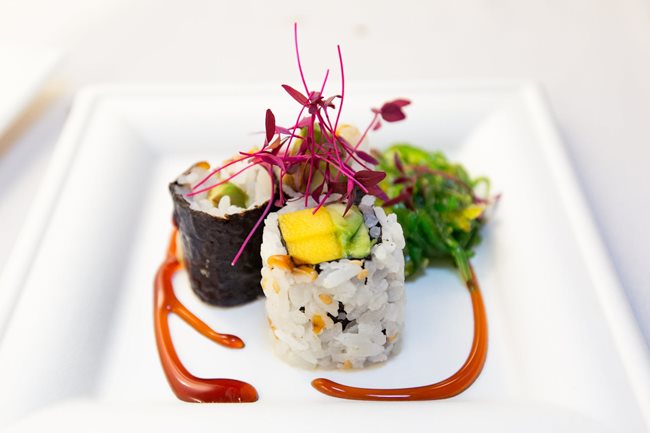 We also tried a 6-piece Finer Nigiri Set, a sushi sampler. By this point we were so full that I don't have any notes, except that my friend said that sea urchin is an acquired taste, very fishy, it's like eating pure fish, and was better here than he'd had elsewhere. Jimmy told us that usually the fresher they are, the high quality they are, and it changes the taste.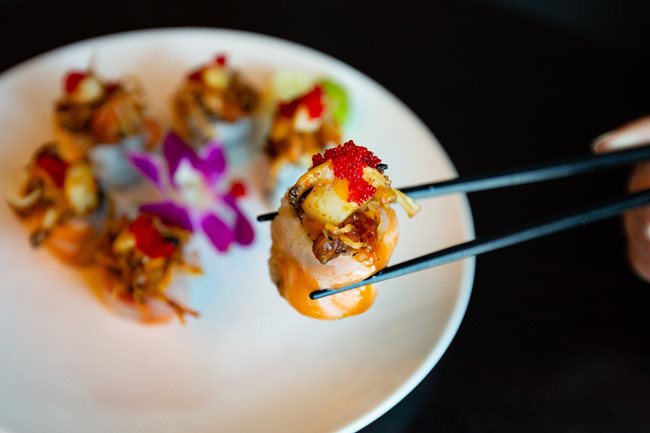 For dessert, we tried the Vanilla Crepe Cake. It's not bad, but not as sweet as desserts you're used to, and more of a pasty. It's crepe layers with a semi-sweetened cream that had a sharp taste that might be a touch of alcohol, possibly a whisky whipped cream. It comes with a scoop of green tea ice cream, which has a natural, soothing, not super sweet taste. I appreciated its fresh strawberries, but this dessert was too alien for my expectations and perhaps should be renamed to Vanilla Crepe and Strawberry.
Overall, Fuji restaurant is an inviting, modern atmosphere with excellent service and a broad range of dishes presented artistically. Everything we tried had a creative twist, and many of the meals were original inventions of Jimmy and his staff that we had never seen elsewhere but didn't break the category expectations of a sushi restaurant. Not every dish was a hit, but we had so many "Wow!" experiences dining at Fuji. It was unique, enticing, and surprisingly accessible to a white guy Boston palate. And they have a good selection of sake and other drinks.
Upscale but not snooty or expensive, an exotic visit to Asia but not too strange for Boston tastes, Fuji certainly belongs on any list of Boston's top sushi destinations, and has numerous non-sushi options. It has a number of signature dishes, any one of which is a reason to draw foodies to come to Fuji. We'll give Fuji at Ink Block a full 5 stars.
For more, see Fuji at Ink Block online.