Fright Kingdom's "Forever Mine" is Dinner, a Show, and a Halloween Attraction for Valentine's Day (5 stars)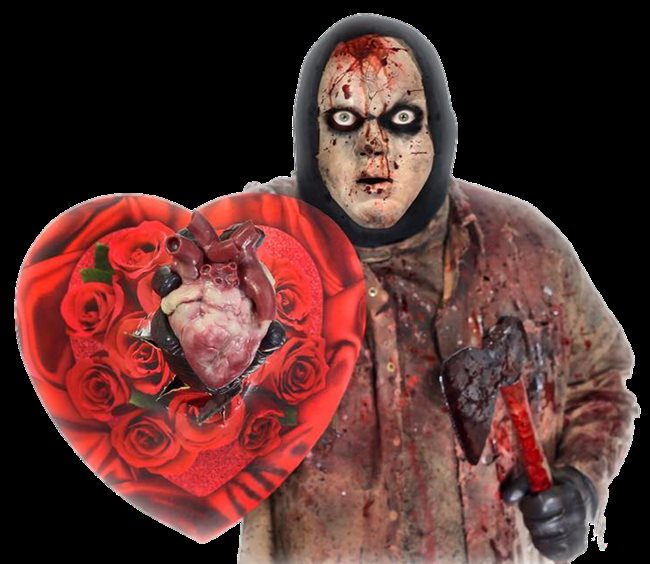 Given 5 stars twice by Events INSIDER Magazine, Fright Kingdom is one of New England's best Halloween attractions, less than a 45-minute drive from Boston, in southern New Hampshire. There are few haunted attractions within Boston's Rt 128 beltway — real estate is just too expensive — so that makes Fright Kingdom one of the closest attractions to Boston, too. Of course they are mainly open for the Halloween season, in September and October, but because they are all-indoors — the entire attraction is in a single warehouse space — they can be open in any weather, and put on special events. In December, they host the Fright Before Christmas. In May, it's the Zombie Prom, and in February, a Valentine's Day event, which they kindly invited us to see.
Valentine's Day at Fright Kingdom is a whole evening of activities: their Monster Midway, an open space to stroll, then eating dinner at long tables while taking in stage show. Finally, you walk through their 5 haunted attractions.
The space is beautifully themed, and even the entranceway is spooky fun, with a walkway of spiders and snakes in glass cases. Parking is free and there's a free coat check. Then mingle and explore the Monster Midway, their central carnival space and an innovation that Fright Kingdom pioneered. For Halloween, instead of making you wait an hour or more in line, you get a number like at a deli, post office, or registry of motor vehicles. It makes the event more fun, extends the time you can spend at Fright Kingdom, and gives variety to the experience. It's a space where you can socialize before or after going through the main attraction.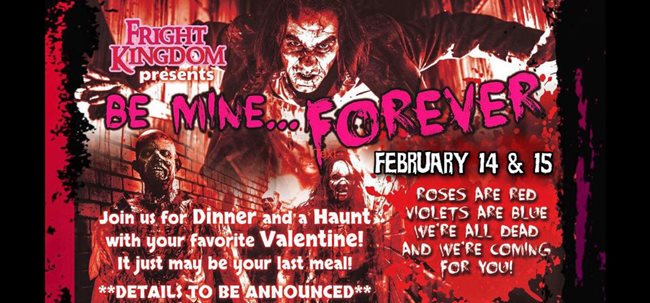 The Monster Midway showcases dioramas from horror movies, where you can stand and have your photo taken with, for example, Freddy Krueger. They also have dioramas that advertise their Fright Before Christmas and Zombie Prom events, and you'll find horror-themed vendors selling items such as movie posters. They even have a couple of escape rooms, where you get locked into a small room and must solve puzzles to escape. Meanwhile, a DJ sitting at a raised booth, played hits from the 1980s.
For Valentine's Day, much of the midway is taken up by long tables set in front of a small stage. Ask to sit at the table with real, adult height chairs. We got sat at a table with kids-level stools too low to the ground for comfort. It's also better to sit in front, so that you get a good view of the stage, though they have hung televisions in the middle of the audience for those in the back. After taking your seat, you can talk with your friends, and each table got called up to the buffet dinner. Dinner was, well, it wasn't fried movie food or soggy arcade-level food, but not far above. Monsters served us chicken parmigiana, pasta and meatballs, salad, with plastic utensils and paper plates. (Vegetarian options are available by request.) We were pleased to find a full dessert table with cookies, brownies, and cake. And don't miss the coffin at the end with soda and water. Dinner was included with the price of admission and perhaps an opportunity lost to sell VIP dinners or upsell extras on site.
While waiting for the show to start, and several costumed performers dressed as ghouls and monsters — there must have been a dozen! — walk around to startle you, make you scream, or make you laugh. Kudos to the zombie with horrific and twisted physicality. We also loved the monster mom pushing a baby carriage with a surprise inside, the actor on stilts, and many others. Some of the monster handed out presents such as boxes of chocolate and faux roses. Everyone gets a little box of conversation heart candy boxes, on every one of which some volunteer had written "To: You, From: Fright Kingdom". Such a message was unnecessary, and someone had to write that on hundreds, possibly thousands of boxes. Now shows dedication and heart.
The audience reciprocated this feeling. It's clear that Fright Kingdom has a community that loves what they do, and I was surprised and impressed how much energy and love the audience gave to the performers on stage. If you've been to improv comedy or a community theatre, you know that rooting for the performers is part of the show. Expectations are low but it doesn't matter. Those are your people on stage. Fright Kingdom has no alcohol license, so it was just water and soda being served, but the audience hooted and hollered for the performers nonetheless.
So it didn't really matter that the first half of the show was lackluster, with amateur singing and talk-singing. Singers were dressed as monsters, but didn't act out scary scenes, and it wasn't hugely Valentine's themed either, but fun. Despite, sorry to say, nothing approaching musical genius, and sometimes with imbalanced audio levels, the show was performed with great gusto, and lots of audience interaction. Their energy was even more impressive given that we attended their third show of the night. Undead Frank Sinatra, Judy Garland, and others told cornball jokes of no real interest, but as I said, it didn't matter. The audience applauded and reciprocated the love. There was great energy in the air, as though we were all thinking, "I'm so lucky to be with these wonderfully strange and creative people who want to put on (or attend) a Halloween show in February!" Really, I thought I was the only nutso person for Halloween, but it turns out, we're a tribe. Performers including "Vanna Bite" even came out into the audience for crowdwork, and to help include those towards the back.
The second half of the one-hour stage show was far more creative and engaging. There were jokes and stunts between the Emcee and the DJ, and they called up audience members on stage for game show style competitions. For one, they mounted a roll of toilet paper at the end of a leaf blower, so that contestants could "shoot" a stream of toilet paper. Two such shooters then tried to turn other contestants into mummies by showering them with toilet paper. In another competition, contestants had to throw hot dogs at each other. It wasn't spooky, but it was certainly fun and got everyone fired up. My only criticism would be, there was perhaps too much "I can't hear you!" working the crowd up, but I acknowledge that while done to death at every comedy and concert venue, the technique sure does work.
Then we got to walk through Fright Kingdom's haunted space, which has five attractions that are not Valentine's Day themed. That would be too much work of course, to retheme the entire thing for a single weekend, although they do that for their holiday-themed event in December. It's especially challenging to host a Halloween attraction in a warehouse space. You know, outdoors spaces at night are naturally spooky — especially in the woods — so a warehouse must be more decorated to scare you. Then there are fire codes to worry about, and a warehouse space is always more limited in space than some farmer's field or forest.
Fright Kingdom overcomes these barriers with flying colors, creating an impressively long walk through 5 attractions. They let small groups in with a short delay in-between, so that visitors never get bunched up, which would spoil the spooky surprises around every corner. Additionally, in-between attractions you get held in a waiting line, guaranteeing no bunching. Excluding those stops, it's only a 24-minute journey, but since each of the waiting spaces themselves are impressively decorated with spooky goodness, I consider it all one, 34-minute experience.
Overall, Fright Kingdom exceeds expectations on every level, with creative staging where you can never tell where the ghouls will jump out from, good costuming and makeup for performers, some theatricality where performers often have real lines to say, or a short scene to act out, and good special effects including numerous animatronics.
Apocalypse Z is an evil science lab, with horrific medical experiments. One room only had camouflage netting, a kind of filler, but we loved being startled by an air gun, and another room had an odor piped in, a Halloween scent of decay. Then we escaped, alive, into a waiting area decorated like a cemetery, with animatronics, actors playing monsters, a ghoul playing piano, cemetery effects, an animatronic wolf, and more. It's quite an impressive set, and you're just waiting in line!
My favorite attraction was Bloodmare Manor, designed like an old Victorian house with a musty library room and more. You'll find outstanding set design and creative surprises, animatronics, puffs of air from air guns, and actors with good costuming and makeup including contact lenses. While hanging cloth strips and a hung line of laundry are just filler, not too scary — and I always wonder whether pushing through hanging fabrics whether they ever get washed — a few characters had real scenes to act out with us, and I loved the giant scary dolls!
Psycho Circus is a clown town where you get 3D glasses and then walk through corridors where the walls are painted plywood. The glasses make the bright paint on the walls either pop out or pop back. For example, one wall has a painted tunnel in blue that really looks, like Wile E. Coyote painting a tunnel on a rock face, pops back like you might be able to walk down there.
I believe the same airbrush artist works on all of New England's 3D mazes, and I've seen similar attractions at Field of Screams, Witch's Woods, Spooky World / Nightmare New England, and elsewhere. The corridors of plywood are painted with murals, lots of small circles, and paint splatters. I don't know about you, but I've never seen a horror movie where the evil villain lives in a house of murals and splattered paint. To me, it just doesn't set a scene so I can suspend disbelief. However, at Fright Kingdom they go beyond this basic level. While they do have the painted plywood, they elevate their 3D attraction by adding numerous props and animatronics that are also painted with the special paint. A corridor of hanging foam swords felt like filler, but we loved the astounding animatronic that looks like three clowns stack standing on top of each other! Psycho Circus also has a funhouse bridge and a Vortex (a room that seems to spin around you). While some actors just growled, we were glad that others had scenes to play out for us.
In-between attractions, waiting to go in so you don't get bunched up, you'll find a giant alien animatronic next. Delightful.
The next attraction was Grim. It's a completely dark series of corridors, where there is no light at all, so you must feel your way through it. Pro tip: in a warehouse space, the ceiling is usually open for sprinklers in case of a fire. So if you look up you might be able to see your way along. I'm not a fan of dark attractions, because I'd prefer to see something actually decorated, and having dark (and presumably undecorated) corridors seems a little too easy. However, feeling our way was interesting, and the walls were coated with multiple layers of paint so that you won't get a splinter running your hand along the wall. One spark machine above — just a visual effect — was painfully loud.
In the next waiting area, you'll see an animatronic skeleton horse. Wow! Then you go into The Abandoned, the last of the five attractions, which begins as a haunted mine and becomes a haunted farm. After you exit, make sure to mark whether you had a good time on the chalkboard!
Fright Kingdom displays an exceptional understanding of the psychology of Halloween. They give you something to do instead of waiting in line with their Monster Midway. Their haunted attractions outperform any other warehouse-space Halloween attraction in New England. They scare you in clever, creative ways, prevent guests from bunching up, and it's just so amazing all-around. While their stage show perhaps needs a redesign by a fully formed theater and music director, and we would gladly have paid an additional $15 for better food options, just being able to attend a Halloween event for Valentine's Day is a wickedly creative, forbidden thrill.
Following our Fright Kingdom reviews from 2013 (4.5 stars), 2016 (5 stars), and 2017 (5 stars), I'll once again give Fright Kingdom a full 5 stars for its Forever Mine event for Valentine's Day.
For more, see Fright Kingdom.