Four-Handed Illusions is Boston's Best Resident Magic Show (5 stars)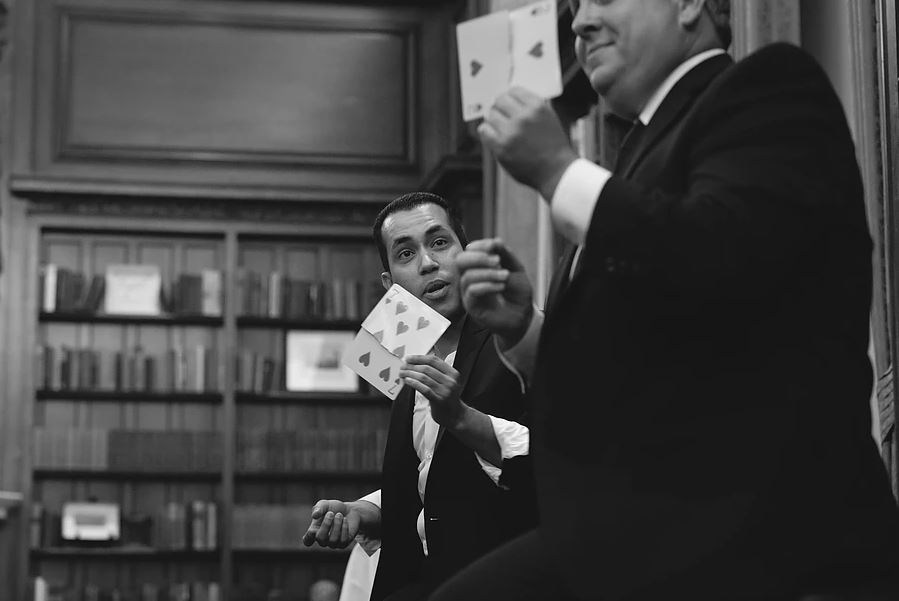 Four-Handed Illusions is more than a magic show. It's also an elegant evening in the library room of Hampshire House in Boston, the closest experience you'll get in New England to the Magic Castle, the exclusive and upscale magic club in Hollywood. It's hosted by two magicians, performing together and separately with their four hands, who keep the action going at a faster pace than a single magician can do. Joel Acevedo is from Puerto Rico, works at MIT, and travels regularly to teach magic in Spain. Steve Kradolfer was co-founder of Boston's The Mystery Lounge, a regular magic night in Cambridge now moving to Somerville, with clients including David Copperfield.
You'll fit right in as part of the show. Unlike some magicians who hold themselves aloof, Joel and Steve engage with the audience directly and up close. The room seats only 54 people, a small enough number for half of the audience to get called up to volunteer in one of the acts. And everyone participates in making their own magic in the final flourish. Arrive early to get a drink at the cash bar and eat free cheese, crackers, and fruit. Guests are asked to dress up, and there's an age limit of 21. The show runs 2.5 hours including an intermission, and you'll never feel a lull, although the seats are not the most comfortable.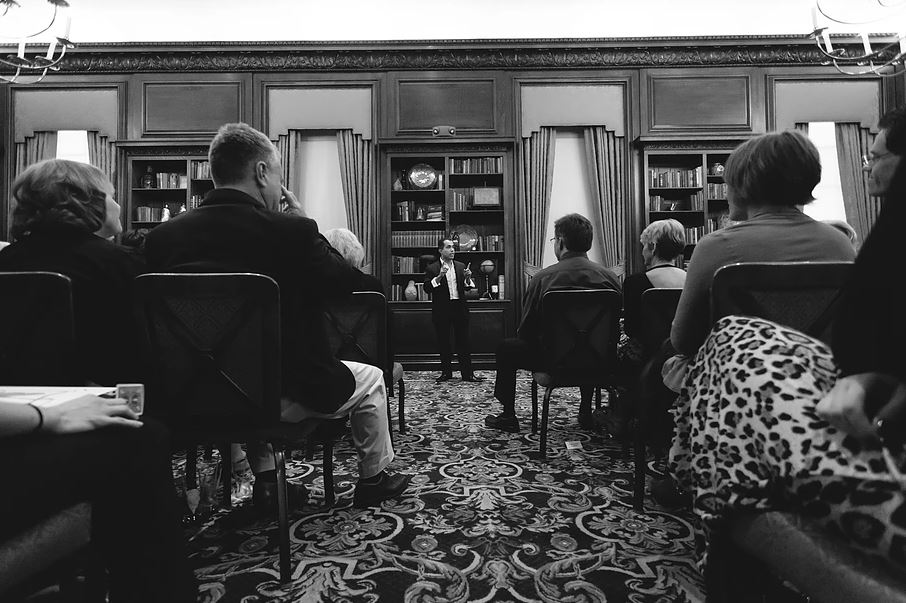 I recently reviewed illusionist Ivan Amodei, who passed through Boston on a national tour and whose show I enjoyed, but it seemed like a lot of build up to tricks that didn't quite reward the wait, and tricks based on gadgets or wordplay rather than prestidigitation. Joel and Steve instead offer a substantive, clever show with practiced talent. The pace is fast, with most of the acts comprised of several magical illusions. Any exposition or build-up is full of comedy, which will make you laugh out loud. At other times, you'll gasp in amazement. Really, there were times when the audience was so surprised that we took a beat before clapping. Although there are a couple of wordplay or probably-gadget-based illusions, most of the show is sleight of hand and misdirection. This takes real talent. I tried to glimpse what they are really doing with their hands, but I couldn't see anything. I'm pretty sure it's all done with lasers and telepathic cats.
A couple of the tricks are old standards, but the show is mostly original, or is made original with humorous banter between the magicians and with the audience. Their most recently added trick is the Psychic Piano Lounge, where audience members make song requests telepathically and somehow Joel and Steve know what to play. Four-Handed Illusions is a great night out, a show that feels prepared just for you. It is the perfect balance of witty, but accessible, and classy, but intimate. Even if you're skeptical about magic shows, this is one to see. It's an easy 5 stars.
The next shows are March 3, 11, and 18 in Boston. See www.fourhandedillusions.com.