Fountains Abbey and Studley Royal Park in the UK (4 stars)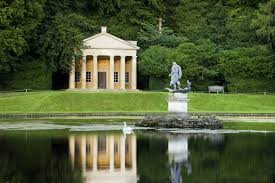 Fountains Abbey is a World Heritage Site, founded 900 years ago as a monastery, and part of Studley Royal Park. When you arrive there's a cafe and visitor's center with a gift shop, and then you are off walking through the park itself.
The Abbey is ruined and doesn't have curated placards or staff to educate you. It's covered with moss and the roof has long since decayed or blown off. You can run around the huge manicured lawn, play soccer, or bring a picnic blanket. You'll see tons of cute kids running around having a great time. You'll see birds and a golden field of buttercups. Paths are paved to accomodate strollers.
Throughout the park you'll find "follies", which are artistic installations or sculptures set throughout the park as a whimsical discovery as you round a corner. You'll find a deer park, which we never got to, which has 500 deer in it, a cathedral, the Octagon Tower, a grotto, a mill, a canal, some ponds and waterways, bridges, and much more. But it would take all day or more to visit everything on foot, and taken individually, well, there are many beautiful destinations in Britain.
It's beautiful, wonderfully old, and just fun to explore, but it pretty much is just some ruins and a park. The place is well manicured, but a bit empty — you will walk a lot. It is huge. For a traveler who has only a week in the United Kingdom, I can't recommend investing an entire afternoon in what's basically a park, when there are so many other lovely competing destinations where you can learn about history or interact with a museum or activities such as archery. I'll give it four stars, for those of you exploring Britain for at least two weeks, or it makes a nice combination if you are visiting nearby York or the nearby and fantastically whimsical The Forbidden Corner.