Fortress of Nightmares Takes Place at a Massive, Naturally Spooky Old Fort on Newport Harbor (4 stars)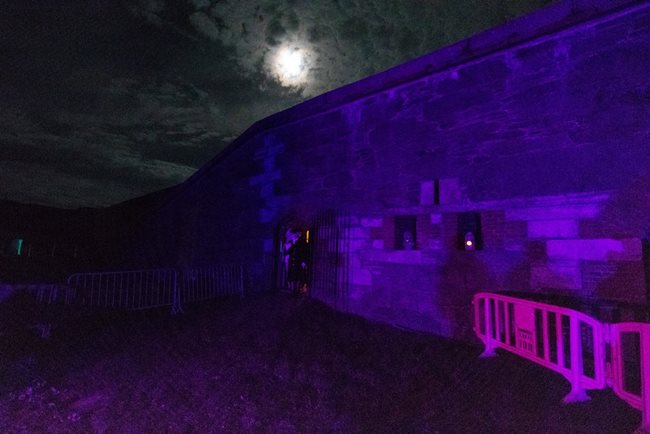 When building a Halloween attractions, it's smart to have a great location that is already spooky at night! Fortress of Nightmares, for example, takes place at Fort Adams State Park, an old-time coastal fortress in Newport, Rhode Island that was built in 1799. The Fort was never part of a battle and is in great condition, though rather empty. I mean, it is primarily a giant grass courtyard, with towering stone walls, empty stone corridors, and empty stone rooms. And it's not as important to history as Fort Ticonderoga in Eastern New York, or Fort Independence in Boston.
However, Fort Adams is notable for its wide array of creative events. You can take private and guided tours of the tour, walking or riding a golf cart. There's a historic home used by President Eisenhower. They have an annual Civil War Reenactment, as well as the famous Newport Jazz Festival and Newport Folk Festival. The Newport Folk Festival is where, in 1965, Bob Dylan played his first electric guitar concert, and where Kris Kristofferson got his big break, being introduced in 1985 there by Johnny Cash.
Then in October, Fort Adams hosts Fortress of Nightmares, which is a fundraiser for the fort. It has four attractions: Mayhem 3D, where you wear 3D glasses, Tunnels of Terror, where they pump fog into the fort's tunnels, Spirits Rising, which has some special effects, and Paranormal 3D, a virtual reality experience.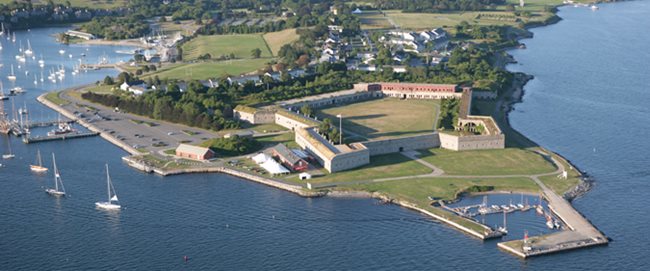 Like all forts, Fort Adams is in a notable location, at the mouth of Newport Harbor. Parking is free and convenient. Walk up to the ticket office, where they sell snacks. General admission tickets cost only $15, and there's no VIP option to skip the line. Then you enter a stone corridor that was the fort's jail, with tiny rooms to one side that must have been cells, and an old-timey printing press on display.
Then you come to the courtyard. It is massive, large enough to hold 10,000 people for its festivals, and is especially beautiful at night. You're on a truly giant grass lawn, with gravel and stone pathways, surrounded by two-story tall massive stone walls with archways and entryways that have metal gates. Colored lighting makes the walls look especially spooky at night. One on side is Newport Harbor and if the sky is clear, you'll see stars.
The fort is in perfect repair. These aren't ruins. Just walking through the courtyard is an experience. There's so much stone! There's just enough light in the darkness for you to see where you're going and feel safe. You'll pass some picnic tables and a couple of portable toilets. Pro tip: use the full restrooms in the visitor center to the right of the ticket office where you entered.
It couldn't be a nicer venue. It's automatically spooky at night. They've got tents selling kettle corn and hot dogs. You'll first get in line for Mayhem 3D, in a stone chamber, open to the air, with spooky lighting and those angled slit windows that European castles have for shooting arrows out without being shot at back. (In this case, of course, guns.)
Pro tip: wear a jacket with a hood because water drips from the ceiling! It hadn't even rained the day that I visited, but I think Fort Adams' location on the ocean created humidity and condensation on the ceiling. We got a little damp, and the ceiling water couldn't have been too clean. This must be a recurring issue because below the ceiling is hung a mesh, to catch small pieces of debris. If that were a plastic sheet instead, the dripping water could be channeled to one side.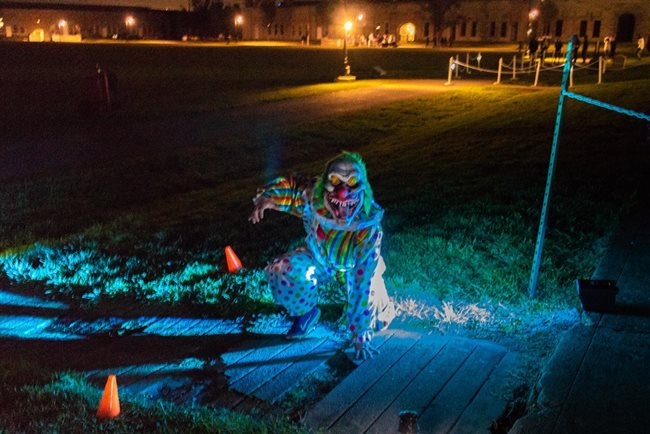 Happily, actors in costume come out to scare and entertain you while you wait. They let groups of visitors through with a delay in-between, which is common at Halloween attractions, so that you don't see what happens to the group ahead of you, which would spoil the surprises. But instead of 120 seconds, only a 60-second delay would move the line along faster.
Mayhem 3D and Spirits Rising form a single route and take just 4 minutes to walk through. You put on 3D glasses and then pass by plywood painted with luminescent designs that pop out in 3D. I've complained many times about professionally painted 3D walkways. (Why would there be a giant spider mural instead of a spider mannequin? How does paint splatter or a starscape on the walls give a theatrical sense of being in a spooky house?) However, at Fortress of Nightmares, the plywood was painted by amateurs, and this is after all a charity attraction, so there's a certain rooting-for-the-home-team that excuses it.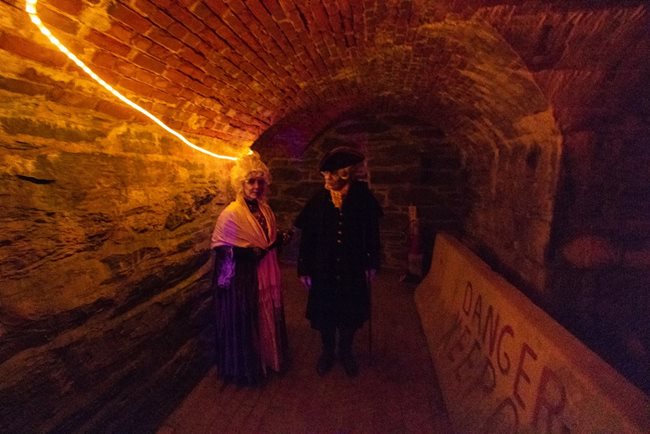 Some actors just shouted, but others had lines to say, such as singing kids' nursery rhymes. Kudos to the clown who held us for a few seconds for a 30-second theatrical scene. That's exactly how to lengthen the experience! If each actor had done that, they would have had a 10-minute attraction there instead of a 4-minute one, without causing any delays (you just pipeline the visitors, like when the bell rings at a singles dating event and each man shifts over one seat to the next table).
Some actors had good masks and costumes, but most wore thrift store clothing. We passed two spooky chefs with good makeup, chopping up corpses for food. They had a talking skull head animatronic. I was told afterwards that normally the Spirits Rising attraction would have a mannequin with a projected face that speaks to you, but it wasn't operating the night I visited. There weren't many props in the attraction, but we passed a skeleton watching television, and appreciated the faux doors and faux mortuary drawer doors added to the walls: they gave the corridors of plywood some variety. Spirits Rising benefits a charity for the homeless.
It's notable that Fortress of Nightmares has a virtual reality experience, Paranormal 360, but it is an extra charge. Pro tip: buy your tickets in advance at the start of the Halloween season, or you'll find it sold out. Paranormal 360 is a 7-minute "interactive horror experience". Although I wasn't allowed to stick my head in to observe it, and the rep refused to tease anything about it to a journalist, I've tried VR at a Halloween attraction before. So I assume that you put on a VR headset, watch a spooky VR movie, and then while you're sitting there effectively blind, real world actors touch with you feathers and puffs of air to startle you. My guess is that it's worth a try but is more of a novelty than a scare, if you've never tried VR before.
Your last attraction is going through the Tunnel of Terror. While you're in the courtyard, waiting in line, admire the beautiful long views. They have a few skeleton mannequins at the entrance, and again, actors in costume come to scare you while you wait. Then a ghost from the American Revolutionary War in a wig and tri-corner hat gives you safety instructions and lets you go inside.
The Tunnel of Terror is a 3.5-minute journey through stone and brick tunnels filled with fog, with lighting effects and spooky music. It's so simple, but so effective. No props are needed. The long stone corridors are inherently scary. Actors of course pop out from the fog, in thrift store costuming, some with masks, and some with basic makeup. You pass through more corridors of black-painted plywood. There are no tripping hazards. They have one special effect, a "laser swamp". This is where laser create a horizontal plane of green laser light, which with fog creates an opaque horizontal surface like the surface of a swamp. At the time I visited, there wasn't enough fog for the effect and no actors waited to pop up, but see the photo for what it's supposed to look like.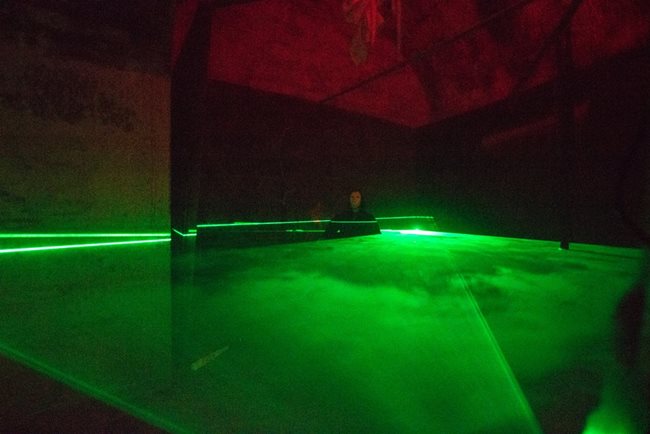 Then you are done! You exit through the giant courtyard, returning to the ticket booth and parking lot. But before you go, notice the dock with benches where you can look out over the harbor. You'll see the city lights from across the water, and reflected in the water. Stars are above you, and behind you are grass-covered hills and the massive stone walls of the fort. There's a pier where you can walk 100 feet out into the harbor. There's a visitor center with indoor benches to warm up.
I came the Friday before Halloween on a warm night and the lines were surprisingly short, perhaps because Fortress of Nightmares is low-budget. This is typical for a charity haunt. Because it's a fundraiser, their mindset is, "Let's not put any money into it," so the attraction looks underfunded, easily beaten by competitive destinations. Arguably, if they raised money through a grant or business loan, they would have a better attraction. Then they could charge more, and would fetch more visitors, and recoup their investment and make more money for their charity.
I read on Yelp that once they played a clip of a "ghost hunter" TV show at Fortress of Nightmares, but thankfully, they didn't do that the night I visited and hopefully have discontinued the practice. Halloween is fun but not supposed to be real. We don't need anti-scientific mumbo-jumbo, especially at a museum location that is supposed to educate. Staff were friendly and helpful.
Excluding Paranormal 360, which costs extra and is typically sold out, Fortress of Nightmares only 7.5-minutes of attractions, though just walking in, across the courtyard, and then back out through the courtyard, is interesting, adding another 6 minutes that is technically not part of attraction.
I say this all the time for Halloween attractions that have a trail through the woods. You aren't limited by how much content you can add to extend your pathways. Your venue is already spooky at night, so extend the pathways, even if you have nothing to put in them. Or how about adding a guided tour (putting visitors in large groups), someone who leads you around telling you fort history and ghost stories (just for fun, not run by 'ghost hunters' with an agenda)? The tour would be mostly walking, but once in a while you would encounter scenes that match the tales. The fort would also be a delightful setting for a spooky theatrical play, such as Sleepy Hollow at Old Sturbridge Village.
Overall, Fortress of Nightmares had only a few props, including a couple of tame animatronics, and only a few of its actors had good costuming with good makeup or masks. It had only a few theatrical scenes created by a set design or by actors with lines to say. However, Fortress of Nightmares did have a couple of top-tier special effects (the laser swamp and video projection, had they been working the night I visited). And the fort is naturally spooky, arguably New England's best venue for a Halloween attraction. The stone work is so massive and imposing! Afterwards, outside the fort along the water, the dock area is beautiful and makes a gathering space so that you and your friends can chat and relax after visiting the haunt. This lengthens the effective visiting time, making a trip to Newport more worthwhile. I would love to have seen the dock area integrated with Fortress of Nightmares, through having a bonfire or food trucks, or even a stage with kids, dancing in costume, from a local dance studio.
Fortress of Nightmares takes an edge over Hammond Castle, another underfunded charity event that does not live up to the potential of its beautiful venue. Hammond Castle has a beautiful interior, whereas Fort Adams is mainly empty on the inside, but Fortress of Nightmares is bigger and better organized.
It's close to getting a higher rating, but Fortress of Nightmares is just not long enough. For now, I'll give Fortress of Nightmares 4 stars.
For more, see Fortress of Nightmares online.