The Forbidden Corner is Britain's Weirdest and Most Joyful Destination (5 stars PLUS)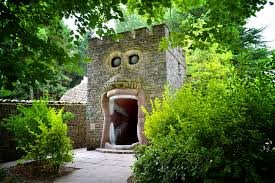 06/13/18 by
Johnny Monsarrat
The Forbidden Corner
Tupgill Park Estate, Coverham, Leyburn DL8 4TJ, UK
The Forbidden Corner is Britain's weirdest and most fun destination. It's a long drive up from London to Warwick, York, and then beyond that, The Forbidden Corner, but we did it on a lark because the website seemed so strange and whimsical. It's a garden with surreal sculptures, for example a giant monkey mouth that you can walk through to enter the park. It was created as a private "folly", a series of forest paths, by Mr. C. R. Armstrong CMG O.B.E., but eventually opened to the public in 1994.
Start in the gift shop where they have The Corner Deli. There you can get a panini, a sandwich, a pizza, or hamburgers. They've got vegetarian options, plenty of deserts, a soup of the day, and of course coffee and tea. We found the deli to be disorganized, and we had an unreasonably long wait in a short line just to order, and then it took too long for our food to come. Just in front of the gift shop entrance is a giant tree with a hole that I saw kids climb into for photos.
You can have a real sit-down meal at The Saddle Room Restaurant, and they have bed and breakfast units, too. They also have a regular park that you can visit, in addition to the main woodland attraction.
Then the park is four acres of woodland passages in a mazelike setting that encourages you to explore, because the more you explore, the more wonderful dioramas and sculptures you find. The strange creatures and lights that you'll see hidden in odd places make you feel that you're the first person to ever see them. All the while you are surrounded by happy kids and adults. Paths lead everywhere! It's fun to get lost and also to chase down the dioramas that you see photos of in the handout you receive when you buy your tickets. You check off the photos as you see them, so you know what is left to discover.
The Forbidden Corner is confusing but not frustrating, because you don't need to walk far to discover the next item. The place is densely packed with wonders. Sometimes you discover sculptures or a diorama, but sometimes you just discover a great view as you look out into the British country side, with its rolling hills, pastures, and farm animals. You'll see tons of sheep, including cute baby sheep.
Eventually you'll find a hedge maze, and then an underground labyrinth of tunnels and chambers. Each subterranean grotto has statues, often with sounds and mood lighting, and you'll find many fountains and even animatronics. It's delightful! For example, you'll find cute rats scheming against the cats. It's extensive. You keep exploring, and it just keeps going! Then you can climb up to overlook turrets as well. At one point the maze taunts you about a hard-to-reach waterway with Roman columns. It really is hard to reach, but eventually you can do it! Just watch out for being squirted by the hidden water spouts, activated by motion sensors. Underground it is naturally cool on a warm day, and they may even have had air conditioning.
The Forbidden Corner is far enough from the roads that you can't hear cars passing. We read that it was supposed to take two hours, but we spent a happy three and a half hours there including getting lunch. We can't discount many wonderful experiences in Britain, including visiting Stonehenge, the London Eye, Leeds Castle, and Warwick Castle, but despite its remote location, we had the most fun at The Forbidden Corner. It may be the greatest UK destination for those with an impish sense of humor and childlike awe.
We also enjoyed The Forbidden Corner more than any hedge maze we found in the UK, even our second favorite, Leeds Castle, which is closer to London and has its own underground but less extensive grotto. I'm pleased to give it a rarely awarded 5 stars PLUS for The Forbidden Corner. Take my word for it, it is worth the trip, especially combined with nearby Fountains Abbey and Studley Royal Park, visiting York, or driving up to Scotland.